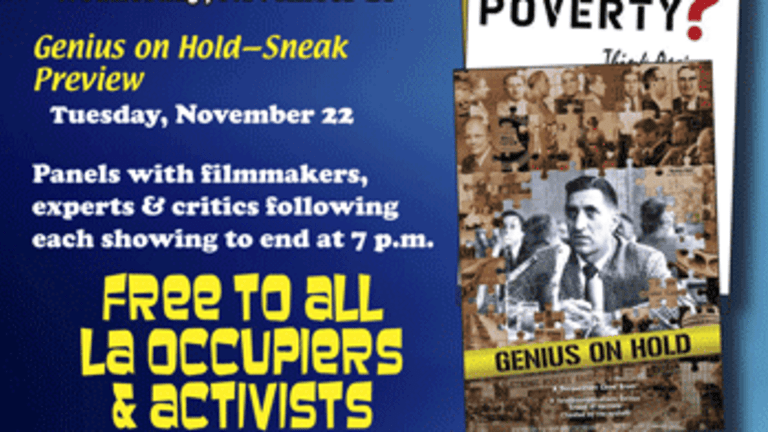 Power to the People Film Series
What: Power to the People Screening Series – All LA Occupy-ers and activists welcome (FREE)
When: November 11, 15, 16, & 22
Where: The Last Bookstore (453 So. Spring St, Downtown L.A.)
Why: To show support for the 99% protesting in Los Angeles (and across the world) against the inequities in our economic system caused by the control the multi-national corporations wield in our lives. Through films, we hope to open eyes and minds.
Who: Presented by the LA Progressive, Hollywood Progressive, The Last Bookstore. and Cinema Libre Studio with support from the Levantine Cultural Center and KPFK . Special thanks to Alan Ayoub aka Pharaoh MC and the proceeds from his album, Terrorism Era.
Schedule & Details: A
FREE screening of the following films will occur followed by Q&A with filmmakers and special guests. All screenings start at 4:00 pm and discussion will end by 7:00pm.
Film historian and film critic Ed Rampell, the author of "Progressive Hollywood, A Peoples Film History of the United States" will anchor each panel session
Friday 11/11 - The Best Government Money Can Buy (78 mins.) with Save The Farm (31 mins)
In Best Government, Director Francis Megahy examines the role of lobbyists and their influence on our lives. Save The Farm tells of the last stand of the South Central Farmers in Los Angeles .
Q&A to follow with Best Government Director Francis Megahy, Producer Scott Wolf and Save the Farm's Director Michael Kuehnert with representative from the South Central Farmers
Tuesday 11/15 -The End of Poverty? (104 minutes)
Philippe Diaz's prescient documentary asks: why in a world with so much wealth, does poverty exist? Features Joseph Stiglitz, Susan George, Chalmers Johnson, John Perkins and John Christensen.
Q&A – To be announced.
Wednesday 11/16 - Gas Hole: What the Oil Companies Don't Want You To Know (100 mins.)
Filmmakers Scott Dr. Roberts and Jeremy Wagener will be on hand to discuss their documentary film which explains how the oil companies manipulate technology and supplies to earn record profits.
Tuesday 11/22 - Genius on Hold (88 mins) (SNEAK PREVIEW!)
With the Department of Justice v AT &T looming in February 2012, we'll share a sneak preview of a powerful new documentary film that will premiere in theatres 2012 which shows how AT &T has been using monopolistic practices for nearly 100 years that have destroyed the livelihoods of many while earning them record profits.
Q&A to follow with director Gregory Marquette
Donations will be accepted by the door or via Eventbrite, where you can also RSVP. (Need link)
For additional information please visit:
URL: https://wp.me/p1VJP1-fXM
Facebook page: Coming
Eventbrite link: Coming
Questions:
Dick Price
dick_and_sharon@yahoo.com
Event Registration Online for Power to the People Film Series powered by Eventbrite