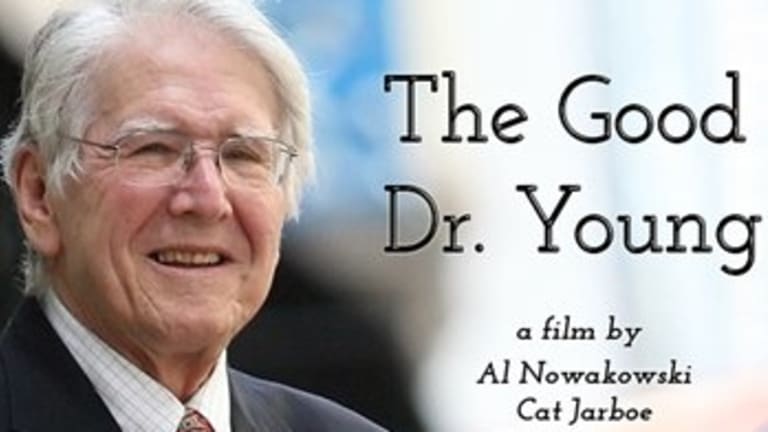 Physician to Martin Luther King to be the Subject of Documentary
Quentin Young, the inspirational Chicago civil rights and healthcare activist, will be the subject of a new documentary entitled "The Good Doctor Young."
A new documentary about the inspirational Chicago civil rights and healthcare activist Quentin Young seeks Kickstarter funding for a film entitled, "The Good Doctor Young."
Quentin Young, the inspirational Chicago civil rights and healthcare activist, will be the subject of a new documentary entitled "The Good Doctor Young." The film, which has completed its first round of production, is seeking Kickstarter funding for a documentary that focuses of the exemplary life of the highly principled, soft spoken physician Quentin Young who treated such icons as Martin Luther King, Studs Terkel and former Chicago Mayor Harold Washington. The purpose of the new documentary will be to highlight Quentin's remarkable accomplishments as a civil rights activist and lifelong advocate for Universal Health Care.
"Dr Young's life is an amazing example of social justice in action," says Al Nowakowski, the film's Executive Producer. "He's lived an extraordinary life and the film will most certainly be an homage. But it will also serve as a reminder to us all about how one person can transform the world with a principled stand for their deepest beliefs. At age 90, he is more than just a national treasure – Quentin Young is an important figure in America's fight for social justice. The time to put that story in the history books is right now."
"The Good Doctor Young" has already begun filming and has interviewed many of Young's colleagues, including such notable figures as Rep. John Conyers of Michigan, historian Dr. Timuel Black and Cook County Hospital's Chief Medical Officer Dr. Claudia Fegan.
The producers are also acquiring rare, archival footage and photos of Young with the cooperation of the Health & Medicine Policy Research Group and Physicians for a National Health Program, both of which Young co-founded and where he currently serves, at age 90, as both the National Coordinator and Chairman respectively.
"We've gotten some amazing footage so far because a lot of incredibly talented people have donated their time, energy and equipment," declared Cat Jarboe, another one of the film's producers. "But even a labor of love takes money to keep it going. That's why we're launching the Kickstarter project."
If the producers reach their Kickstarter goal of $30,000, the project will organize an honorary luncheon in Washington D.C. where many of Dr. Young colleagues and admirers will pay tribute to the man who has not only inspired them, but also taught them the power and importance of taking a principled stand in the face of seemingly impossible odds.
"We have a rare opportunity here," Nowakowski says emphatically, "to capture a vanishing breed of social activist whose life epitomizes the power of the moral individual in action. And when I look around our world today, all I can say is…man, do we need more people like that!"
"The Good Dr. Young" Kickstarter project began Saturday, September 28th and the goal is $30,000.
For more information visit the Kickstarter page or contact the film's Executive Producer, Al Nowakowski @ 310.484.9019