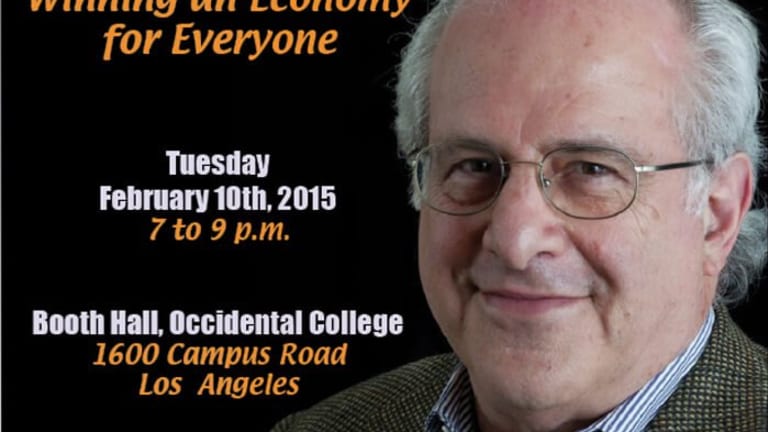 Richard Wolff: The Game Is Rigged: Winning an Economy for Everyone
Radical economist Richard Wolff comes to Occidental College this Tuesday, 10 February, at 7 p.m.
Tuesday, Febuary 10th 
From 7 to 9 p.m.
Booth Hall
Occidental College
1600 Campus Road
Los Angeles
FREE EVENT | SEATING LIMITED | RSVP HERE
Radical economist Richard Wolff recently exploded into the forefront of progressive thinking in the United States with his brilliantly insightful book Capitalism Hits the Fan, which chronicled Wolff's growing alarm and insights as he watched the economic crisis build, burst, and dominate world events. His analysis differs sharply from explanations offered by politicians, media commentators, and other academics. While he retains many Marxist contentions, Wolff rejects the economic determinism typical of most schools of economics.
"Richard Wolff is the leading social economist in the country. This book is required reading for anyone concerned about a fundamental transformation of the ailing capitalist economy."– Cornel West
Professor of Economics Emeritus from the University of Massachusetts, Amherst, Wolff is currently a Visiting Professor in the Graduate Program in International Affairs at the New School University in New York. In recent years while delivering public lectures at many colleges and universities, as well as to community and trade union meetings, he has built a reputation for blunt speaking, clarity, refreshing scorn, and an enjoyable wit.
Wolff is the author of many books, including Democracy at Work: A Cure for Capitalism, Occupy the Economy: Challenging Capitalism, and Capitalism Hits the Fan: The Global Economic Meltdown and What to Do About It. He hosts the weekly hour-long radio program Economic Update on Pacifica Radio and writes regularly for The Guardian, Truthout.org, and the MRZine.
"Bold, thoughtful, transformative - a powerful and challenging vision that takes us beyond both corporate capitalism and state socialism. Richard Wolff at his best!" —Gar Alperovitz, author American Beyond Capitalism
Sponsors: ACLU of Southern California • LA Progressive • Occidental Office of Community Engagement • Occidental Politics Department, • Occidental Economics Department • Occidental Urban and Environmental Policy Department