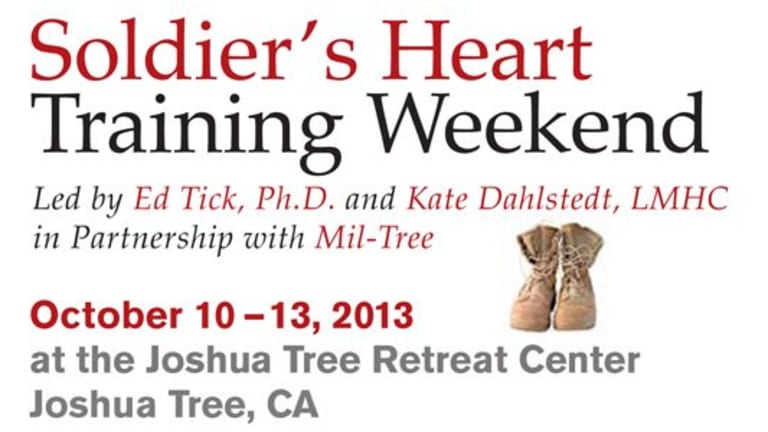 Soldier's Heart Retreat -- October 10-14
Rebecca Martin: According to a 2012 VA study, some 8,000 veterans are thought to die by suicide each year, about 22 per day.
I am working with a grassroots group here on the desert called Mil-Tree that is hosting a Soldier's Heart retreat from October 10-14.
Our high-desert community has the largest Marine training base in the U.S., and many veterans return to our community to connect with other vets. Healing the soul wounds of war, re-connecting with loved ones, re-integration into the community and suicide prevention are all issues this retreat will address.
In case you don't know this, more active-duty men and women now die from killing themselves than from combat. Nearly one suicide a day.
According to a 2012 VA study, some 8,000 veterans are thought to die by suicide each year, about 22 per day.
Dr. Edward Tick and Kate Dahlstedt, LMHCC, founders of Soldier's Heart and creators of the Soldier's Heart Model, will lead the retreat. Both of them have worked with vets and military families for decades, and their premise is that PTSD is not a medical disorder but that distress from combat is an emotional, spiritual and moral wound.
Right now, we are trying to raise funds for veterans who cannot afford the cost of the retreat. Veterans who want to attend are literally begging us for funds. At this point, we have to say we are still raising money and we don't have enough yet.
Whatever you can spare, $10, $20, will help one of our vets attend the retreat. It will just take a minute, and it's tax deductible. Please visit https://www.gofundme.com/3rzodk.
In that vein, let me share one of the most touching experiences we have had to date.
A Vietnam veteran who is now on our board of directors came to Ed Tick's first talk in Joshua Tree. He was in tears. He told Ed that his book, War and the Soul, and the way Ed works was exactly what he was missing in his life—that he always knew his PTSD was not a mental disorder and that after 40 years, this was the first time anyone had talked to him in this way about the soul and the trauma that war lends to it. He ended up on a Soldier's Heart retreat that Ed was leading later that week.
When our director called to find out how the retreat went, his wife answered the phone. She said, "Thank you for bringing my husband back to me."
For more information on the retreat and Dr. Tick's work, please go here.
Thank you for reading and for passing this on to friends.
Rebecca Eve Martin
Sunday, 1 September 2013