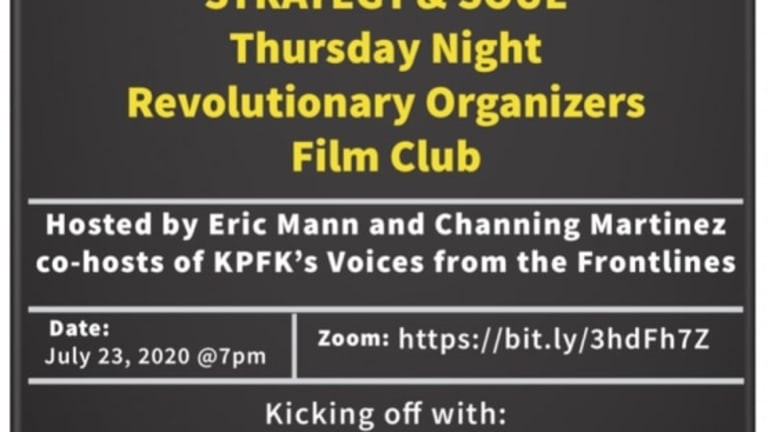 The Revolution Will Be Strategized
The Labor/Community Strategy Center and Strategy and Soul Film Theater invites you to their inaugural Strategy and Soul Thursday Night Revolutionary Organizers Film Club
The Strategy Center, a self described Think Tank/Act Tank will launch its inaugural virtual film club screening on July 23, 2020.
Strategy and Soul has been engaged and immersed in regional, national and international movement building, since 1989. Based in the 10 million-person world city of Los Angeles, their campaigns, projects, and publications are rooted in working class communities of color, and address the totality of urban life with a particular focus on civil rights, environmental justice, public health, global warming, and the criminal legal system.
The team at the center works on building consciousness, leadership, and organization among those who face discrimination and societal attack. The people most affected, people of color, women, immigrants, workers, LGBT people, and the youth represent the majority of the center's membership.
Linking mass struggles to the need for radical, structural change, the Strategy Center develops campaigns and demands that help build a revitalized world united front that can stop the rising tides of war, racism and imperialism, the ecological crisis and the growing police state.
Their work often challenges both major political parties and takes on the organized Right. But, never the less, they fight to win.
This week the Center is launching its inaugural film club on the Labor/Community Strategy Center's (LCSC) 30th Anniversary.
The Labor/Community Strategy Center and Strategy and Soul Film Theater invites you to their inaugural Strategy and Soul Thursday Night Revolutionary Organizers Film Club
Hosted by Eric Mann and Channing Martinez--co-hosts of KPFK'S Voices from the Frontlines
Kicking off with: The Revolutionary Will Be Strategized--a film by Lucas Yahrus prepared for the Strategy Center's 30th Anniversary. This documentary chronicles 30 years of our at Strategy and Soul.
The format
Introduction of The Revolution Will Be Strategized by Eric Mann
Showing of the film, The Revolution Will Be Strategized -- 25 Mins
Followed by a political frame and analysis by Eric Mann and a group of respondents
Followed by going to the Zoom for further discussion