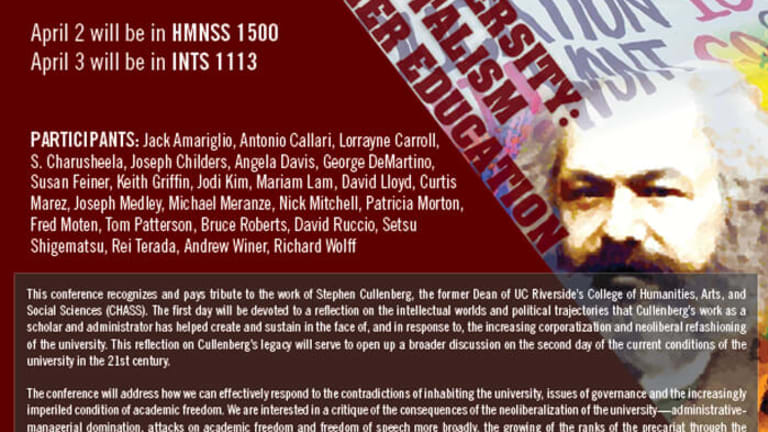 Unsettling the University: Confronting Capitalism and the Crisis of Higher Education
A Conference inspired by Stephen Cullenberg's Tenure as CHASS Dean, 2006-2014
University of California, Riverside
900 University Ave. Riverside, CA 92521
Thursday & Friday, April 2 & 3
10 a.m. to 5:30 p.m.
This conference recognizes and pays tribute to the work of Stephen Cullenberg, the former Dean of UC Riverside's College of Humanities, Arts, and Social Sciences (CHASS). The first day will be devoted to a reflection on the intellectual worlds and political trajectories that Cullenberg's work as a scholar and administrator has helped create and sustain in the face of, and in response to, the increasing corporatization and neoliberal refashioning of the university.
This reflection on Cullenberg's legacy will serve to open up a broader discussion on the second day of the current conditions of the university in the 21st century. The conference will address how we can effectively respond to the contradictions of inhabiting the university, issues of governance and the increasingly imperiled condition of academic freedom.
We are interested in a critique of the consequences of the neoliberalization of the university—administrative managerial domination, attacks on academic freedom and freedom of speech more broadly, the growing of the ranks of the precariat through the adjunctification of instruction, etc. But we are also interested in how we might deploy the resources within the university to intervene in it and the social world more broadly. How can we historicize this moment within the university? What analytic and imaginative tools do we need to transform it?
PARTICIPANTS: Richard Wolff, Jack Amariglio, Antonio Callari, Lorrayne Carroll, S. Charusheela, Joseph Childers, Angela Davis, George DeMartino, Susan Feiner, Keith Griffin, Jodi Kim, Mariam Lam, David Lloyd, Curtis Marez, Joseph Medley, Michael Meranze, Nick Mitchell, Patricia Morton, Fred Moten, Tom Patterson, Bruce Roberts, David Ruccio, Setsu Shigematsu, Rei Terada, Andrew Winer.
Sponsored by UCR's Critical Ethnic Studies Association. The conference is free and open to the publc. For more information, please contact Tanya Wine at tanya.wine@ucr.edu