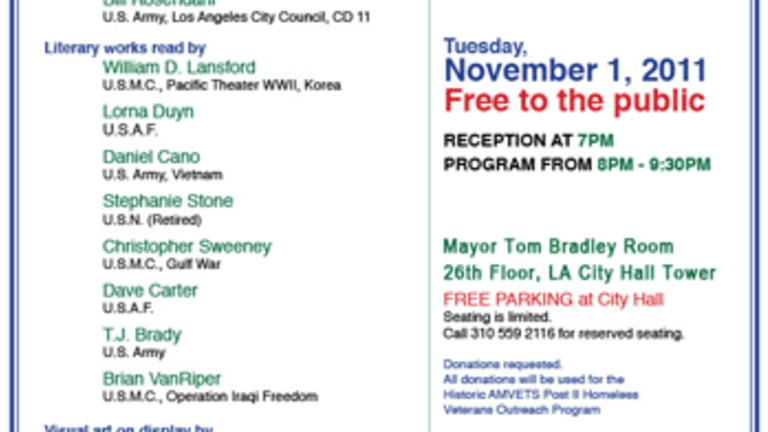 Veterans' Vox 365: Honoring Veterans -- Tuesday, 1 November
Veterans' Vox: Honoring Veterans -- Tuesday, 1 November, 7 p.m., LA City Hall Mayor Bradley Room, 200 N. Spring Street, Los Angeles. Free to public.
From Ernest Hemingway and the Spanish Civil War, to James Jones and Joseph Heller and World War II, to Ron Kovic and Tim O'Brien and Vietnam, America military veterans have turned their combat experiences into powerful literary works that demonstrate the personal costs of our country's wars for the men and women who fight them.
Continuing that tradition, the US Veterans Artist Alliance (USVAA) and Veterans Vox 365 will honor today's veterans at a free evening of literary works by veterans, read by veterans, on Tuesday, November 1, 7 p.m., in the Mayor Bradley Room at the top of LA City Hall.
"The idea behind Veterans Vox 365 and everything we do with the USVAA is to give veterans a sense of what it is to be a veteran, to help them take pride in their service," says Keith Jeffreys, USVAA's executive director and an Army veteran himself. "And in turn, we want to show the public that veterans aren't just about marching in parades and having a few drinks at the local veterans club."
LA Councilmember Bill Rosendahl, a Vietnam-era veteran, will introduce the program. Rosendahl has been a strong advocate on veteran employment and homelessness issues and especially on the land use controversy at the West LA VA Medical Facility.
Just awarded the Presidential Citizen Medal by President Obama, Judith Broder and John Keaveney will be honored at Veterans Vox 365 as well. Broder founded the Soldiers Project, which involved recruiting hundreds of therapists who devoted thousands of hours to helping veterans and their facilities. Keaveney, a Vietnam veteran, founded the New Directors shelter for homeless and disabled veterans.
"This is the sixth year USVAA has honored veterans around Veterans Day and the second time we've had our Veterans Vox 365," Jeffreys said. "Last year, we had it at our facility in Culver City. We moved it downtown to give us a more central location for veterans in a bigger room. It's a happy accident that we can also get veterans involved in what's happening with Occupy LA."
At the event, Daniel Cano, who received a "best novel" award at the 12th Annual Latino Literary Awards, will read from his novel, "Shifting Loyalties," and will be introduced by Navy veteran Stephanie Stone, who is the first woman appointed to the LA Mayor's Veterans Advisory Commission.
Also, Iraq War veteran Brian VanRiper will read from Anthony Sofford's Jarhead and Marine Corps veteran Christopher Sweeney will read from William D. Lansford's work in progress about WWII.
Actress and Air Force veteran Lorna Duyn will read Seymore Robinson's "Your Mother Wears Combat Boots: Humorous, Harrowing and Heartwarming Stories of Military Women," and will be introduced by Dave Carter, an Air Force veteran and actor. Finally, West Point graduate and television writer TJ Brady will read from Two Wars, by Nate Self.
Works by veteran artists Michael Gomez Burton, Markus Nicoson, Mark David Noel, and Christopher Sweeney will be on display.
"This coming year, USVAA's emphasis will be on getting jobs for veterans, whether that's in the arts of not," concluded Jeffreys.
Veterans Vox 365 begins with a reception at 7 p.m. on Tuesday, November 1, followed by the program at 8, in the Mayor Bradley Room at the top of LA City Hall, 200 North Spring Street. Call 310.559.2116 for reserved seating. All donations will be used for the Historic Amvets Post 11 Homeless Veterans Outreach Program.
Dick Price
Editor, LA Progressive