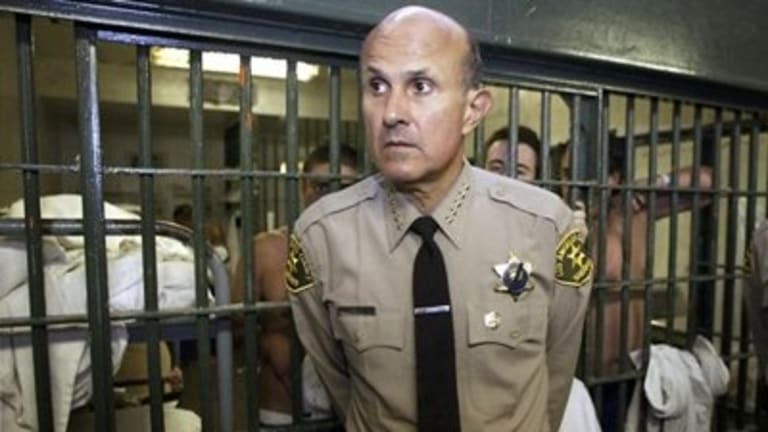 Community Demands End to Violence in L.A. County Jails - Dec 18th
Violence in County Jails - Community organizers demanding an end to violence committed by L.A. Sheriff Deputies in L.A. County Jails - hold press conference Tuesday
Coalition to End Sheriff Violence in L.A. Jails
COMMUNITY ORGANIZERS DEMAND GREATER ACCOUNTABILITY,
OVERSIGHT OF L.A. COUNTY JAILS
Call on Board of Supervisors to Implement True Civilian Oversight
LOS ANGELES – The Coalition to End Sheriff Violence in L.A. Jails, a grassroots multiracial organization, will hold a press conference on Tuesday, Dec. 18, @ 12:30 pm, on the steps of the Kenneth Hahn Building, 500 W. Temple Street, prior to attending the Los Angeles County Board of Supervisors weekly meeting.
The Coalition to End Sheriff Violence in L.A. Jails
Press Conference
Steps of the Kenneth Hahn Building
500 W. Temple Street
Tuesday, December 18, 2012 12:30pm
The Board is scheduled to hear status reports relating to violence in the Los Angeles County jail facilities and the Citizens' Commission on Jail Violence's recommendations as presented to the Board on Oct. 9, 2012. Organizers with the Coalition will be calling for the Board of Supervisors to implement a Civilian Review Board comprised of non-law enforcement citizens with the power for citizen complaints to be reviewed and investigated; to subpoena officers and others; and recommend disciplinary or policy action.
"Now that the Citizens' Commission on Jail Violence has completed its mission, we can be sure of one thing: The Sheriff's Department cannot police itself," says Second District Supervisor Mark-Ridley Thomas. "That is why I will ask the Board to make profound structural changes with regard to oversight of the department and create a system for permanent and independent citizen oversight of our jails."
Later that evening, the Coalition will hold a workshop in Boyle Heights for community members interested in learning more about community engagement strategies to hold the Sheriff's Department accountable. "My family was devastated after my brother was brutalized by the Sheriff's Department inside the L.A. County Jails," said Patrisse Cullors. Cullors is founder and lead organizer of the Coalition to End Sheriff Violence in L.A. Jails. "Real civilian oversight that produces structural change inside of the Sheriff's department is absolutely necessary."
###
The Coalition to End Sheriff Violence in L.A. Jails is a grassroots multiracial organization bringing together community organizations, health providers, clergy, attorneys, community residents, friends and families and survivors of the brutality inside L.A. jails to fight for real accountability. We are proposing a People's Civilian Review Board comprised wholly of citizens that has subpoena power, where citizen complaints are reviewed and investigated, and recommendations for disciplinary or policy action are made by the board. The Coalition believes that this model of a citizen's review board is the most independent citizen review model.