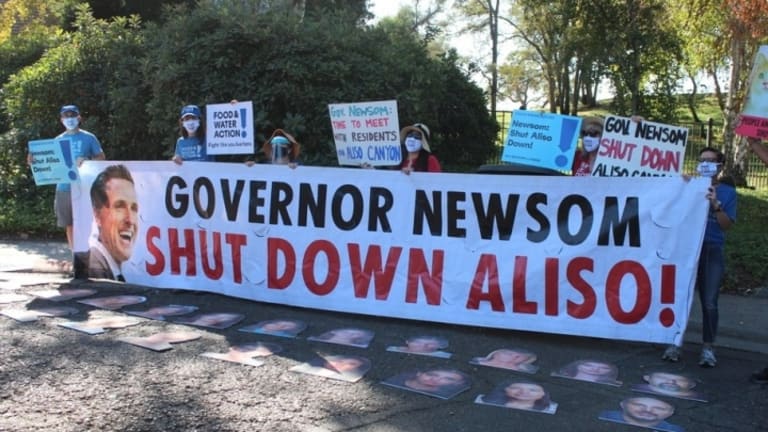 Aliso Canyon Blowout Anniversary
Dan Bacher: Community members and moms fighting to protect their families had no choice but to travel to Sacramento on this anniversary.
L.A. Residents Protest at Governor's Home
On Tuesday, October 20, impacted Los Angeles residents and their allies held a short rally outside California Governor Gavin Newsom's house in Fair Oaks to mark the five-year anniversary of the horrendous gas blowout at SoCalGas's Aliso Canyon Storage Facility in Los Angeles and to remind the governor of his promise to shut the facility down.
The protesters demanded, "No more studies, no more delays —Newsom must shut Aliso down!"
The blowout was the worst of its kind in recent US history and the second worst fossil fuel disaster in the United States since the Deep Water Horizon in 2010. The protest took place at a time when California regulators have increased withdrawals from Aliso Canyon by 3000%.
Community members and moms fighting to protect their families had no choice but to travel to Sacramento on this anniversary.
"That blowout displaced over 25,000 residents from their homes, took more than four months to plug, and continues to sicken numerous families today," said Alexandra Nagy, the California Director for Food and Water Watch. "The blowout was also a catastrophe for the climate, as 100,000 metric tons of methane leaked, totaling 25 percent of California's methane emissions for the year." 
Governor Newsom promised Los Angeles families he was "fully committed" to shutting down Aliso Canyon, according to Nagy. In November 2019, Newsom wrote a letter to the CPUC to expedite planning for that shut down. 
"However, since Newsom was elected, SoCalGas continues to inject gas into Aliso Canyon and withdrawals have increased by 3000% despite its need making residents sicker," stated Nagy. "Residents have submitted repeated requests to meet with Governor Newsom and his staff since September 2019 but have been ignored."
Nagy said Newsom received $32,000 for his campaign from SoCalGas, which is owned by Sempra Energy, during the 2016 to 2018 campaign cycle, according to followthemoney.org. SoCal Gas and Sempra Energy are big contributors to the campaigns of California legislators and also donate to non-profit groups, including environmental NGOs.
Community members and moms fighting to protect their families said they had no other choice but to travel to Sacramento on this anniversary to "confront Gov. Newsom's inaction in person."
The rally featured residents from north San Fernando Valley communities and other parts of Los Angeles, Food & Water Action, Save Porter Ranch, Mothers Out Front, Breast Cancer Action, Rootskeeper, 350.org, and Live from the Frontlines.
Deirdre Bolona and Jane Fowler, Aliso Moms, spoke about their experiences during and after the blowout.
During the rally and press conference, photographer Hannah Bennet also showed her photos from Aliso Stories, of over twenty portraits of families impacted by the gas blowout. 
Participants read quotes from members of those families as they held up their portraits. Among the quotes read were those of the Hernandez family.
"During the blowout I had rashes all over my body," said Lucas Hernandez, 14. "My tics got a lot worse too. It was hard moving to a new school district and making new friends, but I felt a lot safer because we were far from the gas facility." 
"They should have shut down the facility years ago," said Diego Fernandez, 49. "Once they found out kids were getting sick, they should've shut it down right away. Anything that jeopardizes our kids & their future needs to be shut down." 
"After 16 years of living in the house that we had started our family in— where we had planted our roots— we had to get rid of everything and start all over," said Nancy Hernandez. "It was the only way to protect my family."
The commemoration of the blowout continued on Thursday, when Food and Water Watch, other groups and impacted residents brought a car caravan and street performance directly to SoCalGas headquarters in downtown Los Angeles to protest what they called "Governor Newsom's failed climate leadership and cozy ties with SoCalGas."
Finally, on Friday, October 23 at 6 pm, the groups, along with community leaders, experts, and elected officials, held a webinar to mark the fifth anniversary of the Aliso Canyon blowout.
Background from Food and Water Watch 
Methane is a potent greenhouse gas that warms the planet 84 times faster than carbon dioxide in a 20-year time frame. Aliso Canyon's blowout and ongoing daily emissions threaten the stability of our climate. As California faces the worst fire season on record, the outlook only gets worse as Aliso Canyon blowout emissions continue to fast track global warming over the next 15 years. Residents and allies will call on Gov. Newsom to shut down dangerous and climate wrecking fossil fuel infrastructure to avert the climate apocalypse facing California now and in the future. 
Aliso Canyon is not needed to meet energy reliability in Southern California. Aliso Canyon was effectively closed for two years after the gas blowout ended in February 2016. During Governor Brown's last two years in office, stricter regulations were imposed by the CAISO, CPUC and CEC on gas system management. In addition to new regulations requiring SoCalGas to better manage gas system supplies, state agencies deployed clean energy resources and demand response and energy efficiency programs that aided in eliminating the need of Aliso Canyon. 
The CPUC directed SoCalgas to keep Aliso Canyon available for withdrawals but only in case of system emergencies. In February 2017, the LA County Board of Supervisors released a report prepared by EES Consulting that concluded Aliso Canyon would not be needed to maintain energy reliability if the state continued to maintain regulations and mitigation measures initially deployed. 
Disappointedly, SoCalGas successfully lobbied to weaken these regulations over time, resulting in rules that have allowed SoCalGas to withdraw from Aliso Canyon as it saw fit by removing the "asset of last resort" requirement. Since Governor Newsom was elected, SoCalGas ramped up withdrawals at Aliso Canyon by 3000%. Governor Newosm's leadership is needed to direct the CPUC to phase out, not ramp up, the use of Aliso Canyon as it still poses a serious health and safety threat to millions of people living in the San Fernando Valley.
Dan Bacher
Daily KOS