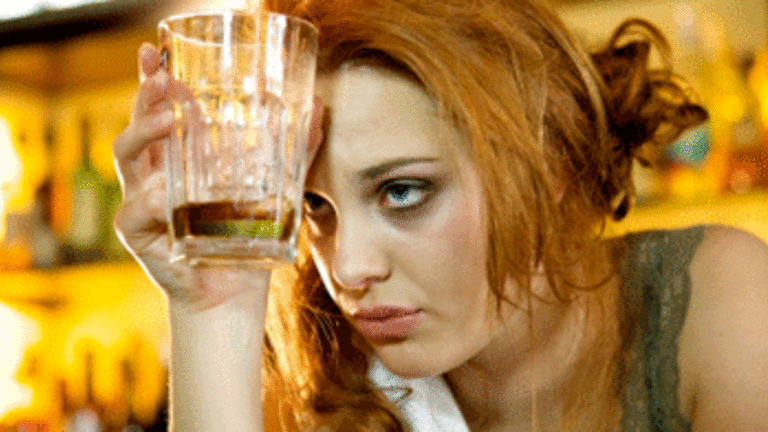 Does AA Really Work?
Kevin Gray: Scores of studies have tried to analyze the effectiveness of Alcoholics Anonymous. But statistics about the group's success rates are contradictory and often surprising.
It can't be easy to learn that your much-younger ex-husband is hot-tubbing it with a bevy of Brazilian babes. So perhaps it's not all that surprising that an anguished Demi Moore turned to substances to relieve her pain.
After suffering a seizure and spending a night in the hospital, the actress—who was famously sober for over a decade—is the latest in a long line of celebrities to publicly embrace Alcoholics Anonymous (AA). But how effective are the 12-steps anyway? Is the program more successful than one-on-one psychiatric counseling? Is it more effective than no treatment at all?
The truth is, nobody really knows. Accurate reports about the success rates of 12-step programs like AA and NA are notoriously difficult to obtain. The few studies that have attempted to measure the effectiveness of the program have often been contradictory. Fiercely protective of their anonymity, AA forbids researchers from conducting clinical studies of its millions of members. But the organization does conduct its own random surveys every three years. The result of AA's most recent study in 2007 were promising. According to AA, 33 percent of the 8,000 North American members it surveyed had remained sober for over 10 years. Twelve percent were sober for 5 to 10 years; 24 percent were sober 1 to 5 years; and 31 percent were sober for less than a year.
The study didn't disclose how long each person interviewed had been working the rooms to achieve sobriety. It also revealed little about the percentage of people who attended AA, relapsed, and left the program. A 1990 summary of five different membership surveys (from 1977 through 1989) reported that 81 percent of alcoholics who engaged in the program stopped attending within a year. And only 5% of the AA attendees surveyed had been attending meetings for more than a a year.
One report using alcoholism data available had found AA and cognitive behavioral therapy to be equally effective, statistically speaking. "It was the initial decision to get better that determined a person's chances of succeeding," an expert says. "What followed made little difference. Although AA doubtless helps some people, it is not magic."
"When you look at people just taking themselves to a meeting, long-term abstinence is pretty low," admits Dr. David Sack, an addiction psychiatrist and the chief executive of Promises Treatment Centers. "But the fact is it works well for the people who work it."
But how does AA stack up against other treatments, like cognitive behavioral therapy? A 2007 study by the National Council on Alcoholism's medical journal reported that people attending 12-step treatment programs had a 49.5% abstinence rate after a single year. Those who were in CBT programs were less successful, maintaining a 37% abstinence rate. It almost seems too close to call. And it doesn't take into account people who try and try again. The difficulty with measuring AA's effectiveness is that it's not really a treatment program. It is a support network of non-professionals that offers a model for abstinence.
"Health care professionals want to study treatment and that's understandable," says Sack. "But it's not like studying the effectiveness of a drug. AA's view is 'that's not our problem if you think it works or not because we are here to help and support each other.'"
Twelve-step literature routinely stresses the importance of service, encouraging its members to give of themselves to others through sponsoring of fellow alcoholics or even making coffee. Independent studies have affirmed that concept. In a 2004 survey published in the Journal of Drug and Alcohol Abuse, alcohol addiction researcher Sarah Zenmore reported that giving support helped recovering alcoholics and addicts to maintain their sobriety. "Studies have shown that AA involvement is a strong predictor of sustained recovery," she reported. That included "meeting attendance as well as helping activities such as doing service in the AA fellowship and being a sponsor."
How alcoholics come to arrive at AA is another strong predictor of their future sobriety. Call it the Big Boss effect. One study found that people who were directed to attend the program by a counselor or physician boasted abstinence rates of 60 percent. "Adding a little pressure on the front end," says Sack, "may make a huge benefit from what people get out of it. Even if it's done by telephone."
When you consider the gears and levers of AA, it's not all that different than Cognitive Behavioral Therapy, which attempts to treat alcoholism from a psychological perspective that stresses rewards and punishment. Twelve-step programs serve up the same pragmatic tips and tools: the idea of 'stinking thinking' for negative thoughts; learning what people, places and events will trigger your drinking or drugging; planning activities rather than running around helter skelter. And likewise CBT doctors encourage you to seek out support groups—like AA.
In 2006, a study in the Journal of Clinical Psychology found that out of 628 people, the ones who went to AA for 27 weeks or more had better 16-year outcomes for such factors as good social functioning and abstinence than those had no treatment at all. So at least it seems that AA is better than nothing, right? Not so fast, says Deborah A. Dawson, a respected epidemiologist at the National Institute on Alcohol Abuse and Alcoholism. In her 2005 article in the journal Addiction, Dawson pointed out that many health problems often improve on their own through what's known as "spontaneous remission." Everyone gets over a flu or a headache, sometimes even without Nyquil or common aspirin. She calculated that the natural rate of recovery for alcoholism was 24.4 percent. In other words, over the course of one year, a quarter of alcoholics got tired and just gave up. No meetings. No treatment. No nothing. They just woke up one day and said, "Enough."
Of course, it's probable that many people die off before they "mature out." . The toughest barrier to measuring the effectiveness of AA is a difference in value systems. AA places the highest value on abstinence. But a growing number of clinical researchers are willing to consider other, less ideal outcomes, like the occasional backslider or binger. Indeed, 'harm-reduction' has become an increasingly used buzzword among many treatment professionals. "Many people go through treatment and then they use drugs less and that is unhealthy," says Sack. "It doesn't mean they're doing as well as they could. But their behaviors have moderated as a result of those treatments. And that's not a bad thing."
A number of experts have criticized AA's all-or-nothing mentality, not because it's an unworthy goal, but because it puts unbearable pressure on people who can't live up to so high a standard. Their philosophy is that once you start to backslide you're powerless to stop it.
It may be that none of these things really matter. One of the most illuminating reports on the topic appeared in 2005 in the online journal BMC Public Health. It analyzed data of an 8-year study that found AA, CBT and motivational enhancement therapy were all equally effective, and reported that nearly all the effect of the treatment was achieved, much like waterboarding, after attending a single session. "It was the initial decision to get better that determined a person's chances of success," said Dr. Bankole Johnson, chairman of psychiatry and neurobehavioral sciences at the University of Virginia, and author of The Rehab Myth: New Medications That Conquer Alcoholism. "What followed made little difference. Although AA doubtless helps some people, it is not magic."
No one who has spent time in AA would disagree. And if Demi Moore finds herself in the rooms trying dig out of out the dark hole she's been cast in, she'll no doubt find out, too. And we'll all also know the results one way or another.
Kevin Gray
The Fix