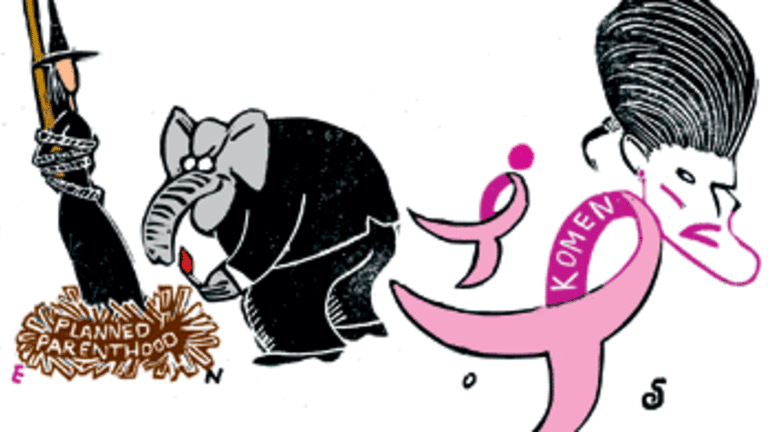 On Komen, Progressives Were Looking the Other Way
Julie Driscoll: We trusted Komen to have the best interests of women at heart, until the "best interests of women" Komen had previously played up turned out to be denying poor women much-needed breast cancer screenings.
Susan G. Komen for the Cure is a classic example of a brand being so pure, so above reproach, that the mainstream public doesn't even think twice about supporting it. Just last year, Komen ranked second in charities for "trust and tops in brand equity," but now its brand has been tarnished, most likely beyond repair for many progressives.
It may not be a coincidence that General Mills, closely associated with Komen, stated, "We are committed to the fight against breast cancer, and we will continue to partner with organizations that will have the greatest impact in that fight," and Pepperidge Farms "concluded its relationship" with Komen at the end of 2011 for "business reasons," timing which dovetailed with the decision by Komen to de-fund Planned Parenthood. Suddenly, brands associated with Komen now have to review their own brands through the lens of the negative publicity being associated with Komen brings them, through the lens of Komen being allied with right-wing, anti-choice entities and individuals – such as Komen higher-up Karen Handel and former Bush speechwriter Ari Fleischer – and through the lens of what the demonization of Planned Parenthood by Komen means to the public at large. Suddenly, supporting Komen has become unsafe.
We saw the demonization of ACORN by the Right – and many of us were dismayed when it was forced to dismantle. But ACORN didn't have the positive branding, even among many progressives, that Planned Parenthood does. The Left allowed the message of ACORN's intrinsic value to be overshadowed by the negativity of the Right's message; Planned Parenthood had enough juice to stockpile public support, and it had enough juice to draw on that support when it needed it.
The sad part is that Komen misled many progressives into thinking it was a politically neutral entity – progressives were clearly looking the other way as it built an organization of people like anti-choice, anti-Planned Parenthood Karen Handel, and, as reported by Mother Jones, stocked its board with people like Jane Abraham, the General Chairman of Susan B. Anthony List (famous for its disdain of science and rabid anti-choice sentiments) and one of the directors of the Nurturing Network, "a global network of crisis pregnancy centers known for spreading ideology, misinformation and lies to women." Also sitting on the board of the "Nurturing Network" is Supreme Court Justice Antonin Scalia's wife, Maureen. It appears that Komen's ties to right-wing, rabidly anti-choice organizations are broad and deep.
So where were progressives when this was happening? We must have been asleep at the wheel, must have missed a memo or ten, must have relied on the integrity of Komen to truly have women's issues at heart and to nurture, not right-wing ideology, but what was best for women's health issues.
We trusted Komen while it quietly withdrew financial support for Planned Parenthood and hoped progressives wouldn't notice.
We trusted Komen to have the best interests of women at heart, until the "best interests of women" Komen had previously played up turned out to be denying poor women much-needed breast cancer screenings.
We trusted Komen to remain politically neutral while it quietly filled its ranks with anti-choice zealots.
In an interview with Andrea Mitchell, Komen CEO Nancy Brinker engaged inbizarre explanations involving "good grants" and "metrics."
Organizations like ACORN failed because right-wing witchhunts caused the glare of negative publicity to shine on them, while Komen operated under cover of darkness, ostensibly maintaining a pure brand while snickering behind their hands at what that pink ribbon really symbolized.
Komen failed us, and in response progressives must firmly abandon this organization. Komen has thrown its lot in with the right-wing ideologues, while Planned Parenthood still delivers critical medical services to low income women – and Planned Parenthood needs all the help it can get, financially and through public support.
Seems like a no-brainer to me.
Julie Driscoll
Politics Anonymous