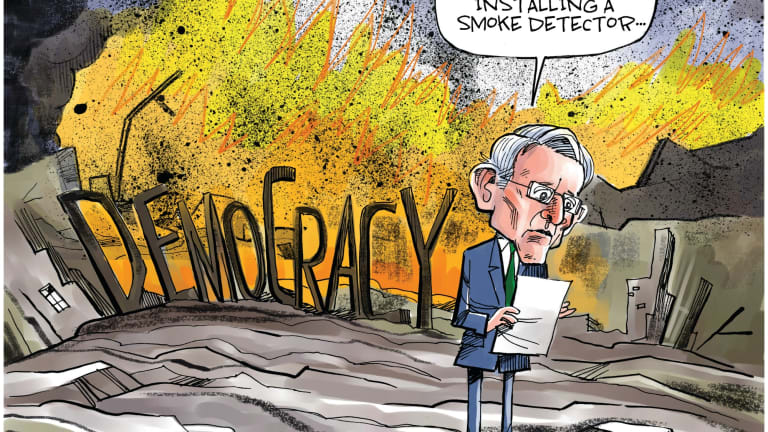 Merrick Garland Must Act and Step Up to Trump
Merrick Garland must act. Unfortunately, as of yet, there has been no indication that he has convened a grand jury or otherwise initiated an investigation of the former president.
I know you've heard this before--that accountability is coming for Donald Trump and his cronies for triggering the Jan. 6th insurrection--but this time, something new and different has happened. On March 28, Federal District Court Judge David O. Carter ruled that Trump and former Chapman University law professor John Eastman "more likely than not" committed two felonies in their efforts to overturn the results of the 2020 presidential election: 
Obstruction of an official proceeding of Congress
Carter's ruling runs 44 pages and is meticulously detailed. Among other events, it chronicles Eastman's role in drafting two memos for the Trump campaign that set forth a plan to nullify the Electoral College votes in seven swing states when Congress met in joint session on Jan 6, 2021 to certify Joe Biden's victory. The ruling also summarizes Eastman's meetings with Trump, Vice President Mike Pence and other White House officials to execute the plan, as well as Trump's infamous phone call to Georgia Secretary of State Brad Raffensperger.
Subject to further appeals, the ruling ends a lawsuit Eastman filed to prevent the House Select Committee investigating the insurrection from obtaining 111 emails he had sent or received on his Chapman email account between November 3, 2020 and January 20, 2021. Eastman argued the emails are protected from disclosure under the attorney-client privilege. The committee argued the emails fall within the "crime-fraud exception," which holds that the privilege does not cover communications made with the intent to further or conceal a crime. Carter ordered Eastman to turn over 101 of the emails, finding the crime-fraud exception applied.
Although Carter's decision only affects Eastman directly, it has profound implications for both Trump and Attorney General Merrick Garland, the nation's top law-enforcement officer. In words that surely will get Garland's attention, Carter wrote:
"The illegality of the plan [to overturn the election] was obvious. Our nation was founded on the peaceful transition of power, epitomized by George Washington laying down his sword to make way for democratic elections. Ignoring this history, President Trump vigorously campaigned for the Vice President to single-handedly determine the results of the 2020 election. As Vice President Pence stated [at the time], 'no Vice President in American history has ever asserted such authority.' Every American—and certainly the President of the United States—knows that in a democracy, leaders are elected, not installed. With a plan this 'BOLD,' President Trump knowingly tried to subvert this fundamental principle."
Carter's ruling marks the first time a sitting judge has found that Trump likely violated federal criminal law. And while the likelihood finding falls well below the reasonable-doubt standard that must be met to secure a criminal conviction, it is more exacting than the probable-cause standard Department of Justice lawyers use to decide when to recommend or commence prosecutions. The probable-cause test is also used by federal grand juries use to decide whether to return indictments.
The FBI uses an even lower bar. Under DOJ guidelines, FBI agents can open investigations when "facts or circumstances reasonably indicate that a federal crime has been, is being, or will be committed." The guidelines instruct that "the standard of 'reasonable indication' is substantially lower than probable cause."
To-date, Garland's Justice Department has opened at least 800 criminal cases against individuals who participated in the insurrection. Many of the cases involve misdemeanor charges, but a few concern major offenses, including a substantial seditious conspiracy case brought against members of the Oath Keepers militia group. The DOJ is also prosecuting former Trump adviser and alt-right rabble-rouser Steve Bannon on two counts of contempt of Congress stemming from Bannon's failure to comply with a select committee subpoena.
All of these cases are important, but they fall wide of the mark of what is needed. Both at home and abroad--from Trump's MAGA movement to Vladimir Putin's Russia--democracy is under assault. Autocracy is on the rise.
Merrick Garland is a good and decent man with a well-developed sense of empathy. He sometimes gets choked up in public, reflecting on his career and the suffering of others. But as yet, there is no indication that he has convened a grand jury or otherwise initiated an investigation of the former president.
And that simply won't suffice. It's time for Garland to act. Don't take it from me. Heed the words of Judge Carter, who concluded his historic ruling with a somber warning:
"Dr. Eastman and President Trump launched a campaign to overturn a democratic election, an action unprecedented in American history. Their campaign was not confined to the ivory tower—it was a coup in search of a legal theory. The plan spurred violent attacks on the seat of our nation's government, led to the deaths of several law enforcement officers, and deepened public distrust in our political process. More than a year after the attack on our Capitol, the public is still searching for accountability....

If Dr. Eastman and President Trump's plan had worked, it would have permanently ended the peaceful transition of power, undermining American democracy and the Constitution. If the country does not commit to investigating and pursuing accountability for those responsible, the Court fears January 6 will repeat itself."
This article was originally published on Blum's Law.