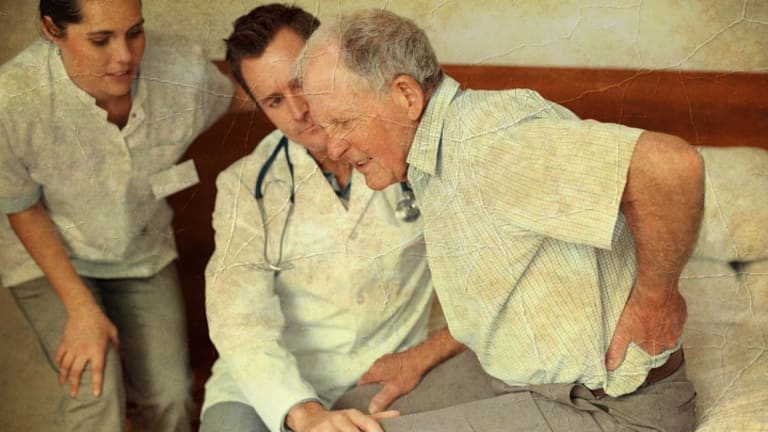 Protecting Disability Benefits Never More Important
Karen Tran-Harding: Whenever I have discussed my job at the clinic, people have the impression that most disability applicants who walk through the door are looking for the "easy way out".
While in training as a resident physician, I made extra money at a clinic that was contracted by the disability determination services (DDS) of the state, providing consultative examinations for people who were applying for disability benefits. I braved the 5-hour round trip through rain and snow since this was the only opportunity I had to help pay off my astronomical medical school debt.
The Social Security Administration (SSA) manages two programs—Social Security Disability Insurance (SSDI) and Supplemental Security Income (SSI)—which pay monthly benefits to people under age 65 who cannot work for at least a year because of a severe disability. The programs are designed to provide long-term protection to individuals who are completely disabled and unable to do any kind of work in the national economy (or, for children, if their impairment results in marked functional limitations).
One step to verifying disability requirements is the medical evidence of the claimant's impairment, which is primarily obtained from the claimant's own medical sources such as their primary care doctor. If that source is insufficient for the claim, independent consultative exams performed by trained physicians were used alongside the patient's prior medical records.
Whenever I have discussed my job at the clinic, people have the impression that most disability applicants who walk through the door are looking for the "easy way out".
Whenever I have discussed my job at the clinic, people have the impression that most disability applicants who walk through the door are looking for the "easy way out". Yes, some claimants may have had questionable motives, but having examined these applicants, I found a majority did really meet disability criteria.
There was the 8-month post-partum patient who in the last month of her pregnancy developed peripartum cardiomyopathy, a condition in which the heart becomes enlarged and cannot pump blood effectively. While some women with this condition regain normal or near-normal heart function over time with the use of medication, this patient's cardiomyopathy worsened, and she eventually needed a heart transplant. This patient was even previously a full-time neonatal intensive care unit nurse prior to applying for disability. Because her savings were going to run low, she was hoping to have temporary disability benefits while still on the road to recovery. 
Another patient was a patient in her 40s who had significant lymphedema, or excess lymphatic fluid causing soft tissue swelling, in both her arms and legs. She was wheelchair bound, as the significant swelling made it difficult to walk and she had visible significant skin thickening and sores all over. The patient had been living with her condition for several years and was able to maintain an administrative position where she could remain seated. But in recent months, the swelling in her arms made it too difficult for her to maneuver and even use a keyboard.
Then there were the war veterans, those who had sacrificed everything to protect our country, not knowing if they would ever see their families or even return home again. The forms we physicians had to fill out were quite objective, with little room to add any subjective descriptions about a patient's disability. But I'm sure my subconscious may have added some helpful adjectives to our nation's war heroes' files.
One veteran was a soft-spoken gentleman who was applying because his severe chronic back pain from a horrific car accident 20 years prior made it too difficult for him to work in construction. His original plan was to finally retire at 65 but came to the clinic shortly before turning 64 because he just couldn't wait any longer.
There were also younger veterans with severe Post Traumatic Stress Disorder, who even after years of therapy could no longer work in their current jobs and were looking for a bridge until they could find new employment.
Of course, there were a few patients who may have had less honorable intentions for applying for disability benefits. After the applicants left our clinic, some patients went on to receive a separate psychiatric evaluation. Then the claimant's entire file was reviewed by a disability examiner working in the state DDS.
I actually never found out which of the claimants ended up receiving disability benefits. Since our consultative exams are quite objective, "freeloading" off of disability was difficult with some claimants reportedly making repeat visits to try to obtain disability benefits after receiving a rejection. But I do believe as a physician, most of these patients did meet the strict criteria for being disabled. Add to the fact that those receiving social security benefits actually only received an average of less than $15,000 a year, a modest sum that is just above the poverty line. And of these patients, a lot of them waited until they had no choice and some of them were even extremely close to retirement.
Because of the coronavirus pandemic, there are now COVID-19 "long haulers", or those that are weeks to months out from their diagnosis who have not returned to their pre-COVID-19 state of health. These "long haulers" may have permanent damage to their organs, such as their heart, lungs, kidneys, and brain. Some have debilitating symptoms such as shortness of breath, fatigue, body aches, and difficulty concentrating—all of which could make gainful employment more difficult.
 After the global health crisis caused a lot of Americans to lose their jobs and even their health, those applying for and already receiving SSDI and SSI are going to need their benefits more than ever. But these programs have been facing challenges.
In the final months of his term, Trump was already threatening to "terminate" Social Security's main source of funding. The Social Security Administration had planned two new policies that would impose unnecessary burden on disabled beneficiaries. One rule would replace impartial administrative law judges with politically motivated agency lawyers to decide the disability appeal cases. The second new policy would add continuing disability reviews that could make it difficult for the disabled to prove they are still eligible—with the risk that some will lose their benefits completely.
In a report by the U.S. Government Accountability Office, between 2008 to 2019, almost 110,000 people died waiting for an appeal after initially being denied Social Security disability benefits. From 2014 to 2019, while waiting for their cases to be resolved, 50,000 Americans filed for bankruptcy. In a study published in the Journal of Disability Policy Studies this year, data showed that the group denied disability benefits actually had a high rate of poor health and high levels of poverty relative to the general working age population.
And whenever a disability claim is denied, the SSA must recommend occupations the applicant can perform. These outdated jobs are outlined in a book called the Dictionary of Occupational Titles (DOT) largely produced in the 1970s. SSA's assertions that many are employed using the DOT has been met with uncertainty by federal courts. There is now fear that SSA's use of the DOT will be struck down, which will jeopardize the agency's ability to approve disability applications, leaving more Americans at risk.
There has also been recent concern that a new SSA proposal — if similar to a version leaked earlier this year — may prevent as many as 500,000 Americans, especially older workers, from receiving SSDI benefits.
Being a physician that has met disability applicants, I realized how important SSDI and SSI are for so many people's livelihoods and am hopeful that the Biden administration will strengthen Social Security. With the recent chaos our world has experienced, it is more important than ever to make sure those that are the nation's most vulnerable continue to be protected.
Karen Tran-Harding
What The Other Side Thinks