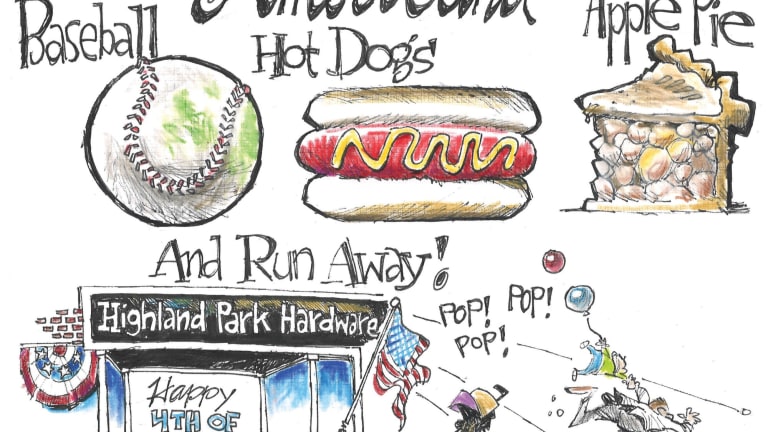 Survival on the 4th: Surviving a Shooting
In the debates over guns and control, there is money to be made, reputations to earn, media attention to garner and a stubborn media logic that is under it all.
My wife and I have spent a lot of time working lately, so on July 4th we decided to close our laptops and celebrate our independence in the physical world. Being in Philadelphia for the weekend, we set off for the annual fireworks display over the Art Museum.
To avoid traffic, I took my wife on one of my infamous "long short-cuts." This involved avoiding Philadelphia's central highway (I-76 to I-676) and traveling up Route 1, turning south on Fox Street, and then heading downtown on 22nd Street. This very long "short-cut" took us through the neighborhoods of Allegheny West, Strawberry Mansion and Sharswood, until we parked at Girard College and walked to the Benjamin Franklin Parkway.
These are neighborhoods most visitors to Philadelphia do not travel through. They have crumbling buildings, no investment, no development, no grocery stores, dilapidated infrastructure and lots of crime. In the past 30 days, 222 crimes were committed, according to Philadelphia Crime Mapper: 2 homicides, 2 rapes, 20 robberies, 15 aggravated assaults, 26 burglaries and 56 thefts. So far this year, more than 1,000 crimes have been reported in the area.
This has been a trend across Philadelphia, particularly in poorer neighborhoods. Gunpoint robberies and shootings are way up; more than 1,400 robberies with a gun have been committed this year, a 63% increase over 2021, which was the worst year on record. There have been more than 2,000 shootings in Philadelphia and more than 1,100 victims, both a 6% increase over last year (source: Philly Crime Update). Nationally, there were more than 220 people killed in shootings across the countryduring the July 4th weekend. According to the Gun Violence Archive and Fox News, eight people were killed in Philadelphia alone.
To be an American in 2022 is to live with these statistics and news stories as a backdrop to one's life. When I told my neighbor what our plans were for the fireworks, he laughed and said there would probably be a shooting. When we arrived at the Art Museum, my wife, an Army officer, detailed our plan if a shooting were to occur. Only a few minutes later, a wave of people ran towards us, with a wave of police officers running the other way. I asked a photographer next to me, "What's going on? Is it a shooting?" He replied with an exasperated sigh. "Of course it would be," he said.
We ducked and ran. Meanwhile, the fireworks started. It was quite surreal: fireworks blasting overhead while we were on the ground trying to figure out if there were gunshots. We took cover in a fountain, and saw a father shielding his child by laying on top of her. Some people ran. Some stayed in place. One man seemed completely unperturbed and laid on the grass staring at the sky. I checked Twitter and saw that, indeed, there were reports of shots fired. Police motioned us away from the scene. Parents cried out for their children. We snuck a quick peak at a few final fireworks before we scurried up 21st Street and back towards our car.
To get out of Philadelphia, we took another "long short-cut" up Ridge Avenue before hopping onto Route 1. With the adrenaline wearing off, we realized we were hungry, so we drove to the Llanerch Diner in Upper Darby, just a few miles away. My wife got soup and salad; I got a chicken sandwich with fries. The local news played in the background; apparently the gunman had shot two police officers only a few hundred feet from where we had been sitting. We never felt as if we were in serious danger, but it turned out we were right next to where the shooting had occurred. "What an American Fourth of July," we marveled to each other. "Guns, fireworks and greasy food at a diner."
Inventions Have Unintended Consequences
Many pundits, commentators, politicians and activists have voiced their opinions on America's gun violence, especially in the wake of Uvalde and Highland Park. I'm not sure how much I can really add to the conversation. But since I write about the convergences between history, media and tech, I'll share some thoughts that have bounced in my head the past week as news of more shootings reach our screens.
My first thought has been another reminder of how inventions have unintended consequences. The creators of the World Wide Web promised us many things in the 1990s and early 2000s: democratization of knowledge, a globally-connected world, an information superhighway. The ability of extremists to design and print their own weapons was not on the list.
There are many guns in the U.S., but more and more the guns on American streets are so-called unmarked "ghost guns." In the past decade, these privately made guns have significantly increased in number, according to the Congressional Research Service (CRS). Parts, kits, frames, receivers and milling devices are increasingly being sold and traded online and assembled at home. The assembled weapons show up at shootings of all kinds, favored by perpetrators because their ownership is not traceable by the U.S. Department of Justice. 
The Web also contains millions of instructional videos on how to build and assemble weapons, in addition to dark Web chat rooms and encrypted messenger chats where people exchange manuals, tip sheets and best practices on gun assembly. According to CRS, "Today, individuals with a modicum of mechanical ability can finish an aluminum or polymer frame or receiver without a great deal of difficulty and, then, assemble a fully operable firearm with aftermarket firearm parts."
Complicating matters is the fact that these networks of exchange are not confined to one country, but transnational. Researchers at the International Institute for Counter-Terrorism have tracked how White Nationalists around the world are in conversation with each other on how to create home-made, unmarked weapons and use them against civilian populations. 
Their justification relies on two main conspiracy theories: 
Soon governments worldwide will confiscate weapons from all citizens, leaving us defenseless
These governments are under the control of a shadowy cabal of Zionists and Marxists seeking to enslave the broader population. (As an aside, this is why no one should be surprised the assailants in Buffalo, Pittsburgh and Colleyville were motivated by antisemitism.)
In October 2019, a White Supremacist attacked a synagogue in Germany using a homemade firearm. In 2020, a White Nationalist was arrested in the UK with terrorism manuals and printing instructions for 3-D guns. In Spain, authorities uncovered an entire workshop devoted to 3-D gun printing, replete with White Supremacist pamphlets. Most recently, the Shinzo Abe assassination in Japan was perpetrated with a DIY gun. On the surface, it may seem as though only America has a gun problem. But below the surface, it turns out the entire world has an extremists-printing-their-own-weapons problem that is growing each year.
It is not solely White Nationalists who are building their own weapons, though. On the streets of Philadelphia, Baltimore, Washington, D.C., and Chicago, police officers are recovering more guns that are unmarked and home-made. Many of the parts are smuggled over the U.S.-Mexico border, according to a Government Accountability Office report. These unfinished frames and receivers, as well as barrels, triggers, hammers, butt-stocks, pistol grips, pins, bolts, and springs wind up on American streets, used in criminal or gang activity such as in our Philadelphia neighborhoods.
Who is responsible for this online content — and what should be done about it, if anything?
 This phenomenon raises a myriad of questions that intersect with the issues we talk about in this newsletter. Firstly, it is yet another reminder that with every invention and innovation that promises us the moon (the Web, 3-D printing) it is imperative to think about how they can be used to cause harm. In my interactions with technologists, this has been a struggle; founders and innovators do not want to admit how their products can be used for ill because that would scare off investors and lead to bad PR. The tech and business worlds rely on raising capital and building hype in order to sell products. But this is why the tech and business worlds need more ethicists, social scientists, activists and historians at the table before new products are rolled out, not after.
Another question connects with debates over disinformation and regulation. Currently there is a push from Europe, Australia, Canada and other governments to take more action against online disinformation and to hold platforms more accountable. 
Where do make-your-own firearms videos fit into this equation—or tutorials on how to build your own unmarked gun? Should platforms be held accountable for such user-generated content? Should Amazon be held responsible if a book on its site about making your own firearms gets used by a White Supremacist? Would that even be enforceable given the protections of Section 230 and the 1st and 2nd Amendments? 
I'm not an attorney, nor a scholar of the Second Amendment, but in the context of "responsible tech" and content moderation, these questions seem worth posing. This does not even address the numerous hateful videos online that inspire shootings, or that shooters post in connection with their crimes.
What about larger, structural issues? 
The issues surrounding gun violence extend beyond homemade guns or extremists in online chatrooms. As evidenced by the graphic above, so much of the gun violence in the U.S. occurs in American cities, specifically in communities of color. The scholar Allegra McLeod noted in a recent paper that homicides and acts of violence are "most strongly associated with concentrated poverty and inequality." "These communities," she continues, "are also disproportionately subject to environmental pollution and toxicity as well as lack of access to healthcare, quality housing, quality education, food, and other basic necessities."
In Chicago, for example, 50% of shootings occur within communities that comprise 15% of the population. These neighborhoods are in the South and West of the city, are predominantly African American and Hispanic, and are characterized by poverty, lack of education and poor health outcomes. Activists and scholars have argued that to really eliminate gun violence in America would require a massive diversion of resources away from police departments and prisons, and towards investments in communities that have been neglected for decades by a lack of basic services, housing, food, medicine, jobs and transportation. Activists have also argued for gun manufacturers to produce dramatically fewer guns; during the 2010's, more than 90 million firearms were manufactured in the U.S., a large percentage of which were purchased by the military and police departments.
Not surprisingly, these arguments have received strong push-back from police unions and some voters who want convicted criminals prosecuted and behind bars. These ideological battles are playing out in high-crime cities across the country, including San Francisco, where the progressive District Attorney Chesa Boudin was ousted in a recent recall vote, and in Philadelphia where relatives of murder victims recently gathered in the capitol to rally for the impeachment of DA Larry Krasner.
Activists have argued in response that such efforts at radical reform require patience. To eliminate violence requires addressing root causes such as racial inequality and poverty that are decades in formation and have been exacerbated by the Covid-19 pandemic. But patience feels in short supply in a fast-moving, social media world. As a compromise, we make tweaks around the edges meant to inch us towards more meaningful progress. Meanwhile, more Americans die and more survivors are left to deal with the trauma, adding to the cycle of anger, sorrow and frustration.
Who speaks, whose voices do we hear?
One final thought, one that is more directly connected to the questions in my book. In my book I talk about how, for all the promises of democratization on the Web, social media platforms tend to privilege certain voices while obscuring others. Online influence is not distributed equally, and, indeed, on a platform such as Twitter, several studies have shown that a very small percentage of users speak the most and gain the most attention.
In the world of gun violence activists, David Hogg of March for our Lives and Shannon Watts of Moms Demand Action are two examples of public figures who receive much media and social media attention (Hogg, aged 22, even has a book deal with Random House). Both have been adept at booking major TV and magazine appearances on MSNBC, CNN, CBS, NPR, TIME and even the Dr. Phil Show. 
Their voices are certainly important in these debates; but driving through the neighborhoods of Philadelphia after the July 4 shooting, I was reminded of all the voices we never hear who are affected by gun violence, particularly from communities of color who endure shootings every week. They do not get invited onto CNN or MSNBC. They do not have social media accounts with massive followings. They do not get retweeted by journalists or celebrities. They do not get book deals with Random House. They do not earn $10,000 - $20,000 speaking fees (yes, some gun control speakers get very lucrative speaking gigs). 
In the debates over guns, there is money to be made, reputations to earn, media attention to garner and a stubborn media logic that undergirds it all. Our debates in the public sphere privilege certain voices and silences others, and it is worth thinking about that as we grapple with how to move forward. In the neighborhoods of Allegheny West, Strawberry Mansion and Sharswood, there are no cameras, no microphones, no book deals, and increasingly, no answers to how America's gun violence epidemic will be solved.
Other news, in brief
Last week was a busy one for other reasons. I was honored to receive an invitation from the National Liberty Museum and the National Constitution Center to deliver a lecture in the run-up to July 4th:
The subject of my talk was "Are These Truths Still Self-Evident? Re-Reading the Declaration of Independence in 2022." Re-reading Thomas Jefferson's words of "self-evident truths" and "facts submitted to a candid world" felt very odd in a 2022 filled with disinformation and intense partisanship. The lecture gave me a chance to think through some these ideas in connection with my book, and I'm grateful to NLM and NCC for the opportunity. A video is forthcoming.
I also took the opportunity to condense some of these ideas into an op-ed for TIME. That article is below:
Finally, a thank you to my friend and fellow history communicator Stephen Sorensen for plugging my book on Twitter:
Haven't picked up your copy of History, Disrupted yet? What are you waiting for? Summer is a perfect time for reading, and History, Disrupted makes a great companion for afternoons at the beach or evenings by the campfire.
History, Disrupted is also featured on the summer reading list from our friends at All Tech is Human. Check out their list of thought-provoking titles:
Have a safe week.
This article was originally published on History Club.