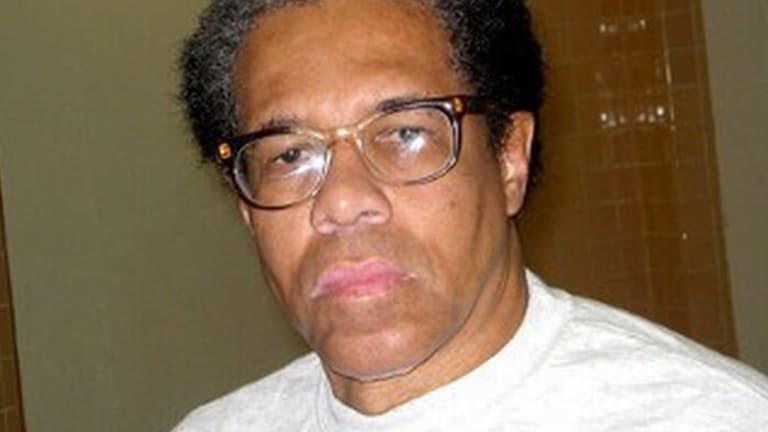 Last Angola 3 Prisoner Ordered Released after Four Decades in Solitary
Larry Wines: The story of three black men—Albert Woodfox, Robert King, and Herman Wallace—in solitary confinement for decades in a notorious Louisiana prison, will shock you.
Federal Judge Orders Release of Last of the "Angola 3" — the Longest Ever Held in Solitary Confinement in the U.S.
Albert Woodfox has spent more than four decades in solitary confinement for a crime he's long argued he didn't commit. He's been ordered freed. But it's Louisiana. And Woodfox is the last of the "Angola 3." It required action by federal courts to get the other two of the Angola 3 out, one of them just in time to die of cancer.
U.S. District Judge James J. Brady ruled Monday, June 8, 2015, that Woodfox, 68, should be released from prison where he has been in solitary confinement since 1972, and that he should not face a third trial due to "exceptional circumstances," including his age and poor health and the court's "lack of confidence in the state to provide a fair third trial."
There have been books. Investigative journalists have delved into the case. It's always been important for Amy Goodman on "Democracy Now". Two major documentary films and other shorter features have examined the case, and we'll get to those.
The British-based newspaper, The Guardian, has been on the story for years. They describe Woodfox as "the longest-standing solitary confinement prisoner in the U.S., who has been in isolation almost without pause for more than 42 years."
The Guardian's Nov. 21, 2014 report of the federal court reversing his conviction speaks volumes about his confinement: "When Albert Woodfox... was told on Thursday his conviction had been overturned, he had difficulty reading the court ruling. Prison guards refused to unshackle him, to free his hands."
That Guardian story reported, "The guards wouldn't release even one shackle from his hand so that he could turn the pages. I had to turn them for him," said his lawyer, Carine Williams, referring to the 37-page court reversal of his conviction.
Yet as recently as 2013, in one of the countless examples of his state's lack of veracity and credibility, Louisiana Attorney General James "Buddy" Caldwell released an emphatic statement that none of the Angola 3 had ever been held in solitary confinement.
Woodfox is the last imprisoned member of the Angola 3, a trio of prisoners who were accused in the 1972 killing of guard Brent Miller at the Louisiana State Penitentiary at Angola.
None of it has ever added up. The prosecution's star witness, Hezekiah Brown, was serving a life sentence without parole for aggravated rape. After fingering the inmates who became the Angola 3, Brown was given his own house on the prison grounds, along with a weekly carton of cigarettes paid for by the state. Brown was released in 1986 after a successful campaign by the warden.
Moreover, a bloody fingerprint found at the murder scene was checked only against Woodfox and Wallace — and it matched neither of them. Yet it was never tested against anyone else, in a place where everyone's fingerprints were on file.
Questions surrounding the convictions of the Angola 3 have always been fraught with contradictions and more than reasonable doubt, as a three-part 2008 NPR report explored.
But then, it's Louisiana, where its legal roots in French law are celebrated as a cover for its shocking injustices. And it's Angola, which makes "Cool Hand Luke" look tame.
Louisiana's infamous and nefarious state penitentiary takes its name from the pre-Civil War plantation worked by slaves and on whose land it was built. It is, as the NPR reports describe it, "a prison unlike any other. It's the size of Manhattan, 30 miles from the nearest town, a place unto itself."
There are countless accounts of Angola as a composite of horror movies, a broken institution straight out of the Inquisition, where inmates operate a Lord of the Flies system within the institution's walls and agricultural fields. That includes making sex slaves of other inmates. Most of Angola's prisoners work the fields in scenes reminiscent of plantation slavery with additional chains and armed guards. In the cell blocks, there are reports of temperatures soaring in cramped, humid cells. Reports of temperatures remaining far past 100 degrees, 20, 30, 40 degrees hotter than the outside air, are almost routine.
Albert Woodfox has been held in a 6-by-8 foot cell, as the Guardian described last year, "enduring the psychological impact of isolation exacerbated by chronic claustrophobia, for all but three years since he was put in 'closed cell restriction' in 1972."
Woodfox was originally imprisoned on an armed robbery conviction. He maintains he had tried to point out injustices at the prison and was targeted and wrongfully accused of the 1972 murder of the prison guard because of his activism. More specifically, his activism as a Black Panther.
Robert King, the first of the "Angola 3" to gain release, was freed after his conviction in the killing of a fellow inmate was overturned in 2001.
As the UK-based Telegraph newspaper described "The event which would begin King's descent into the bowels of the American penal system was an armed robbery. The man who committed the crime later admitted that the only reason he'd put King's name forward was because King looked so different from his real accomplice that he felt there was no way he could be convicted."
The story of three black men—Albert Woodfox, Robert King, and Herman Wallace—in solitary confinement for decades in a notorious Louisiana prison, will shock you.
The account continues, "He had underestimated the determination of the Louisiana police department, and King soon found himself convicted and sentenced to 35 years in prison."
King himself has said, "They could have given me the maximum 60-year sentence but I think the Judge knew that I had not committed the crime."
King escaped the Louisiana penitentiary for a time in the turbulent '60s and he learned about and joined the Black Panthers during his time as a fugitive. After he was caught, that new affiliation and the thinking that came with it would bring him more trouble at the hands of prison authorities. He, like the other members of the Angola 3, organized a Black Panther Party chapter inside Angola, and the three maintained it's what got them framed for killing prison guard Miller and led to each of them spending decades in solitary.
After his release, King spent several years touring with one of the documentary films, drawing attention to the case of the Angola 3, trying to get the other two released.
It took another 12 years for the second of the three, Herman Wallace, to get out. He was released in 2013 after a judge vacated his murder conviction and sentence. He only experienced a few days of freedom; he was suffering from terminal liver cancer and died just days later.
That left Woodfox as the last of the Angola 3 behind bars. A federal appeals court overturned Woodfox's conviction in 2014. But he remained in solitary in Angola, awaiting a third trial, until Monday's ruling by U.S. District Court Judge Brady.
Still, the Pelican State is as intransigent as ever. "That's where he should stay," a spokesman for the Louisiana Department of Justice told The New Orleans Times-Picayune newspaper on Monday.
State spokesman Aaron Sadler said, "With today's order, the court would see fit to set free a twice-convicted murderer who is awaiting trial again for the brutal slaying of Corrections Officer Brent Miller," as reported in that New Orleans newspaper.
It should come as no surprise that the Louisiana Attorney General's Office is seeking an emergency stay to block the judge's order for Woodfox's release. Sadler said the state wants to "make sure this murderer stays in prison and remains fully accountable for his actions."
Meanwhile, Amnesty International praised the judge's decision as a "momentous step toward justice... [after] Woodfox has spent 43 years trapped in a legal process riddled with flaws."
CNN quotes Jasmine Heiss, a senior campaigner for Amnesty, the world's largest human rights group, as saying, "The only humane action that the Louisiana authorities can take now is to ensure his immediate release."
In their review of the 2010 documentary film about the Angola 3, "In the Land of the Free," the UK-based Telegraph newspaper wrote, "It becomes clear early on in the film that this isn't just a story about prisoners surviving for an incredible length of time in solitary confinement, but rather it's the tale of a series of unsafe convictions, corrupt officials and a white dominated state system terrified about an uprising from the black community."
That reference to "unsafe convictions" has a double meaning, applying both to the shaky, probably fraudulent grounds on which the criminal sentences were based, and to the expressed beliefs held as personal convictions by any individual. Or shared by activists up against a demonstrably racist state.
As the Telegraph explained to its British readers about the creation of a Black Panther Party chapter inside the prison by those who would become the Angola 3, "It's this community organisation that so bothered the white power structure, both within the prison system and in the society at large: the odd angry black man shouting about injustice was containable, but this calm marshalling of forces and rational argument of issues was seen to be much more dangerous."
Back in 2013, Herman Wallace, Woodfox's fellow Angola 3 inmate — who had also been held in solitary confinement for more than 40 years — was ordered released because he was dying from liver cancer.
At the time and on the eve of his release, Mother Jones reported, "Angola 3's Herman Wallace Is Gravely Ill — But Still on Permanent Lockdown."
Eventually, Herman Wallace was wheeled out of prison strapped to a hospital-style gurney after a judge vacated his murder conviction and sentence. He died just days later.
"Mr. Wallace... fought his unconstitutional conviction for decades... supported by four alibi witnesses who place[d] him in another part of the prison when the tragic murder occurred," his lawyers said.
Wallace — after losing between 40 and 50 pounds — was found in the summer of 2013 to have terminal liver cancer.
Chemotherapy treatment which was therefore started in a late stage was not effective and was suspended, according to Trenticosta, one of the attorneys for Wallace and Woodfox. He said the cancer should have been treated much earlier.
Wallace and Woodfox "endured very restrictive conditions, including periods of 23-hour cell confinement," according to Amnesty International USA.
Amnesty International noted upon Wallace's release that the "step toward justice" came for him as he was "dying from cancer with only days or hours left to live," which turned out to be true.
"No ruling can erase the cruel, inhuman and degrading prison conditions he endured for more than 41 years," Amnesty said.
Even then, with Wallace just days from death, the American Civil Liberties Union of Louisiana had to admonish Louisiana authorities not to appeal the ruling that freed Wallace.
Wallace and Woodfox lawyer Trenticosta said when Wallace was ordered freed, "There is no anger with Mr. Wallace. He is the strongest person I have had the great opportunity to represent. He is about positive thinking."
That adds yet another remarkable dimension to all this. Even on the cusp of death, Herman Wallace, after more than 40 years in solitary confinement, was "about positive thinking."
We wonder what Albert Woodfox will have to say upon his release?
In 2010, speaking on a prison payphone, some of his words in his own voice became part of the documentary, "In the Land of the Free."
Albert Woodfox said, "If a cause is noble enough, you can carry the weight of the world on your shoulders. And I thought that my cause, then and now, was noble, so therefore, they could never break me. They might bend me a little bit. They may cause me a lot of pain. They may even take my life. But they will never be able to break me."
Albert Woodfox, last of the Angola 3, has, like Wallace, also spent more than four decades in solitary confinement after being convicted of that same murder of a guard — a crime that he, and the evidence, have always said he didn't commit.
You can monitor the current news of Woodfox, and Louisiana's efforts to block his release, on CNN.
The Angola 3 have been the subject of two documentary films, and both are available free online and worth watching.
In advance of watching, we recommend reading a piece in the UK-based Telegraph newspaper, their review of the 2010 film, "In the Land of the Free" about the Angola 3. Their story has more facts of the case than those we cited in our story.
Watch, free, the complete 2010 documentary, "In The Land of the Free," available online at several sources, including here. It's the newest telling of this shocking and unbelievable story of perpetuated injustice.
Watch, also free, the complete 2008 documentary, "The Angola 3: Black Panteehrs and the Last Slave Plantation" online at Snagfilms or with the Fandor app. It's the celebrated documentary by director Jimmy O' Halligan.
Larry Wines