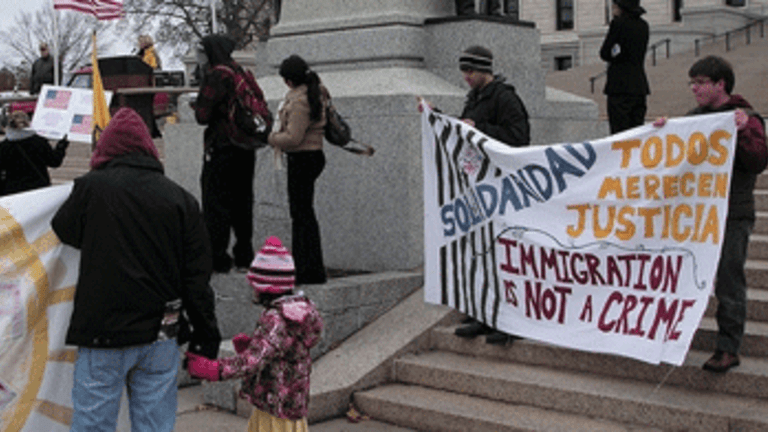 Governor Brown: Don't Use County Jails for Civil Immigration Detention
Brian Goldstein: In this era of Realignment, California cannot afford to repeat mistakes from the past and throw away money to unnecessarily expand local jails, lease private facilities, and use local jails for ICE detentions.
Should federal immigration enforcement consume finite local public safety resources and capacity? As California mulls this question, consider that Governor Brown is expanding the state's reliance on private prison as a last-minute solution to federal mandates, while some county sheriffs request jail construction funding to overhaul local facilities. Now is not the time for California's local jails to unnecessarily hold those suspected of violating civil immigration laws.
Federal officials developed national immigration detainer programs to remove undocumented individuals that presented a serious criminal threat to public safety. Through said programs, Immigrations and Customs Enforcement (ICE) issues non-binding requests for local law enforcement to detain a suspected undocumented individual, for up to 48 hours after the resolution of their criminal justice matter. This allows ICE to assume federal custody and initiate detention proceedings. The additional 48-hour period does not include weekends and holidays, nor do individuals benefit from the due process protections afforded to suspects in the criminal justice system.
The state is awash with ten jail construction projects funded through AB 900 and 12 more projects to come, along with SB 1022 local construction funding for future projects. Governor Brown's leadership on AB 109, Public Safety Realignment, strengthened cost-saving local rehabilitation programs that keep us safe and reduce recidivism. Unfortunately, the Governor betrays this legacy by supporting expanded reliance on private prisons to reduce overcrowding of state facilities.
The Center for Juvenile and Criminal Justice's recent analyses of immigration detainer requests shows that ICE frequently asks California's 58 counties to detain individuals with limited criminal histories—often amounting to simple possession of less than an ounce of marijuana or more commonly drunk driving. Sensible public safety priorities would not lead to incarceration of these individuals for such minimal crimes. Yet, they could be jailed for two days, at a cost of approximately $114 per person, for non-criminal immigration violations.
Some counties have begun to recognize the detrimental effect of these ICE detentions and have instituted ordinances to better preserve local capacity. In a recent op-ed, San Francisco District Attorney Gascón highlighted the challenges with the immigration-hold policy. He noted that ICE programs are implemented, "at the expense of public safety, the trust and effectiveness of law enforcement and our constitutionally guaranteed right to due process." Gascón supports a proposal that wasapproved by the Board of Supervisors that would prohibit county law enforcement from detaining an individual solely due to a suspected violation of federal immigration law. The ordinance is also supported by San Francisco Sheriff Ross Mirkarimi.
Santa Clara County has already implemented a policy that recognizes the significant fiscal cost of ICE holds. In October 2011, it passed an ordinance whereby the county will only honor federal ICE hold requests if the government agrees to provide full compensation for the use of bed space, staff time, and other finite resources. No such agreement has been established, thus severely limited ICE detentions in the county. It also ended the practice of enforcement of ICE hold requests against any youth. Meanwhile, more modest reforms inMonterey County are underway that will reduce the enforcement of ICE hold requests for low-level misdemeanants.
While these county-level reforms are welcome, the proliferation of geographical inequality under the law remains starkly apparent. Fortunately, California is also considering a statewide proposal called the Trust Act (AB 4), which now sits on Governor Jerry Brown's desk. The legislation would limit local law enforcement from detaining suspected undocumented individuals, who are otherwise arrested for minor offenses.
San Francisco and Santa Clara are local models for preserving public safety resource capacity amid Realignment and strained budgets. Moreover, each is a conscious effort that respects law enforcement and the trust and respect for California's immigrant community necessary to ensure public safety. Likewise, the Trust Act is a bold step where the state can serve as a national leader to demonstrate a smart approach to public safety, which understands the detrimental fiscal and human cost of unnecessary ICE detentions.
It is time for other jurisdictions across the state and country to come to a similar conclusion and follow suit. In this era of Realignment, California cannot afford to repeat mistakes from the past and throw away money to unnecessarily expand local jails, lease private facilities, and use local jails for ICE detentions. Governor Brown and California must instead invest in a 21st-century criminal justice system that prioritizes data-driven results and public safety over the recognized failures of yesterday.
Brian Goldstein
Center for Juvenile and Criminal Justice
Thursday, 26 September 2013