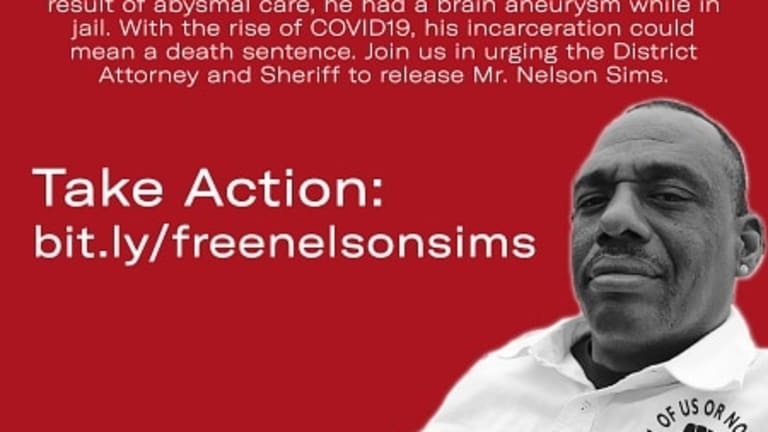 How Jail Sentences Become Death Sentences
Andreya Garcia-Ponce De Leon: Given the increased risk of contracting COVID-19 behind bars, Sims' already unjust sentence could prove fatal if he is not released from jail
On March 13th, a former Marine was sentenced to five years in prison for DUI charges—but could five years for a DUI turn into a death sentence for 61-year-old Nelson Sims?
The sentence came after Sims suffered a brain aneurysm on February 14th, at the Cois Byrd Detention Center while awaiting trial. Officials denied Sims the medication and breathing machine that he used to treat his underlying medical conditions. He was sent back to jail following his surgery without being given appropriate time to recover, and was sentenced only two weeks later while still visibly ill and disoriented.
This was in March, as the cases of COVID-19 started to climb in the U.S. jails, prisons and detention centers quickly became viral hotspots, exacerbated by lack of access to proper hygiene, the impossibility of social distancing, and poor medical care. Given the increased risk of contracting COVID-19 behind bars, Sims' already unjust sentence could prove fatal if he is not released from jail and allowed to go home to his wife where he can receive proper care and medical attention.
Given the increased risk of contracting COVID-19 behind bars, Sims' already unjust sentence could prove fatal if he is not released from jail
Nelson Sims' story is not isolated. Covid-19 testing inside jails has been woefully inadequate, even when compared to the dearth of testing across California, and the country. Since February 2020, COVID-19 has infected 380 persons in Riverside County Jails. The number is likely even higher.
Between August 30 and September 5th, the Riverside County Sheriff's Department conducted approximately 781 COVID-19 tests. Because only approximately 20 percent of the jail population was tested that week, there is not an accurate way of knowing just how many asymptomatic carriers there really are amongst the tightly confined populations.
Despite cases like Nelson Sims', Chad Bianco told the Press-Enterprise he would not "release [inmates] simply because they're overweight or have some other type of medical conditions."
This of course, was after a federal judge lambasted the County and Sheriff Chad Bianco for failing to protect those on the inside including two of Bianco's own deputies, who died from COVID-19 complications.
But the injustices do not start with Chad Bianco; rather they're symptoms of a deeply flawed "justice" system that disproportionately affects Black and Brown people through policy. Research has shown that racial disparities in prosecution and sentencing exist between white and non-white offenders. Black offenders are more likely to receive harsher sentences than their white counterparts. In Sims' case, prosecutors in the Riverside County District Attorney's Office intentionally maximized the amount of time Sims would spend behind bars, including adding enhancements to his charges.
In the face of an unjust system, what can be done to help Nelson Sims and others like him? An obvious first step is to release Sims, and others with chronic health problems from county jails in order to avert a full-blown human rights disaster.
Our long-term goal must be to invest in systems that actually address the needs of the most vulnerable. Our punitive justice system only hides the criminalized and doesn't address their economic, social, or mental health needs through restorative practices.
Andreya Garcia-Ponce De Leon