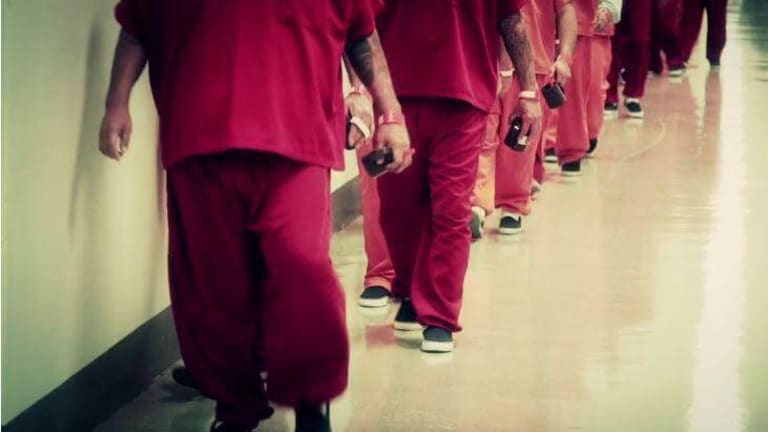 Immigrant Detainees Speak of Abuses
Vivian Rothstein: "They look at you like trash," said a former detainee who had been a hunger striker at the Adelanto Detention Center.
Last month 100 people from states as diverse as New York, Texas, Maryland, Kansas, Florida, New Hampshire, Nevada and Illinois met in a Malibu retreat center to plot nothing less than the end of the U.S. immigration detention system. Brought together by CIVIC (Community Initiatives for Visiting Immigrants in Confinement), participants included interfaith activists, immigration lawyers, recently released asylum seekers and academics, nearly all of whom were women. Meeting for three days in scorching heat, they discussed how to effectively challenge the system of incarceration and deportation that is now part of our nation's immigration infrastructure.
Many Americans, myself included, are the children, grandchildren or other descendants of people who came to the U.S. to escape religious persecution, starvation, tyranny or political violence. We would not be alive were it not for America's past immigration policies. Current asylum seekers are often treated like criminals, mandatorily imprisoned in isolated immigration detention centers after turning themselves in to immigration officials at the border. Many face bail requirements as high as $250,000 and sometimes more to get out, and often endure life-threatening conditions while incarcerated.
"They look at you like trash," said a former detainee who had been a hunger striker at the Adelanto Detention Center.
"They look at you like trash," Emmanuel, a former detainee, told conference attendees. He and another speaker, Isaac Lopez, had been hunger strikers who were recently freed on bond from the Adelanto Detention Center near Victorville, California after advocacy on his behalf by a coalition of immigrant rights organizations. Among nine Central Americans (who were later joined by over 20 Haitian asylum seekers), Isaac participated in the hunger strike to dramatize the lack of medical attention, spoiled food and the provision of used, dirty underwear to the detainees. Once the hunger strike began, said Lopez, the strikers were subject to pepper spray, solitary confinement and other abuses.
CIVIC supports a network of volunteer-run visitation programs to America's 210 detention facilities, whose inmates usually have no legal representation or contact with the outside world. The group also organizes stakeholder inspection tours and runs a national hotline through which detainees can report abuses experienced in the system. A pen-pal program and the sharing of stories of those finally released after months or years of incarceration also help get the word out that these facilities exist, supported by taxpayer money.
CIVIC'S volunteer network conducts over 54,000 visits to detention facilities each year. Workshop presenter Paula Kahn of CIVIC and CODEPINK suggested that the goal of volunteers is to be "radical accomplices." Rather than "impose our own conclusions about conditions inside the detention facility," Kahn emphasized that "people are experts on their own experiences" and the job of visitors is to understand their lived experience in detention.
Other workshops discussed recruiting and retaining volunteers, monitoring conditions for detainees, getting their personal stories out to the broader community, raising funds for bail and post-release support. Once released from detention, asylum seekers are often prohibited from working yet have to find a place to live and continue to pursue their asylum requests through the immigration court system.
As a result of CIVIC's work in collecting data on conditions in California's immigrant detention centers, the state legislature this year passed the first bill in the country to put a moratorium on the expansion of future immigration centers in California and to give the state attorney general the power to monitor the facilities for the next decade.
A closing session run by CIVIC founders Christina Mansfield and Christina Fialho asked retreat attendees to visualize a time when the 210 detention centers across the U.S. are closed and, instead, non-profit organizations are funded to provide housing and support services for those in the asylum pipeline.
The U.S. immigration detention system is the largest in the world and influences the infrastructure of detention systems in other countries, Fialho and Mansfield explained. By changing the ways immigrants are treated here, the U.S. can be part of an international movement to reshape state responses to asylum seekers by welcoming migrants rather than imprisoning them.
Vivian Rothstein
Capital & Main