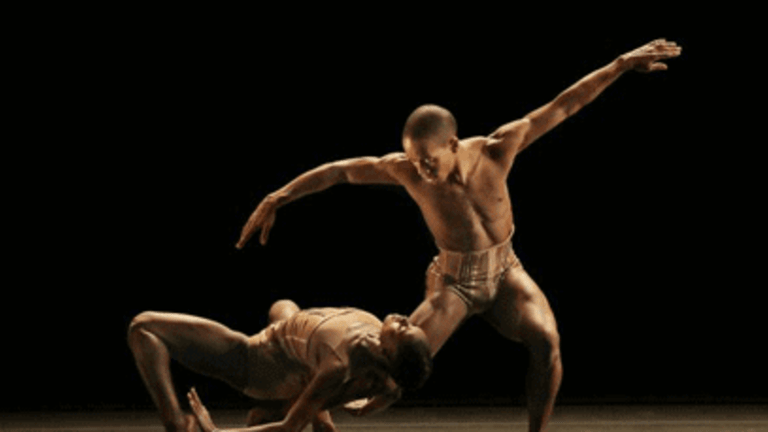 Alvin Ailey Dance Theater: Ailey's Comets Cometh
Ed Rampell: Ailey's comets are soaring across the stage and illumining the Dorothy Chandler Pavilion through April 21 with three programs, all of them containing the iconic Revelations, created by Alvin Ailey himself in 1960.
What the Tuskegee Airmen did in aviation, the Harlem Globetrotters did in sports and Porgy and Bess did in opera, the Alvin Ailey Dance Theater accomplishes in choreography and dancing. Indeed, with the dancers' aerial escapades which seem to defy gravity, propelled by a graceful athleticism with an operatic expressiveness, the ensemble combine elements of all three of these pioneering groups.
Founded in 1958 in Manhattan, this "all Negro" (now primarily, if not exclusively, Black) troupe now numbering about 30 dancers has become synonymous with modern dance and expressing the African American experience through movement. And, as the Alvin Ailey Dance Theater's name indicates, there is a strong theatrical component to the artistic expression of this company, whose eponymous founder studied not only with Time magazine's"Dancer of the Century," Martha Graham, but with Stella Adler, that apostle of a version of Stanislavsky's Method who, among many others, also taught Marlon Brando.
Ailey's comets are soaring across the stage and illumining the Dorothy Chandler Pavilion through April 21 with three programs, all of them containing the iconic Revelations, created by Alvin Ailey himself in 1960. Drawing on his Southern roots, Ailey distilled Negro spirituals through the medium and rhythm of modern dance. Presented as part of Program A on opening night as the third and final act, Revelations opens like a freeze frame in a film, with amber-clad hoofers' crouching, arms outstretched, spread to reveal their wingspan. The dancers then swing their extended arms like propellers, as if they are about to take off. Later in the piece women modestly attired in white ankle length gowns and broad brimmed bonnets twirl hand fans that appear to be woven from fronds and a parasol, as bare-chested males in ivory slacks join them. Somehow stools become part of the ensemble. The backdrops are simple yet effective, ranging from hellish flames to reddish and lavender sunrises to ribbons of bluish cloth suggesting a river in the piece set to Take Me to the Water, adapted and arranged by Howard A. Roberts. At times Revelations reminded me of a baptism or church social, evoking what W.E.B. DuBois called "the souls of Black folks." Gyrating across the stage these spiritually moved and moving dancers are literally holy rollers.
And rockers, as Act II's Minus 16, choreographed in 1999 by kibbutz-born Ohad Naharin, demonstrated, with movements and music ranging from the throbbing Surf beat to cha cha to techno to mambo to the Israeli folk song Hava Nagila to Yip Harburg and Harold Arlen's Over the Rainbow. At some point during Minus 16 the dancers leapt offstage into the Chandler Pavilion, returning to trod and foxtrot the boards with male and female members of the audience of various ages, who raucously, impishly improvised along with the professionals, much to the crowd's delight.
A spirited grey-haired ticket buyer unwittingly became the evening's star, dancing along with her young male partner, proving, as the Soviet poet Vladimir Mayakovsky put it, "There's no grey hair in my soul." And, as that immortal philosopher Jimmy Durante astutely observed: "Everybody wants to get into the act!" I haven't seen so much audience interaction at a public dance performance since my South Pacific days, when during their grand finales the Polynesian fire and hula dancers would grab spectators and refuse to let them go until they joined in on the hip shaking, hip-notizing merriment. The appreciative sold out crowd of Ailey fans at the Chandler was clearly predisposed to love the show and artistes.
The premiere opened on a more somber note with another religiously tinged composition called Grace, choreographed in 1999 by Ronald K. Brown. The score includes pieces by Duke Ellington, Roy Davis' Gabriel and Fela Kuti's Afro-Pop rhythms (the musical play Fela! makes a return engagement at the Ahmanson April 26). Spiritual yet sensuous, after the scrim lifts female dancers with white halter tops and bare midriffs, their gauzy material lit from above by bluish light, flow across the stage, kicking, splitting, leaping, twirling whirling dervishes, whirlwinds and windmills of poetry in motion.
Program A, Ailey Spirit, will be repeated on April 20 during the evening performance. Program B, 21st Century Ailey, is being presented on April 18 and during the April 21 matinee, and includes: Another Night, Petite Mort and Strange Humors. Program C, Classic Ailey, takes place on the evening of April 19 and the April 20 matinee, consisting of selections from: Memoria, Night Creature, Phases, Opus McShann, Love Songs, For "Bird" - With Love, Hidden Rites and Cry, all choreographed by the namesake himself. The music may be taped but the choreo is always live, alive, lively and life affirming during Alvin Ailey's extravaganzas.
The Alvin Ailey Dance Theater performs Thursday April 18 and Friday April 19 at 7:30 p.m.; Saturday Aril 20 at 2:00 p.m. and 7:30 p.m.; and Sunday, April 21 at 2:00 p.m. at the Dorothy Chandler Pavilion, 135 N. Grand Ave. Immediately following the April 19 show is an Alvin Ailey Dance Party on the 5th floor of the Dorothy Chandler Pavilion. For more info, go here. For tickets: 213.972-0711; www.musiccenter.org.
Ed Rampell
Thursday, 18 April 2013
Photos by Paul Kolnik