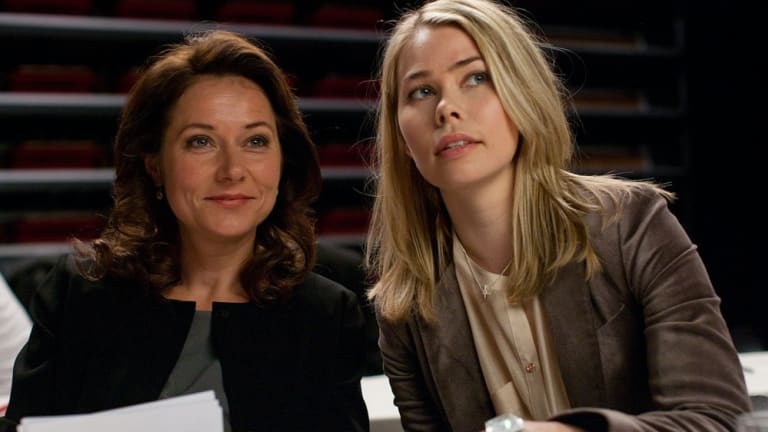 Three Seasons of Danish Political Drama Borgen Now on Netflix
Walter G. Moss: For Netflix viewers who have seen none or little of the first three seasons, you now have some substantial and entertaining viewing to relish amidst all the interrelated Trumpian, coronavirus, and ravaging fires' misery which saddens our days.
On Hollywood Progressive in 2011, I wrote "Hurry to See Borgen: A Ten-Part Series Political Drama." A year later Hollywood Progressive posted my "Hurry to See Season 2 of Borgen." In 2013, Danish TV ran Season 3. In early 2014, reviewing all three seasons, a Washington Post article declared it "the best television show about politics ever." Now, close to a decade later, Netflix has finally made all three seasons (30 episodes, 50+ minutes each) of this subtitled Danish drama available on a streaming service. And it has announced that it will produce--along with DR, the Danish public broadcaster--a Season 4, slated to appear in 2022.
For Netflix viewers, you now have some substantial and entertaining viewing to relish amidst all the interrelated Trumpian, coronavirus, and ravaging fires' misery which saddens our days.
For Netflix viewers who have seen none or little of the first three seasons, you now have some substantial and entertaining viewing to relish amidst all the interrelated Trumpian, coronavirus, and ravaging fires' misery which saddens our days.
As I wrote about the first season, there's plenty of personal and social drama--e.g., romances, marital and parental challenges, media intrigue--to go along with all the political developments. At the center of it all is the politician Birgitte Nyborg Christensen (actress Sidse Babett Knudsen), who during the 30 episodes will for some years serve as Danish prime minister. In addition to being a middle-aged politician (the actress was born in 1968), she is the mother of two children and faces the challenges of many women in various countries who attempt to juggle a full-time career (political or otherwise) with all her parental responsibilities.
When Borgen's Nyborg first becomes prime minister, there had never been a female Danish prime minister. But shortly thereafter, in September 2011, fact followed fiction, and Helle Thorning-Schmidt, head of the Social Democrats, became the real-life Danish prime minister. Like the fictional Nyborg, she was then in her forties and the mother of two children. More recently (2019 to the present), Mette Frederiksen, also a Social Democrat, whom U. S. President Donald Trump once accused of being "nasty," has become the head of the Danish government and done a much better job than he of keeping the coronavirus death rate low. (The Social Democrats are a moderate socialist party and, as is true in some other European countries, one of the most popular. Bernie Sanders in the USA has spoken favorably of the type of socialism they favor).
As mentioned in my first Borgen review, it helps to understand that Denmark and most European countries (plus Canada) have political structures where the chief executive is not elected directly by voters but usually comes from the party that achieves the most parliamentary seats in the last election. Since, however, most of these parliaments have delegates from more than two parties--Denmark currently has representatives from 10 parties--it often occurs that no one party obtains a majority of all the parliamentary members. Some type of coalition government is then necessary, and it is even possible for someone from a party that did not gain the most seats to become prime minister.
We see this occur with Nyborg, when she becomes prime minister even though her centrist Moderate Party is smaller than a few others--later in the series she will leave that party to begin an even smaller one, that of the New Democrats. In such a multi-party system with coalition governments, compromises are frequently necessary. In earlier essays (see e.g., here), I have sometimes written of that need even in our own two-party system. One of Borgen's pleasures is to see how politicians from different parties can sometimes work together for the common good--a phenomenon becoming increasingly less frequent in the USA. Here, public opinion polls often indicate a low regard for politicians, but like the earlier American series The West Wing, Borgen depicts politicians, especially Nyborg, who sometimes act nobly.
Politicians, as the German thinker Max Weber stated a century ago, must traverse an ethical mindfield, where there are often no easy moral choices. Borgen depicts this well, for example, in Episode 5 of Season 3, where parliament considers legislation against prostitution following a scandal in the sex trade. The epigraph for this episode--each one begins with a short quote, usually from notables such as Dante, Shakespeare, Abraham Lincoln, and Winston Churchill--is Churchill's "Some men change their party for the sake of their principles—others their principles for the sake of their party." (How apt the latter part of this quotation seems for Republicans now living in Trump's Republican Party--presuming that is that those Republicans once had some principles.)
In Season 3, besides the prostitution question, other topics that Borgen actors address are animal welfare, food safety, and the communist past of one of Nyborg's supporters, Søren Ravn (played by the excellent Lars Mikkelsen, who played a Russian president in the U. S. political series House of Cards).
Throughout all three seasons, the interrelationship of politics and the media, especially TV, is central--an issue also relevant in the USA with all of Trump's complaining about "fake news" and his cozy relationship with Fox News. A central media figure is Torben Friis (actor Søren Malling), head of news at TV1. We see him not only battling with a boss who wants to jazz up the news to obtain greater viewership, but also having an affair with a woman on his news team, an affair that threatens his marriage.
Besides Nyborg, Ravn, and Friis, two other leading figures are Katrine Fønsmark (Birgitte Hjort Sørensen), a former TV person, who runs media relations for Nyborg, and Kasper Juul (the actor Pilou Asbaek, who appeared in Game of Thrones). Katrine and Kasper are parents of a young son, but in Season 3 the couple has split up, and Katrine, like her boss Nyborg, juggles a full-time job with her major responsibilities as a single mother. In addition to all Nyborg's other problems, late in Season 3 she discovers a health condition that will further complicate her already frantic life.
But politics always remains the central issue, and the last several episodes of Season 3 deal with a new election in which Nyborg's New Democrats hope to gain more parliamentary seats and play a pivotal role in selecting a new prime minister.
Amidst our own campaign season, Borgen thus offers not only a different view of politics, but also reflections on a topic, elections, now central to our concerns.
Walter G. Moss