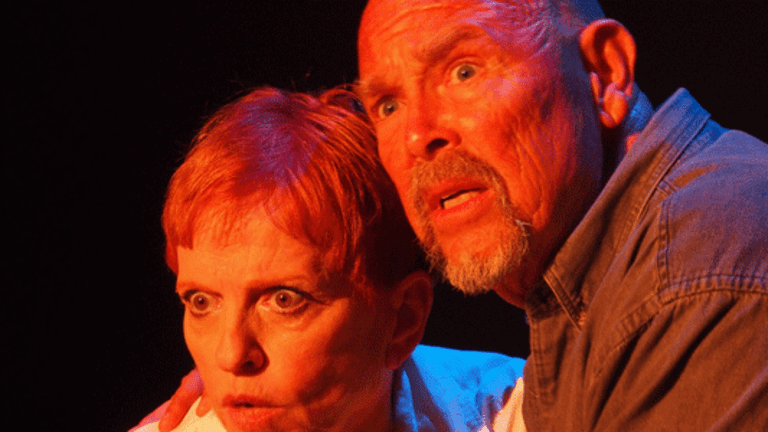 Get Your Brecht On
Ed Rampell: Brecht on Brecht is precise in its stagecraft, adeptly acted, deftly directed and Gayle Bluemel does her musical forebears, Mssrs. Brecht and Weill, proud.
Bertolt Brecht is my favorite 20th century playwright. He is to the stage what Sergei Eisenstein and perhaps Jean-Luc Godard were to the screen. I make it a point to see every single Brecht production I can, and the Other Theatre Company's Brecht On Brecht doesn't disappoint. It is an entertaining, enlightening collage -- or, perhaps, more to the point, montage -- of scenes, songs, poems and film clips by and with the dramatist who wrote The Threepenny Opera, the antiwar masterpiece Mother Courage and 52 other plays.
Brecht led one of the most tumultuous artistic lives of the last century, arguably more dramatic than anything he ever wrote. Born a German Christian, Brecht stood up for the least of these among us, including for the Jews when the chips were down and the Nazis were coming down hard on European Jewry. In a heartbreaking scene from The Private Life of the Master Race, Susan Kussman (who bears an uncanny resemblance to Lotte Lenya) plays a well-to-do Jewish hausfrau who realizes she must leave Germany -- and her husband, portrayed by a bewildered Gregg Lawrence. There is also a poem full of Brecht's trademark biting wit (think Cole Porter crossed by Christopher Hitchens) that mocks anti-Semitism. (I imagine that were Brecht still alive, kicking and sticking it to the status quo he'd be writing pro-Palestinian epistles nowadays.)
Needless to say, this didn't exactly make Brecht number one on der Fuhrer's hit parade. In fact, according to this production's director, Alistair Hunter, Brecht was number five on Hitler's endless enemies list, and the bard had to amscray that away once the Nazis took power. He fled across the Continent seeking refuge for himself and his entourage (which included his Jewish wife Helene Weigel, children and reportedly a mistress or two). Unfortunately, European countries had a nasty habit of falling like dominoes before Adolph's blitzkrieg-ing behemoth. Brecht and company eventually found themselves back in the U.S.S.R. and -- I kid thee not, dear reader -- they literally escaped on the last passenger ship out of the Soviet Far East before the Nazis invaded Mother Russia, too. After stopping at Manila, Brecht found himself ensconced in a Santa Monica cottage, taking a stab at Tinseltown. (Daniel Zacapa drolly portrayed Brecht in the Odyssey Theatre's 2010 production of Christopher Hampton's Tales from Hollywood.)
But our man Bertolt didn't live happily ever after in the land of the free and home of the brave. Besides co-writing Fritz Lang's 1943 anti-Nazi Hangmen Also Die! -- considered a classic by some -- Brecht had little to show for his sojourn in Hollywood (which he called "the swamp"). Except, that is, for being summoned to testify before the House Un-American Activities Committee in 1947, along with the Hollywood Ten. Projected onto a wall of the Atwater Playhouse, Brecht On Brecht cleverly uses bits of footage of his testimony throughout the play.
Did Brecht -- unlike the Hollywood Ten, who were blacklisted and imprisoned for refusing to be "friendly" witnesses who purged themselves and informed on other suspected La-La-Land leftists in order to save their own necks -- collaborate with HUAC? Or did this refugee treading on thin immigration ice play them for suckers and make monkeys out of the Committee? I prefer to think that the author of Galileo -- which shook Hollywood when it was staged during the early days of the Blacklist's inquisition in Eden -- did the latter, hoodwinking the reactionaries so that, once again, he could say: "feets, do your thing; feets, don't fail me now," and beat it, landing in East Berlin where the Communists gave him his very own theater, the Berliner Ensemble.
Among the snippets of vignettes and snatches of songs audiences will hear a bit of Mack the Knife, which Bobby Darin popularized on the pop charts, but is an anti-capitalist anthem from The Threepenny Opera, the smash hit Brecht co-wrote with composer Kurt Weill, and which originally co-starred Weill's wily wife, Lotte Lenya. (In a bit of canny casting, as SMERSH's Col. Rosa Klebb Lenya tried (appropriately) to assassinate James Bond with switchblade shoes in 1963's From Russia With Love.) The cast of Brecht On Brecht, which also includes Gil Hagen-Hill, Daniel Houston-Davila and Belinda Howell, belt out a haunting rendition of The Alabama Song from Brecht and Weill's operatic, U.S.-set The Rise and Fall of the City of Mahagonny (which I saw at the Dorothy Chandler Pavilion with Audra McDonald and Patti LuPone in 2007), wherein the protagonist is executed for capitalism's gravest offense: Having no money.
The master script of Brecht On Brecht, with its interchangeable parts,was written in 1961 by George Tabori, and Hunter -- who ably directs his Atwater (if not Berliner) ensemble in the current production -- originally produced and directed the play for L.A.'s Scorpio Rising Theatre in the 1970s, which some of the current cast members also acted in. Those keen on learning more about Brecht can read John Fuegi's 1994 700 page-plus Brecht & Co., anepic tome that's highly critical of its subject, and/or see the 2000 German film The Farewell, about Brecht's last day in the GDR (East Germany). It stars Josef Bierbirchler as the beleaguered playwright, surveilled by the Stasi, and Monica Bleibtreu as Helene Weigel (who those in the know consider to have been the definitive Mother Courage -- sorry, Meryl Streep!).
My only criticism of Brecht on Brecht is that it could have made use of the playwright's penchant for incorporating written text into his plays, and it would have been instructive if this production had projected titles identifying the various works while they were being acted, recited, sung. But this is a mere threepenny's worth of a quibble. Brecht on Brecht is precise in its stagecraft, adeptly acted, deftly directed and Gayle Bluemel does her musical forebears, Mssrs. Brecht and Weill, proud. Presented in a, well, Brechtian way, this omnibus approach -- a little of this, a little of that -- serves as an excellent introduction for newcomers to the man, his life and work, while longtime Bertolt fans may feel as if they've visited with and caught up with an old friend. After enjoying this two-act lehrstück(learning play), auds may well want to get their Brecht on and agree with him that, after all, A Man's a Man.
The Other Theatre Company presents Brecht on Brecht Fridays and Saturdays at 8:00 p.m. and Sundays at 2:00 p.m. (dark May 12, Mother's Courage Day) through June 9 at the Atwater Playhouse, 3191 Casitas Ave., #100, LA, 90039. Free parking. For info: (323)960-1054; www.theothertheatrecompany.net.
Ed Rampell
Thursday, 9 May 2013