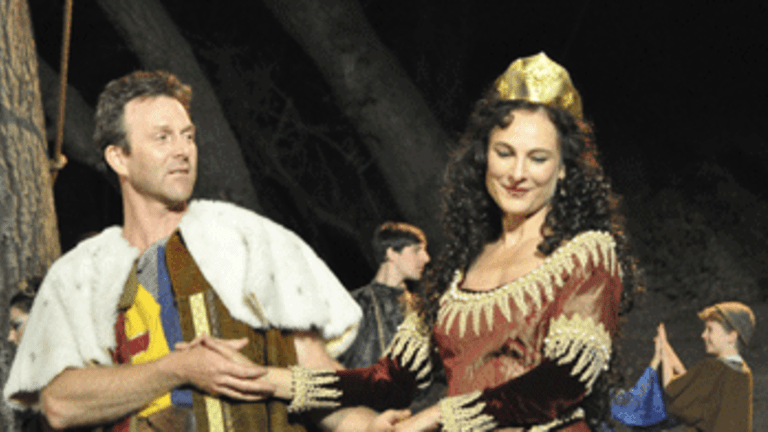 A Pair of British Brand Names Back on the Boards
Ed Rampell: Both the Will Geer Theatricum Botanicum's Merlin, Harbinger of Peace and Sacred Fools' Watson and the Dark Art of Harry Houdini have succeeded in taking a new look at and breathing new life into characters who have been popular for literally centuries.
Two "Arthurian" Legends Ride Again on the Silver Stage
I am very suspicious when characters created long ago and far away are brought back to life on the stage or screen. I often smell a mercantile rat: Contemporary no-talents exploit preexisting protagonists because these brand names have long been established in the public's mind at no cost to today's producers and commercial hucksters who could never create such vivid dramatis personae and storylines themselves.
Yet, they profiteer off of the coveted cachet conferred by these pre-established brand names that make their highly derivative productions standout from the madding crowd in a densely packed media marketplace. These cultural vultures and plagiarists pick the bones of dead authors, gravediggers who often don't have to pay royalties to the deceased writers' heirs -- and, but of course, the long silenced scribblers are no longer able to defend their creations from these rip-off "artists."
Having vented this rant re: one of your erstwhile critic's pet peeves, I am pleased to report to you, dear reader, that this is decidedly not the case with two current plays about beloved British characters that are now world premiering on two very different L.A. stages. In both the Will Geer Theatricum Botanicum's Merlin, Harbinger of Peace and Sacred Fools' Watson and the Dark Art of Harry Houdini these theatre companies have succeeded in taking a new look at and breathing new life into characters who have been popular for literally centuries.
Writer/director Ellen Geer has done extensive research and unearthed new material regarding the famed wizard of England's medieval mythology. To be sure Geer's rendition recounts Excalibur, the fabled roundtable and more from Britain's lore of yore. Yet her Merlin presents the Arthurian legends as I've never seen them regaled before, with a grown-up twist (including a hint at incest) that renders this a version more for adults than for the tykes. Geer's is a "New Age" Merlin, as the playwright, who labored on this piece for lo! many moons, links the sorcerer to the lost continent of ancient Atlantis, the origin of Stonehenge and more hocus pocus to amuse Age of Aquarius auds.
In this almost two hour and forty five minute epic with a cast of around 50 thesps the protean Ms. Mellora Marshall -- who has played men, fairies and even the occasional human female in various shows -- depicts, often with the aid of a flowing beard, the male magician. As in their Shakespearean spectacles Merlin offers the Theatricum's usual dazzling battle scenes galore, with the company making its usual good use of the amphitheater's Topangan natural surroundings to thrust and parry in, choreographed by Aaron Hendry. (For good measure there's even some John Wu-like slow mo swordplay.) Yet, despite all of this swashbuckling, Willow Geer -- in a double role as Guinivere and the Spirit Angel -- warbles a call for "a time of peace."
Aaron Hendry -- who stars as Petruchio in the Theatricum's repertory production of The Taming of the Shrew -- is appropriately impetuous as the upstart Uther (on opening night Hendry also played the Crow, who is usually portrayed by Jason Paul Evans). Abby Craden is fittingly creepy as the spell casting Morgana. As Asis, the Amazonian huntress Merlin is smitten with, Samara Frame is another standout. Valeka Holt and others play wolves and boars in costumes designed by Ben Kahookele, although the thespian canines who regularly appear onstage at the Theatricum are real dogs (who often ad lib some great dialogue). Overall, this is Camelot as never before seen.
Watson and the Dark Art of Harry Houdini is also a highly original take on a time honored character in the British literary canon and who is also, in a way, a figure of "Arthurian" legend. Created by Sir Arthur Conan Doyle in the 1890s, Dr. John Watson is, of course, arguably fiction's most famous sidekick this side of Tonto and Kato, the erstwhile companion of Sherlock Holmes and chronicler of his capers. However, in this Sacred Fools production, our man Watson -- not the private eye -- is the protagonist, and this is a case study in what happens when the second banana becomes the top banana.
Watson and the Dark Art of Harry Houdini is actually a sequel to the Fools' very successful 2010 world premiere ofthat high-larious Sherlockian spoof told from Dr. Watson's point of view, there was much whimsy and drollery with sitcom veteran French Stewart in a dual role as Dr. Sigmund Freud and Queen Victoria. In the current sequel (another success that has been extended) Freud returns as a character, although here the founder of psychoanalysis is depicted by Graham Skipper.
Scott Leggett (looking like the love child of Nigel Bruce and Oliver Hardy) and Joe Fria reprise their roles as Watson and Holmes. (In the performance I saw Bryan Bellomo played the detective with panache, as he had his Sherlockian schtick down to perfection. One could say that he was an understudy in scarlet.) However, before the curtain lifted, writer/director Jaime Robledo warned me that the sequel "is very different" from its predecessor.
This turns out to be quite the case, and methinks that the main difference is that the current production on the Sacred Fools' stage -- which is as diminutive as the Theatricum's Equity amphitheater is capacious -- is far more serious. This does not mean the Watson sequel doesn't have its funny flourishes. For instance, Holmes' quirks are quite comic and once again Freud is played largely for laughs. Although the notion that Watson is in on the couch is at the heart of this play that finds the second fiddle of Doyle's immortal mysteries being psychoanalyzed and treated for a most contemporary ailment, post traumatic stress disorder. This may be a very canny insight by the playwright, as Dr. Watson is surely fiction's best known Afghan War veteran, and many vets of the contemporary imperial misadventures there and in Iraq suffer from PTSD. (BTW, there's a sure cure: Don't volunteer to be cannon fodder for U.S. imperialism! D'oh!)
It is also insightful that, like Stewart before him, Skipper not only plays the headshrinker-in-chief, but also Pike, a reporter, who may in addition be [PLOT SPOILER ALERT!!!] villainous. (This begs the question as to whether or not Mr. Robledo has, shall we say, "issues" with analysis, therapy, etc.?)
Harry Houdini was my childhood hero -- the Jew who could escape from anything, anywhere and anyone. (Although there was one place the escape artist born Erik Weisz in Budapest could not get away from: A czarist prison cell.) Some of his amazing feats, as well as an imaginatively rendered shipboard shuffleboard game, are replicated onstage, just as Sacred Fools rather creatively recreated Buster Keaton's stunts last year with French Stewart wonderfully starring in Stoneface. However, the portrait of Houdini as a menacing man who spoke with a Brooklyn accent is not in keeping with the image this fan has of the magician, and it was a bit of a Chinese water torture to see him so portrayed, LOL. Donal Thomas-Cappello plays Houdini, although the night I attended understudy Curt Bonnem transubstantiated into the role. And lest it escape mention, a three-person string orchestra accompanies much of the derring-do with an original score composed by Ryan Johnson, as Watson and Holmes settle scores onstage.
Merlin is being performed in repertory through Sept. 29 along with Shakespeare's A Midsummer Night's Dream and The Taming of the Shrew, George S. Kaufman and Edna Ferber's The Royal Family and Tone Clusters by Joyce Carol Oates (the renowned author will lead a panel discussion on Sept. 5, opening night), at the Will Geer Theatricum Botanicum: 1419 N. Topanga Canyon Blvd., Topanga, California, 90290. For repertory schedule and other information call: (310)455-3723 or see: www.Theatricum.com.
Watson and the Dark Art of Harry Houdini has been extended through August 17 and is being performed on Fridays and Saturdays at 8:00 p.m. at the Sacred Fools Theater: 660 N. Heliotrope Dr., Los Angeles, CA 90004. For information call: (310) 281-8337 or see: www.sacredfools.org/.
Ed Rampell
Friday, 9 August 2013