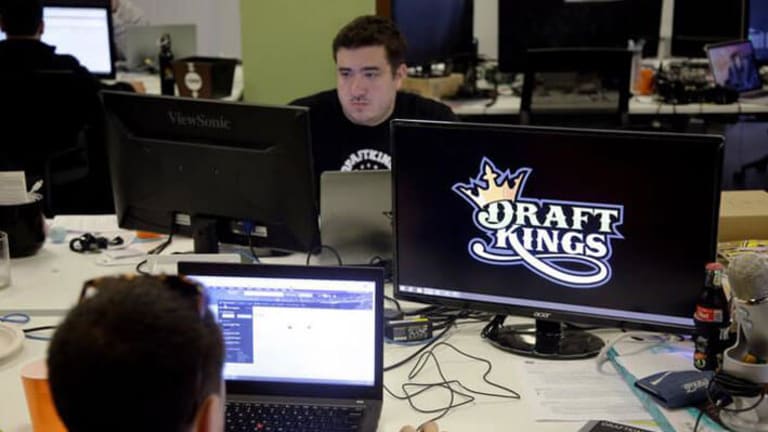 With Fantasy Games, America's Sports Obsession Reaches New High
Frank Fear: The New York Times reported last week that FanDuel and DraftKings are worth over $1 billion dollars each. And the two companies have spent over $27 million dollars to air over 8000 TV ads since the young NFL season began.
There's one TV ad after the other, day after day, on ESPN, CNN, and so many other networks. It's DraftKings one minute, FanDuel the next.
There's good reason, too. The New York Times reported last week that FanDuel and DraftKings are worth over $1 billion each. And the two companies have spent over $27 million to air over 8ooo TV ads since the young NFL season began.
But even those numbers, unbelievable as they are, may underestimate the magnitude of Fantasy activity. The Wall Street Journal reports that DraftKings was the biggest TV advertiser–of all companies, in all sectors–in the 7 days ending Monday, September 14. The totals? According to ad tracker, iSpot.tv, 5800 airings cost the company about $20 million dollars. The same source reported that DraftKings has spent $81 million dollars over the last three weeks on ads that have aired more than … and get this… 22,000 times. FanDuel, for its part, has spent $20 million dollars on 7500 airings since August 1.
The New York Times reported last week that FanDuel and DraftKings are worth over $1 billion each. And the two companies have spent over $27 million dollars to air over 8000 TV ads since the young NFL season began.
And the money behind these companies isn't coming from sleazebag sources. It's coming from sources like Disney, the parent company of ABC and ESPN; hedge funds and media giants, such as Comcast and NBC; and sports moguls, such as Jerry Jones of the Dallas Cowboys and Robert Kraft of the New England Patriots. Many NFL teams have deals with these companies (28 of the 32 league teams), as do many MLB teams and the NBA.
What we have in Fantasy Sports is big money in search of more big money. It's also known as "The Great American Pastime." (Sorry, baseball.)
These financial partners are "all in," too. Consider what The New York Times reported about two NFL teams:
"The Patriots…have built the DraftKings Fantasy Sports Zone in Gillette Stadium….The lounge on the main concourse looks like a Nevada sports book, with a high-tech sports bar and 37 high-definition televisions tuned to out-of-town games so fans can track their fantasy teams. The Jacksonville Jaguars have taken the concept further in their alliance with FanDuel. This season at EverBank Field, the team opened FanDuelVille, a space where up to 3,000 fans can watch games, check fantasy football statistics, sip signature cocktails and dance to music spun by a disc jockey. Fans can win "premium hospitality experiences" and be voted "the Mayor of FanDuelVille," which entitles them to use one of the spa cabanas at the stadium. At the end of each Jaguars home game, FanDuelVille is turned into the FanDuel 5th Quarter, a postgame party."
This could be fiction–make that "fantasy"–if it weren't for reality. Why? One reason: Americans are addicted to sports. We want more … and more … and we can't seem to get enough. But getting more can be challenging. Enter easy-access Fantasy Sports with its progenitor—Fantasy Leagues—so familiar, socially acceptable, and ubiquitous. The corporatized version adds attractive wrinkles to the standard model. Voila!
Participation in Fantasy Sports is big and continues to grow. Fortunereports that about 60 million people have played Fantasy in the U.S. and Canada so far this year—up significantly from 41 million fans who participated in 2014 (source: Fantasy Sports Trade Association). One of the big reasons for growth isn't just the money to be made. Players can get in and out quickly, in one day if they want, ready to play tomorrow. It's easy. And, just like internet porn, access is only a few clicks away.
And why not participate? Companies frame Fantasy Football as a can't-miss financial proposition. It's enticing, exhilarating, and sometimes–just like crack–addicting.
But is it legal? Yes, but….
Yes, it's legal, because of the way the Federal government defined it in a 2006 Federal law (The Unlawful Internet Gambling Enforcement Act of 2006): it's defined as a game of skill rather than chance. But that's a fine line, especially in terms of the way Fantasy games have evolved over the years. Today, with "quickie games" the rage, it's much more difficult to argue that one-day outcomes—the results of sports games played that day—are primarily a product of Fantasy skills.
So, to nobody's surprise, questions are being raised about whether Fantasy Sports need to be regulated more stringently. The Feds are investigating, led by Rep.Frank Pallone (D-NJ), as are several states. At issue is whether current laws cover adequately the variations of Fantasy Sports in play today. Is some or all of it gambling? The industry's future rests on the answer.
In a Forbes article published just a few days ago (9/19/15) law professor Marc Edelman identified a set of legal questions that may be at the core of a legal review. DraftKings is being investigated by the State of Massachusetts.
Are all contests legal under state law?
Do any contests violate federal law?
Is the assertion that games are "100% legal" misleading?
Is enough being done to block users from states where contests are illegal?
Is there evidence that minors are playing in contests for money?
What are the implications of Fantasy partnerships with pro leagues (e.g., player influence, game-fixing)?
There's no telling where this road will lead. But one thing is for sure: the cat is already out of the bag … and it's a very big cat, too. It will be difficult to change course significantly because major sports figures are invested and millions of fans are engaged. Billions of dollars are to be made, billions more are in the offing, and large investment stakes hang in the balance.
But think about the politics of change. The odds are low. Big-money corporations have a lot to lose with change. Fans all over the country could have something taken away from them. Will there be sufficient political will among elected officials to change directions? Probably not. Case in point: the Internal Review Service has tried repeatedly to get Congress to declassify as charitable contributions to universities the seat-license fees that fans pay for seats at football and basketball games. No progress is the outcome after nearly two decades of trying.
Frank Fear
The Sports Column