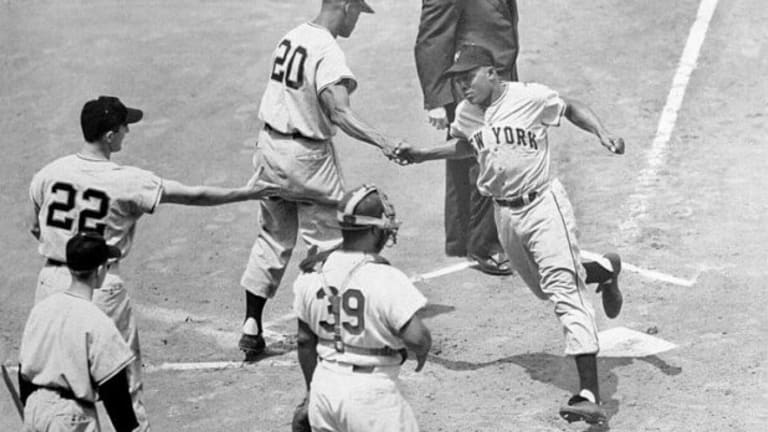 Giant Memories
Peter Dreier: My baseball awakening — when I was old enough to realize that everyone had to have a favorite team — occurred the same year that the Giants won the World Series and had a collection of players who captured my imagination.
The Los Angeles Dodgers begin their season this week at home against the arch rival San Francisco Giants and I'll be there rooting for the Dodgers. But as a child, growing up in New Jersey, I rooted for the New York Giants. I was shattered when my team moved to the Bay Area in 1958. I felt betrayed. It must have been similar to what children feel when their parents divorce. This wasn't the way that adults were supposed to act. But the Dodgers-Giants rivalry rekindles old memories, when I idealized my Giants heroes – Willie Mays, Johnny Antonelli, and Dusty Rhodes.
I still have my first big league autograph. It is an 8 ½ by 11 glossy photo of a one-time major league pitcher in a New York Giants uniform, posing as though he had just completed his follow-through.
In the upper right hand corner is a fading but still legible autograph written with a dark black pen:
"To Peter Dreier (a future major leaguer) Your friend, Johnny Antonelli"
I was six years old when my uncle brought me that photo. He knew some of the Giants players and he knew that Antonelli was one of my favorites. That year - 1954 - the Giants not only won the National League pennant but also beat a much better Cleveland Indians team in a four game World Series sweep.
Nineteen fifty-four was the year my lifelong love affair with baseball began. Baseball talk was a constant in our New Jersey home, but it wasn't until I was six that I began paying attention to the players and the teams, and inherited my father's loyalty to the New York Giants. His boyhood heroes were Giants outfielder Mel Ott (who once held the National League career home run record) and pitching ace Carl Hubbell. My dad maintained his allegiance to the team through good times and bad. His favorite joke, which he never tired of telling, and which I laughed at because I knew that's what he wanted, was to have me ask him, "Dad, are you a Giant fan?" and he'd answer, "No. I'm an air conditioner."
I was born in 1948 so I was too young to remember the greatest moment in Giants history — Bobby Thomson's ninth inning walk-off home run in the 1951 play-off game against the Dodgers, which secured the Giants the National League pennant. But my father talked about that game — and Thomson — all the time.
My baseball awakening — when I was old enough to realize that everyone had to have a favorite team — occurred the same year that the Giants won the World Series and had a collection of players who captured my imagination.
I was lucky. The timing was perfect. Nineteen fifty-four was the year that my friends and I began collecting baseball cards and comparing our favorite players and teams. Most of my friends rooted for the Brooklyn Dodgers or the New York Yankees. But that year, the Giants were the World Champions.
Throughout my adolescent years, one of the favorite topics of conversation among my friends was which team had the best center fielder — the Dodgers' Duke Snider, the Yankees' Mickey Mantle, or the Giants' Willie Mays. I idolized Mays. I kept a scrapbook of newspaper and magazine articles about him. I taped photos of him on my bedroom wall. I even named our first dog Willie.
Mays — dubbed the "Say Hey Kid" — was the team's star. He struggled at first during his first season in 1951, but eventually won the Rookie of the Year award. He spent most of the next two years in the army, but returned to full-time play in 1954 and had an outstanding season. He led the National League in batting (with a .345 average), slugging (a.667 average), and triples (13). He hit 41 home runs and drove in 110 runs. He won the league's Most Valuable Player award.
But Mays wasn't my only idol that year. At age six, I had just begun playing catch with my father at a park near our home and he convinced me that, being left handed, I should be a pitcher. So it was only natural that I'd feel an affinity with Antonelli, the Giants' ace lefty. And when my uncle brought me the autographed Antonelli photo in mid-season, my loyalty to the 24-year old pitcher grew exponentially.
Antonelli had an incredible 1954 season — the best in his 12-year major league career. He had been signed by the Boston Braves in 1948 for the biggest bonus in history to that point — $52,000. He made his major league pitching debut later that year at age 18. After three uneventful years with the Braves and two more in military service, the Braves traded him to the Giants after the 1953 season, and in 1954 he blossomed into a star, leading the team to the pennant with his dominant pitching. He led the league in shutouts (6), earned run average (2.30), and win-loss percentage (.750) with 21 victories and only 7 defeats, and was selected for the All-Star game. At season's end, he came in third in the voting for the league's Most Valuable Player, behind Mays and Cincinnati Reds' slugger Ted Kluszewski.
The Indians were highly favored to beat the Giants. Between the early 1900s and 1962, major league baseball had only 16 teams, eight in each league. There were no regional divisions and no wild cards. The team with the most wins in the 154-game season went to the World Series. The 1954 Indians won 111 games, the most in American League history. (The 1906 Chicago Cubs won 116 games). The Indians led the league in home runs and had one of the greatest pitching rotations ever, with five outstanding starters — Early Wynn (23-11), Mike Garcia (19-8), Bob Lemon (23-7), Art Houtteman (15-7), and the aging but still effective Bob Feller (13-3). All but Houtteman would eventually enter the Hall of Fame. They also had three stellar relievers — Don Mossi (6-1), Ray Narleski (3-3), and Hal Newhouser (7-2).
At six years old, I didn't know that the Giants weren't supposed to win and I didn't understand the concept of "beating the odds." I remember watching the Series on our black-and-white television, but I don't remember any details. I don't even have any memory of "the catch" — what some considering the greatest outfield play in baseball history. It took place during the first game of the World Series, played at the Polo Grounds, the Giants' stadium in upper Manhattan. With the score tied 2-2 in the top of the 8th inning, Cleveland slugger Vic Wertz crushed the ball about 420 to deep center field. Mays was playing in shallow center field and made an on-the-run, over-the-shoulder catch on the warning track, then spun around (losing his cap in the process) and threw the ball to a waiting infielder, keeping the Indians' Larry Doby, who was at second base, from advancing, and allowing the Giants to win the game in the 10th inning. Giants' pitcher Marv Grissom won that game in relief of starter Sal (the Barber) Maglie.
The following day, Antonelli pitched a complete game and beat the Indians 3-1, defeating Early Wynn. Giants pitcher Ruben Gomez beat the Indians in the third game with some help from ace reliever Hoyt Wilhelm, who would go on to become one of the greatest knuckleball pitchers in baseball history. Don Liddle won the fourth and final game, but needed help not only from Wilhelm (who pitched the seventh inning), but also from Antonelli, who took over relief duties and shut down the Indians — getting the last five outs on three strikeouts and two popups — to clinch the victory as the Giants pulled off a clean sweep.
That year my father and I listened many Giants' games on the radio (with sportscaster Russ Hodges doing the play-by-play and hawking the Giants' main sponsor, Knickerbocker Beer), but we made an extra effort to hear the games when Antonelli was on the mound. I wouldn't go to a Giants game until the following year, but I felt I knew my way around the Polo Grounds by seeing it on TV and looking at photos of the stadium, with its incredibly short (258 feet) distance from home plate to the right field foul pole — a temptation for all left-handed batters.
That short right field fence turned Giants' pitch hitter Dusty Rhodes into a household name, including my household. For that season, at least, Rhodes was my third favorite Giants player, after Mays and Antontelli.
James Lamar "Dusty" Rhodes was a Southern-born good 'ol boy who spent his entire Major League career — from 1952 to 1959 - with the Giants. Manager Leo Durocher called Rhodes "the worst fielder who ever played in a big-league game," but his left-handed swing was tailor-made for the Polo Grounds' right field dimensions. He occasionally started in left field and had a few moments of greatness. In both 1953 and 1954 seasons, for example, he homered in three consecutive at-bats in the same game. But because of Rhodes' awful fielding skills, Durocher used him primarily as a pinch hitter. He never batted more than 244 times in his seven big-league seasons and had a modest career batting average of .253.
But in 1954, Rhodes had a spectacular season. He hit a career-high .341 and hit 15 home runs with 50 runs batted in despite having only 164 at-bats. It was Rhodes' 10th inning pitch-hit home run off pitcher Lemon that clinched the first World Series game for the Giants. The ball traveled only 261 feet, but it was far enough to get over the fence. The next day, he hit a game-tying pinch-hit single against Early Wynn. In the third game, he hit a two-run pinch-hit single. In total, he went 4 for 6, with two home runs, seven RBIs, and an incredible .667 batting average. Major League Baseball did not begin naming a World Series Most Valuable Player until 1955, but if it had started that tradition a year earlier, Rhodes surely would have won it.
Rhodes earned another distinction that you won't find in the record books. His first year with the Giants was only five years after the Dodgers' Jackie Robinson had broken baseball's color line. By 1954, the major leagues had only 27 black players out of 448 on the opening day rosters. Several teams still didn't have any African American players. Except for the Dodgers, the Giants had the most Black players. In 1954, they included Mays, outfielder Monte Irvin, and third baseman Hank Thompson in addition to two Latinos, pitchers Ruben Gomez from Puerto Rico and Ramon Monzant from Venezuela. The 1954 baseball season was just underway when the Supreme Court's handed down its Brown vs. Board of Education ruling in May, ordering school desegregation. It was before the Montgomery bus boycott triggered the civil rights movement the following year.
Four of the Giants starting players were from the Jim Crow South, including first baseman Whitey Lockman from North Carolina, shortstop Alvin Dark from Louisiana, Don Mueller from Missouri, and second baseman Davey Williams from Texas.
Rhodes was a Southerner, too. He grew up dirt poor in Mathews, Alabama, where he was born in 1927. But the Giants' black players said that the fun-loving, hard-drinking Rhodes was an equal opportunity teammate. Irvin said that Rhodes "was like a brother to all the black players. He was color blind."
Manager Leo Durocher said: "Dusty was the kind of buffoon who kept a club confident and happy. Between him and Mays, there was nothing but laughter in our clubhouse all season. Pressure? They spit at it!"
In a 2008 interview with the New York Daily News, Rhodes recalled his camaraderie with the Giants' black players. "To be honest, we never thought a thing about it. In my case, I grew up with blacks. We picked cotton side-by-side. I didn't know or care anything about race. Willie, Monte and Henry were probably my closest friends on that team."
There is much mythology surrounding baseball but in 1954 - before professional football and basketball had become major sports - baseball was still "America's pastime" and its players were heroes. Sports reporters didn't write about players' after-hours activities or the racial and other tensions in the locker rooms. (The turning point in the demythologizing of baseball was former Yankee pitcher Jim Bouton's baseball memoir, Ball Four, published in 1970).
I grew up in a Jewish family in postwar America. Issues of immigration, discrimination, and assimilation were never far from the surface. Baseball became a metaphor for the nation's stability and its social changes, including the drama of racism and civil rights. So I'm not surprised that my first baseball heroes — Antonelli, Mays, and Rhodes — were a polyglot group. Antonelli was the son of Italian immigrants. His parents viewed baseball as their son's ticket out of the working class and his father did everything he could to bring Johnny's athletic prowess to the attention of major league scouts. When he retired from baseball in 1961, with a 126-110 won-loss record in 12 seasons, he returned to Rochester, New York, where he eventually owned several Firestone Tire franchises.
Many baseball aficionados consider Mays the greatest all-around player in the sport's history. He grew up in a segregated town outside Birmingham, Alabama — where his father worked in a steel mill and as a Pullman porter. Mays played in the Negro Leagues before signing with the Giants. Like other black players, he faced constant racial prejudice and discrimination. When the Giants moved to San Francisco, for example, Mays made an offer on a house in an all-white neighborhood, but the neighbors objected and the owner killed the sale. Unlike Jackie Robinson, however, Mays didn't speak out about civil rights. He played in the majors for 22 years, all but the last two with the Giants, retired in 1973, and was voted into the Hall of Fame in 1979, his first year of eligibility.
Rhodes will always be remembered for his dramatic performance in the 1954 World Series, but he is otherwise a forgotten man. Rhodes moved with the Giants to San Francisco but retired a year later in 1959. Rather than return to the South, he moved back to New York, where he worked as a tugboat captain in the Staten Island Harbor and as a Pinkerton guard at the 1964 World's Fair.
It is strange being a former New York Giants fan. There aren't many of us left and we don't bond like former Brooklyn Dodgers fans do.
New York Giant fans were never as fanatical as their Dodgers and Yankee counterparts. In 1954, the Giants only drew 1.1 million fans (compared to over two million for the Milwaukee Braves), even though they won the pennant and the World Series.
Much has been written about the outrage felt by Brooklyn Dodger fans when their team moved to Los Angeles. Baby boomers who grew up in Brooklyn — some of whom even transplanted themselves to Los Angeles — still hate Dodgers' owner Walter O'Malley for the betrayal. (It was O'Malley who persuaded Giants owner Horace Stoneham to move to San Francisco so the two teams could continue their rivalry and transform major league baseball into a nationwide enterprise.)
Many former Brooklyn Dodgers fans still have a soft spot in their hearts for the great teams that included Jackie Robinson, Duke Snider, Roy Campanella, Gil Hodges, Pee Wee Reese, and Don Newcombe, and won the pennant in 1947, 1949, 1952, 1953, 1955, and 1956. There's a booming nostalgia business in old Brooklyn Dodger caps, jackets, and t-shirts. No one will ever write a book about the Giants comparable to Roger Kahn's best-selling book, The Boys of Summer, about those 1950s Dodgers players.
In baseball memory, the 1950s Dodgers were the team of scrappy base stealers, powerful home run sluggers, and inter-racial pioneers, who were followed by loyal working class fans, most of them liberal Democrats. The Yankees were the team favored by business men in suits. They were the "Bronx Bombers," the perpetual winners who fielded teams with the likes of Babe Ruth, Lou Gehrig, Bill Dickey, Lefty Gomez, Joe DiMaggio, Vic Raschi, Yogi Berra, Whitey Ford, and Mickey Mantle.
For most of the 1940s and 1950s, the Giants were New York City's "other" team. They, too, had great sluggers and powerful pitchers and they won the NL pennant in 1951 and 1954. But they never captured New Yorkers' hearts and minds like the Dodgers and Yankees.
When New York City tore down the Dodgers' Ebbets Field, their fans felt a great sense of loss. When the Polo Grounds fell to the wrecking ball, it felt like just another urban renewal project.
In 1962, a new team, the New York Mets, entered the scene and briefly played in the Polo Grounds until their new ballpark, Shea Stadium, was built in suburban Queens. The Mets developed a loyal following from among former Dodgers and Giants fans and a younger generation that had no ties to the teams that had played in Brooklyn and Manhattan.
By then, as a teenager, I was more involved in playing baseball than in following any team on TV or the sports pages. My only distraction was Sandy Koufax, the great Jewish left-handed pitcher who, in the 1960s, represented all my dreams.
But between 1954 (when baseball and the Giants first entered my consciousness at age six) and 1958 (when the team abandoned New York for the booming West Coast), I was a fanatic. I followed the exploits of Antonelli, Mays, Rhodes, and the rest of the Giants on a daily basis. I learned geography and math by reading their baseball cards. I learned how to debate, engaging with my friends in arguments about Mays vs. Mantle vs. Snyder — and occasionally disputes about positions other than center field.
I learned how to deal with victory (in 1954), disappointment (1955, 1956, and 1957), loss and betrayal, and the understanding that there are always new beginnings and new horizons. Six decades later, those are all still valuable lessons.
Peter Dreier