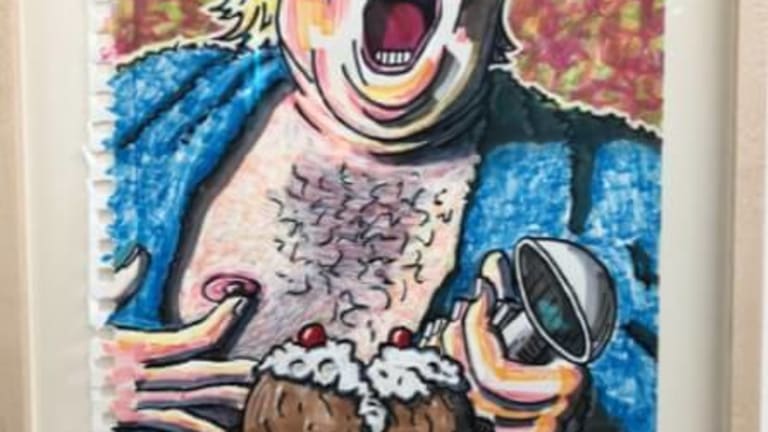 Jim Carrey's IndigNATION Ignites Progressive Politics
Rebecca Gross: Carrey ditches the screen for a sketchbook and markers, producing intricate and compelling cartoons that emulate the contemporary moment.
There is a comfort in mingling comedy with politics and visual art. Comedy, which has the power to reach a non-political audience, is an avenue by which that audience can absorb political agendas. From the time we are children, we know what it feels like to open up the Sunday paper to the "funnies" section, a place where artists can use a cartoon-format to make a political point, fusing art, politics, and comedy in one. But while the discussion of politics in comedy is a way for adults (and even children) to easily digest political news, it is also a cathartic way for artists to express their political frustrations and anxieties.
Carrey ditches the screen for a sketchbook and markers, producing intricate and compelling cartoons that emulate the contemporary moment.
In Jim Carrey's new art exhibition entitled "IndigNATION: Political Drawings by Jim Carrey, 2016-2018," the award-winning actor does just that. He ditches the screen for a sketchbook and markers, producing intricate and compelling cartoons that emulate the contemporary moment. With an explicitly anti-Trump agenda, the exhibit opened October 23 at Maccarone Gallery in LA's Arts District, just in time for the midterm election on November 6.
Each cartoon is accompanied by the title, the date the cartoon was drawn, and a short caption. A handful of the 108 works reach the audience via a satirical entry point, as one might assume Carrey's comedic background would engender. One cartoon from March of this year, entitled "You scream, I scream, will we ever stop screaming?" plays on the childhood rhyme "I scream, you scream, we all scream for ice cream." It depicts Trump wearing an open bathrobe with two scoops of ice cream in front of him, and a female hand touching his chest. Another, entitled "Trump McMonkey McBean," from July of this year, depicts Trump as the evil, penny-pinching McBean from Dr. Seuss' story, "The Sneetches."
These are some examples of Carrey's more light-hearted pieces, but not all retain this tone. In many other cartoons displayed, Carrey abandons humor and adopts a sense of serious urgency touching on a variety of problems occurring simultaneously within the country.
Each piece differs in their contents, some focusing on Trump as a central figure and others concentrating on other political moments that have caused outrage among progressives in the U.S. There were no limits to what Carrey would bring up in his debut collection. The wide range of issues illustrated everything from school shootings to sexual assault to racism to climate change to general corruption in the administration.
In "Draft-dodging racist" from May of this year, the artist displays an angry Trump behind a microphone; in the caption, Carrey writes, "NFL—who exploits players for 3 years then abandons them to a lifetime of pain—sided with a draft-dodging racist who uses fake patriotism to squash peaceful protest. Corporations should rethink sponsoring moral cowardice before we start asking: whose side is Nationwide really on?"
In another dark depiction of the state of our country, Carrey created "Exorcist 2018," from just last month. A spooky blue White House overlays a terrifying and angry Trump, the caption reading, "From the bowels of the White House he shrieked, hurled curses and tweeted bile–because that's what demons do. YOU are the Exorcist. Vote Democrat for goodness' sake. Vote.gov."
A unifying factor connecting each cartoon is that they all maintain an air of disgust for the present administration, and even more, a call to action upon the exhibits' viewers to change it. When looking at most, it feels as though there is a hand reaching out from the cartoon to the viewer with an unspoken message saying, "Something is not right! Do something about this United States madness!"
What is Carrey hoping we all do? Vote. Not only did "Exorcist 2018" explicitly tell viewers to get out and vote, but many of the captions accompanying his cartoons add "register to vote" or "vote.gov" at the end.
Throughout the exhibit, it is easy to become overwhelmed–to become exhausted–by all of the awfulness. This is not unlike watching the 5 o'clock news. Carrey's work is outspoken in depicting the hellscape the Republican-dominated government has brought on the United States.
Yet he is able to bolster a vision of what this country could be with a few interspersed memorializing portraits of U.S. heroes–MLK Jr., Stephen Hawking, and Robin Williams to name a few. Carrey makes one message loud and clear: There is hope for good, and there is hope for change. The midterms are approaching fast, and there is only one thing to do–vote, as Carrey begs.
Rebecca Gross
Rebecca Gross is the former Editor-in-Chief of The Daily of the University of Washington. She is also the creator and editor of a zine–All Female Menu–in which she showcases the art and writing of female-identifying, millennial women. She has been published in Editor & Publisher, The Citizen, and IndieObsessive. She is a passionate feminist, and dedicates her energy to fighting for women's rights. She currently resides in Los Angeles.