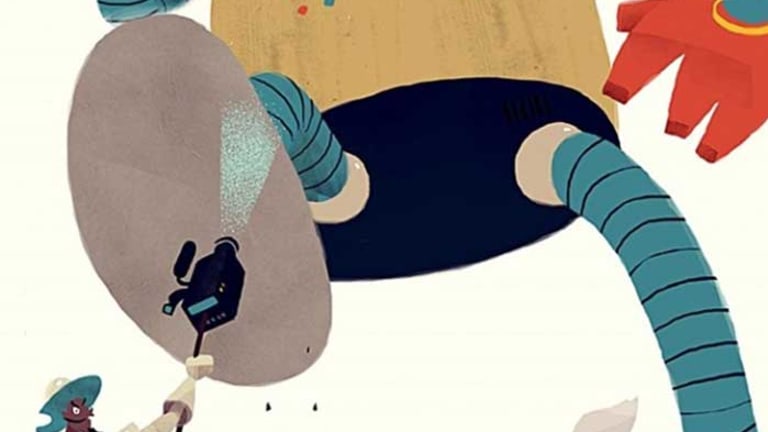 Can Your Movie Change the World?
Beth Portello of social issue film distributor Cinema Libre Studio is no stranger to moviemakers trying to change the world. Along with her husband, independent director Philippe Diaz, Portello is currently crowdfunding on Indiegogo for To End Poverty!, the sequel to the pair's critically acclaimed 2008 documentary, The End of Poverty?
The Activism in Film Guide for Social Issue Moviemakers
Beth Portello of social issue film distributor Cinema Libre Studio is no stranger to moviemakers trying to change the world. Along with her husband, independent director Philippe Diaz, Portello is currently crowdfunding on Indiegogo for To End Poverty!, the sequel to the pair's critically acclaimed 2008 documentary, The End of Poverty? (available to view in its entirety here).
That campaign, which closes January 27, 2015, is raising an ambitious $150,000 to enable a fall 2015 release for To End Poverty! The documentary will present 10 real, actionable "solutions" to eradicate worldwide poverty, from providing necessities like shelter, healthcare and food, to implementing a basic minimum income. "With these solutions," the campaign page states, "we hope to inspire citizens around the globe to demand that their public officials, corporations, educational institutions and aid organizations work on addressing the root causes of poverty, not just the symptoms, and to be motivated to make change happen."
But in an age of increasingly multitudinous, fast-paced information exchange, how can social issue moviemakers quantify the impact their films are making beyond the screen? We asked Portello to undergo an extensive investigation for our Spring 2014 issue, where the following article was accompanied by an introduction by Oliver Stone. Think of it as a primer for a new generation of cinematic activists.
You want to change the world. You have a great idea for a documentary that will rip apart shrouds of socio-political injustice, uphold the cold, hard truth of the way the world works, and compel its citizens to stand up, go out and do something about it.
Whether an investigation into institutional malfeasance such as Kirby Dick's The Invisible War(2012), or an advocacy film such as Josh Fox's Gasland (2010), social issue films are often credited for the overthrowing of countless social justices. They are the first examples people look to when they think about the power of art to enact change, because unlike so many other aspects of our overtly commercial media culture, they are conceived in compassion, rage, and the truest parts of the human soul. In a nation that teaches us from childhood that loud speech is our duty in the face of injustice, our movie making society operates under this unwavering faith.
The alternative is terrifying: that all our effort comes to nothing but a maelstrom of white noise, empty sound and fury, fairy tales of progress we circulate to help us get to sleep at night. But as any filmmaker who's ever received a heartfelt "thank you" after a screening can testify, it's not like that. We know that these films have impact, from stronger food safety legislation to new animal and environmental protection laws to the freeing of wrongly convicted prisoners.
Still, not every social issue film can point to results as tangibly gratifying as that. The Academy Award-winning, Hayden Panettiere-featuring, 700,000-Facebook follower-strong, did-everything-right The Cove seemingly made little difference to the two dozen dolphin hunters in Taiji who still nonchalantly go about the carnage that is their change-resistant industry. Yet by other yardsticks the film was a resounding triumph, creating a worldwide furor over dolphin hunting and inspiring still-expanding ripples of impassioned energy. As director Louie Psihoyos told The Wall Street Journal, "One person [Judy Bart] saw this film, became a vegan, and decided to get into film. She financedBlackfish."
So is there a way for moviemakers—and the organizations that help them—to satisfyingly measure the impact of their work, somewhere between the hazy expansiveness of phrases like "raising awareness" and the minutiae of counting Facebook Likes? And if we can establish at least a tenuous grasp on a social issue film's effects in the world, can we put together a practical guide tomaximizing this impact, with the pooled wisdom of veterans from the trenches of cinematic activism? Here's to trying.
The Changing Times of Social Issue Films
From the very first American newsreel movies by Pare Lorentz in 1936 to American Documentary's seminal P.O.V. series that started airing on PBS in the late '80s, social issue films have long been a mainstay of American culture—and while this article focuses chiefly on the feature-length, nonfiction variety, they come in all shapes and sizes. Even fictional narratives can be considered social issue films, such as Tom McCarthy's The Visitor, which was at the center of its own engagement campaign (more on those later), about U.S. immigration detention, in 2007.
In this modern century, 2004 is often touted as a banner year for American social issue and political documentaries. Following 9/11, the contested re-election of George W. Bush, and the declaration of war in Iraq, audiences that year saw Fahrenheit 9/11, Super Size Me, The Corporation, Born Into Brothels, The Fog of War, and Control Room.
That same year, I was a co-founding partner of independent production and distribution company, Cinema Libre Studio. We released Robert Greenwald's Outfoxed on over 200 screens andUncovered: The War on Iraq on 100. Greenwald's innovative model of enlisting moveon.org members to help monitor Rupert Murdoch's Fox programming, coupled with raising crowd-sourced funds to help with the release, and his innovative web-based house party screening model, brought both films into thousands of homes.
Also founded in 2004 was Jeff Skoll's Participant Media, which has led the pack in the last decade with a roster of award-winning, big-earning and socially encouraging films, such as An Inconvenient Truth (2006), Darfur Now (2007), Standard Operating Procedure(2008), Food, Inc. (2008), The Cove (2008) and The Square (2013). Participant is known for its double bottom line: entertainment that inspires change.
In the decade since, the social issue documentary genre has continued to flourish. According to Box Office Mojo, documentary releases have nearly tripled in theaters since 2004. Tom White, editor ofDocumentary Magazine, posits that this spike is due in part to "the Sundance Documentary Film Program, particularly during the tenure of Cara Mertes," "the development of a robust funding infrastructure" and a deepening level of "innate craft and artistry."
Bringing a well-crafted film into a broader social campaign to do good is resonating more and more with funders and audiences. At the same time, new options for distribution have also enabled new methods of dissemination and better evaluation of a film's reach. So how do we know if a film is making a difference?
Impact Evaluation—The Science of Making Change
Awards, audience demographics, social media activity, word-of-mouth feedback, legislation or policy change, rallies and other organized events, media appearances, donations to related charities, ubiquity on class syllabi—what data spells out a film's role in social change most clearly? This is the question a growing number of experts are trying to answer. "We're all in this dialogue," says Shaady Salehi, executive director of Active Voice, one of the key players in shaping the movements around a film. "Policy change is sometimes the easiest thing to point to because there's a bright line, but it's difficult to have to hold every film up to that kind of standard, because of the complexity of the way our political process works."
With the recent proliferation of social issue films, nonprofits have become increasingly involved in funding outreach efforts, which have crystallized into the vernacular as engagement strategies (when a film aligns itself well with an organization's mission). And you need research numbers to get funding numbers. "Claims about making a difference are no longer sufficient; evidence of how much difference you're making is now required," Alnoor Ebrahim wrote in the Harvard Business Review ("Let's Be Realistic About Measuring Impact," March 13, 2013).
But as necessary as this evidence is to justify ongoing funding to foundation boards, the metrics of measuring this impact are complex and still in their nascent stages, borrowing methodologies from social scientists. Frustratingly, the process of 'opening eyes' is just nigh impossible to quantify. A film I produced called The End of Poverty?, directed by Philippe Diaz, screened at 47 international festivals, had a multi-city U.S. and French theatrical release, and has been seen by over a half-million on YouTube alone. Six years later, we regularly receive messages about the film and requests for educational or grassroots screenings. That is impact. But our goal to spread awareness about the global economic structure was challenging to measure and to develop actionable strategies around.
The communications specialists and grant organizations that bridge the gap between funders and content producers have been working hard to stay abreast. In recent years, the films that have been most clear-sighted in assessing their contributions to social change have been bolstered by outreach plans with multi-tiered engagement strategies funded by media grant-making organizations. These campaigns are often developed and implemented with the strategic assistance of communication specialists such as Active Voice, Outreach Extensions, Working Films, Fenton Communications and Fitzgibbons Media (links available below).
Organizations such as the Center for Social Media, Media Impact Funders, the Fledgling Fund, The Knight Foundation, USC's Lear Center, Ford Foundation and NAMAC (National Alliance for Media Arts and Culture) are leading efforts to both quantify and qualify the long-term societal impact of social issue films. Production companies are jumping into the fray, too, with Participant Media's soon-to-be-unveiled The Participant Index (TPI), which will study almost 100 titles in collaboration with the Lear Center. Thus far, one of the best-known studies of impact evaluation is the PUMA Impact Award, in partnership with UK broadcaster Channel 4's BRITDOC. This award endeavors to annually recognize social issue documentaries that can provide evidence of impact across such arenas as public awareness, capacity building, and corporate, political or behavioral change.
The Fledgling Fund founder, Diana Barrett, acknowledges the limits to evaluation endeavors: "Even though we have a lot of data through the Internet and social media, we want to make sure that we hold on to the smaller, anecdotal stories because those are powerful. It may not be as easy to capture that in terms of a hard number, but there is a lot of impact that happens in screenings and community events." As part of their analytical efforts, the Fledgling Fund has developed a "Dimensions of Impact" framework based on analyzing films that made a tangible impact.
For now, the subject remains a new and exciting frontier. "Nobody has a clear answer on it, and it's being approached in different ways," says Salehi. "We see the impact of any given film as existing within a greater ecosystem. So there are all these other factors at play." The good news is that there has been significant thought put into how to design a project from the outset to give it a good shot at making waves. The following critical questions and case studies should serve as a primer.
Best Practices for Maximum Impact
Yes, it should be said—a bigger budget will likely lend itself to bigger impact. It's something to keep in mind when looking to the documentaries cited as inspirations by almost every movie maker we surveyed: Super Size Me, An Inconvenient Truth, Bully and The Invisible War. Each were boosted by extensive financial and strategic support, from grant organizations like Impact Partners and theSundance Institute to eventual distributors like The Weinstein Company.
On the subject of funding: The Center for Social Media's study, "Social Justice Documentary: Designing for Impact," reports "a shift over the last 15 years from an understanding of documentary films as a source of reliable information on hidden injustices to central nodes embedded in strategic campaigns designed to inform, motivate and engage viewers." As a result, "organizations have become much savvier, and they want media more specific to their own work," says Salehi. To obtain funding in today's climate, then, a movie maker needs to understand what the funders want out of their relationship. (One great resource: Ellen Schneider, the founder of Active Voice and current head of the Active Voice Lab for Story & Strategy (AV Lab), has developed the Prenups, a downloadable guide for media makers and funders to "tie the knot" in the most effective manner.)
Yet besides funding, our subjects suggested other reasons why those paradigmatic films worked as well as they did: a strong grasp of a goal, for example. "In TheInvisible War, there's one culprit and that's the military," says Salehi.
"It was a clear understanding of what that issue was, or an effective play on emotions," says director Sue Wilson about the same movie. "It employed the one thing any documentary must have to truly effect change: it embarrassed the subject of the film into action."
Hundreds of lesser-known, lesser-funded films have changed laws, saved lives, improved medicine, eradicated harmful environmental practices and more. These results lie at the intersection of smart storytelling, effective partnership and network, and a goal-driven outreach plan. Richard Robbins, director of female education call-to-arms, Girl Rising, says, "A great campaign can accomplish a lot even with a mediocre film. And a great film can accomplish things in the absence of a great campaign. But true impact requires both the film and the campaign be great: strong, well-integrated, and flexible."
The following recommendations and illustrations were culled from interviews with filmmakers (many from the documentarian community, Doculink) and campaigners (including Fledgling Fund's Diana Barrett and Sheila Leddy), impact analysis reports like the aforementioned "Designing for Impact"(by Jessica Clark and Barbara Abrash), case studies on high-profile projects, and my own experience in working on over 150 social issue documentaries with Cinema Libre Studio.
1. Know your subject and issues
What is the broad thematic subject that your film will address? It should be narrowed down to a concise log line. Have these issues been explored before? Where does your take fit into the continuum of this topic—is it breaking news, or a continuation of a dialogue?
"Find a tipping point," says Chad Boettcher, executive vice president of Participant Media. "That is, what policy, system or other socio-political construct could use the power of a story well-told to tip the issue forward. This doesn't have to be a big national piece of legislation. You can often find opportunities to influence state government funding, a public company's investment policy, a city council or school board vote. The power of even a small film can have a big impact."
Holly Mosher (producer of Hummingbird, Vanishing of the Bees, and upcoming Pay 2 Play) says, "Goals depend on the level of awareness about certain issues to begin with. If an audience is educated about the facts already, you can focus on making an impact with laws, rules or mandates."Vanishing of the Bees has screened at over 1,000 house parties worldwide and resulted in the forming of a Los Angeles bee-keeping advocacy group, Honeylove.
2. Shape your narrative
Analysts and observers agree—it's the storytelling which makes an impact film. Dan Cogan, executive director of Impact Partners, says, "I don't see documentaries as being different than fiction in terms of what it takes to tell a great story. Usually it's the story that draws in the viewers, and the issue is something they take in along with the great story."
There are dozens of choices you have to make. Is there a way to tell the story in a narrative manner, or through the prism of someone experiencing the situation? Is voiceover necessary to tell the story or can the subjects tell it? How long should your film be? A detailed explanation of narrative techniques is beyond the scope of this article, but simply put, they range from emotional appeals (e.g. the polar bear in An Inconvenient Truth), and empowerment (a call to arms, or examples of how change on a parallel issue has manifested), to exclusivity (i.e. never-before-revealed information), familiarity (i.e. viewers identify themselves in the film) and fear (i.e. "Something bad will happen if…").
3. Choose your characters wisely
Which characters best represent your standpoint? If you put yourself on screen, is there a good reason for it? AV Lab's Schneider suggests, "Try not to fall into the 'good vs. evil' trap. We learned this with Farmingville, by Carlos Sandoval and Catherine Tambini, set on Long Island in the wake of a violent incident against day laborers from Mexico. One of the characters, Louise, a native-born suburban mom, talks about how she'd like to know more about the men on the street corners—without being called a racist. Even though the film is very sympathetic to the immigrants, diverse audiences embraced the film because they saw themselves reflected in Louise. Now we look for Louises in other films: interesting, conflicted characters who ultimately change in the course of the story. If you want audiences to go on a journey with you, don't demonize characters with whom they might relate. Embrace nuance."
4. Identify your audiences
Yes, audiences in plural (and the "broadest reach possible" isn't an answer). Who can affect change on this issue and how can you reach them? How do you need to communicate to appeal to them? How will you preach beyond the choir?
Ines Sommer's Beneath the Blindfold(2012) explores the stories of four torture survivors. A difficult topic for a broad, commercial audience, the film found its niche via educational and community screenings with educators, psychologists and social workers. A screening on Capitol Hill for members of Congress and their staff, in conjunction with Center for Victims of Torture, helped keep the 30-plus treatment centers in the U.S. open via the Refugee Relief Act. "The congressional staffers in attendance were riveted and for the first time understood how their funding impacted torture survivors," says Sommer. "The folks from Center for Victims of Torture were blown away by the impact of this screening."
5. Define objectives for each type of audience
Are you trying to influence policy makers, corporate heads, or the people who make choices with their wallets? Chad Boettcher calls this building a "change theory," or determining the task your film seeks to assign each audience. "It might be important to have your film seen by as many consumers as possible because you're trying to change public opinion. On the other hand, you might want your film to be seen by teachers, in the hopes of getting new methods of teaching into the classroom. Or maybe what matters most is getting a couple of key influencers in a government agency to see the film, hoping they change their hiring policies for contract workers. The point is that a change theory will help guide your social action campaign decisions."
Be mindful about what you ask, too—presenting an audience with a less effective solution might even hurt your impact if people consider their 'duty done.' Looking back, Girl Rising producer Holly Gordon says, "We would not put a text to give message at the end of the film. The message is too big and powerful to be solved with a quick donation."
6. Gather experts and stakeholders
Once you know your topic, you will know the organizations most likely to engage actively in the issues. Research them thoroughly. Meet with them, get their buy-in. By having key stakeholders involved as early on in the film as possible (not just talking heads), organizations are more likely to offer support at various phases of the project. "You don't need to be the expert on the issue, but you need to be an expert in finding the experts," says Boettcher.
MocaMedia was the agency behind the campaign for Barbara Ettinger's A Sea Change (about the world's acidifying seas). They found that large international organizations were less nimble in their decision-making process. Seeking partnership with the small to mid-sized organizations was a better strategy: A partnership with the National Oceanic and Atmospheric Administrationresulted in 400 copies of the film purchased for distribution with a special issue of Oceanography Magazine.Beneath the Blindfold's Sommer agrees: "Large organizations like Amnesty or Human Rights Watchhave their own media staff and want films to be tied in closely with their current initiatives. We are going forward with a partnership with a smaller anti-torture group that will use the film with all of its chapters nationally. "
7. Plan your budget for the long-tail
Most documentarians sprint to get their films completed, imagining a major festival premiere or distribution deal will help them find their audience. But as Dan Cogan says, "The truth is that to get from a first cut for a festival, to output for a television sale—forget about theatrical, which costs a lot more—there's a whole other world of money that you're going to need." A thorough budget should include: production, post-production needs through delivery and licensing, a festival budget including travel and publicity, and an engagement specialist or agency to develop an implementable strategy and help apply for additional grants.
8. Work social media
At minimum, set up a WordPress website with Google Analytics and make regular blog posts with new content. Set up an opt-in email registration, and Facebook and Twitter pages. Enlist people from the community to share your content with larger audiences. Hire an SEO specialist if you can afford it. "We started our social media activity three years before the film came out, our strategy to build a core audience—super fans—for Girl Rising well in advance," says Holly Gordon. Her director, Robbins, advises: "Recognize economies of scale. Reaching a million people with your film isn't 10 times harder than reaching 100,000."
Interact on as personal a level as possible. The team behind Bully, recognizing how Facebook played an integral part in both the lives of parents and the young people who were bullied, established a team of "Facebook responders:" members of their community who volunteer to help the Bully Project fulfill their policy to reply to every Facebook, Twitter or website communication.
9. Design distribution around your goals
As Sue Wilson says of her media policy doc, Broadcast Blues, "Getting the film seen by the right people is just as effective (or possibly more effective) than getting it seen by millions." Is it better, then, to reach a smaller, interested audience than a wider, disinterested one? Plan to use these three main distribution models in combination, depending on what you want each to achieve.
A theatrical release or television broadcast will garner the most eyeballs and probably the biggest financial return. Robert Bahar, producer-writer of Emmy-winning immigrant worker rights doc, Made in L.A. (2007), says, "More than two million people have seen Made in L.A. on television. While of course things are changing rapidly, television still yields the biggest footprint." The key thing to remember, though, is that a distributor's job is simply to screen your film as widely as it can, not to lead the effort to create change—to garner reach, not impact. So don't mistake your distribution deal, no matter how cushy, as a job done.
Several moviemakers choose to self-distribute online, using direct-to-consumer platforms like Vimeo or Yekra to support their endeavors. Robert Greenwald, for example, streams his films for free for a limited time. "It is media that moves along the same lines of how people are behaving," says Axel Caballero, executive director of the National Association of Latino Independent Producers, who directed distribution at Greenwald's Brave New Films. "It is free of any constraints and unapologetic in how a point of view is presented. That can be liberating. It ultimately moves core audiences." But the trade-off of relying on on-demand is the risk of preaching to the choir—as Jeffrey Fleishman writes in The Los Angeles Times, "Greenwald's films have emboldened the already converted but have alienated many conservatives and may be considered too didactic to take hold among wider audiences, especially given limited distribution… [they] have yet to penetrate a broader national consciousness."
The power of an old-fashioned grassroots screening must not be overlooked. In case study after case study, most real activity came as a result of these community events, organized with demand-based platforms like Gathr, Tugg, Film Sprout. Gordon says that for Girl Rising, "Gathr generated the highest level of interest and awareness. Each theater 'captain' had to generate interest to fill his or her screening, leading to tons of hyper-local news coverage. Having a thoughtful introduction and a time to talk after the film is the key to impact."
Bahar's Made in L.A. team designed a tool for other documentarians to borrow with their 'Host-A-Screening' infrastructure: "One simple webpage [madeinla .com/host] provides a model for anyone, anywhere in the world, to host a screening of the film. The goal was to make it as easy as possible for small communities to do screenings, so we provided template posters, template press releases, website banners, etc… you can download a detailed toolkit."
It's a strange contradiction that social issue movie makers find themselves in—a tantalizingly inconclusive understanding of the weight of their actions, and a fervent belief in the power of their work to change lives. Our best recommendation for aspiring change-seekers is to focus first on the end goal, then work backwards in storytelling and outreach to figure out how to accomplish this. Meanwhile, as the industry gets more adept at understanding the ripples that a social issue film has in the world, trust that your efforts will be transformative, even if they don't seem tangible at first glance. You never know—they might influence anyone from a budding movie maker to a future Madame President.
Here's a list of Agencies Specializing in Engagement Campaigns:
For more information on To End Poverty's Indiegogo campaign, visit its official page here.
This article first appeared in the Spring 2014 issue of MovieMaker Magazine. Original illustration forMovieMaker by Sergey Maidukov. See more of his work here.
Beth Portello
Cinema Libre
Originally published in MovieMaker Magazine.