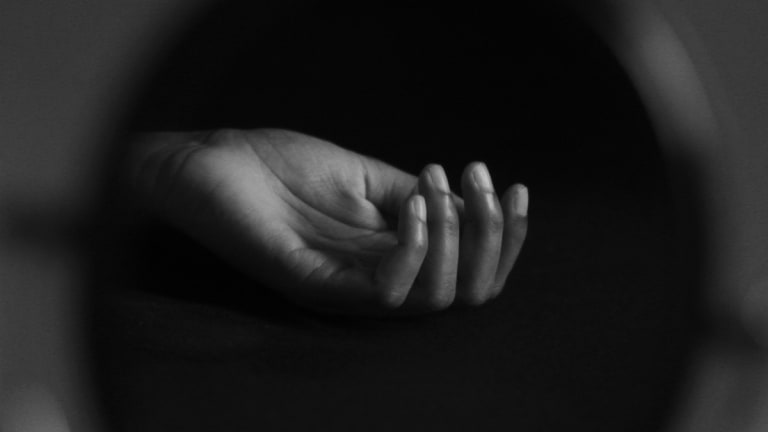 A Long History of Police Violence
David Ketchum: This is more than enough to convince me that Derek Chauvin had no business being a law enforcement officer, and that he likely made other officers around him worse.
This is Easter Sunday weekend, so Happy Easter! And I promise to get back to that fact. I'm going to read the gospel of Mark's account of the women finding an empty tomb. And I even hope to say some encouraging things about what it means to have a spiritual practice in today's world, or at least what it means to me. But I can't start there.
"What He Had Been Trained to Do"
Because this week, we have witnessed the opening days of the trial of Derek Chauvin. And I've been asking myself: what does it mean to celebrate Easter in the shadow of the United States' history of police violence, White supremacy, and systemic injustice? We have felt anew our grief and outrage for the murder of George Floyd, even while we are reminded again that we live in a society where many people refuse to concede that a person in authority can abuse power.
They refuse to agree that all people, including law enforcement officers, should be responsible for their actions. In their minds, all police violence is justified, especially if the officer felt fear for their life – and especially, to put it plainly, if the victim of police violence is not White, and especially if the victim of police violence is Black or Indigenous.
On one hand, I hear arguments that Derek Chauvin was just a bad apple, making all good cops look bad. On the other hand, the defense is building its case that, in attorney Eric Nelson's words, "you will learn that Derek Chauvin did exactly what he had been trained to do over the course of his 19-year career. The use of force is not attractive, but it is a necessary component of policing."
If we are honest, we'll notice that the two arguments don't contradict each other. We know that Derek Chauvin has a violent history, and that at least 18 complaints were filed against him from 2001 to 2020.
And we know that Chauvin and five other officers shot and killed a man in 2006, and that, in 2008, he shot another man twice; that man survived.
We know that, in the words of Erin Corbett, "Other reports documented his involvement in multiple violent, and deadly cases of police abuse."
This is more than enough to convince me that Derek Chauvin had no business being a law enforcement officer, and that he likely made other officers around him worse.
This is more than enough to convince me that Derek Chauvin had no business being a law enforcement officer, and that he likely made other officers around him worse.
But that doesn't mean that the system itself is somehow okay, or that Derek Chauvin is uniquely horrible. After all, he remained on the force for all those years, despite the complaints and "multiple violent, and deadly cases of police abuse."
The system is designed to tolerate this kind of abuse, and even protect officers that act violently. This is not hypothetical. Please remember that the system allegedly set up to respond to complaints, to protect the community from abuse, and to remove officers who violated those standards, kept Derek Chauvin on the force.
More often than not, the complaints against Chauvin were closed with "no discipline." The system is not innocent, either. It has never been innocent.
Blaming the Victim
In this instance, like so many others, we watch as the defense develops an intricate case of victim blaming.
In their presentation, Derek Chauvin is not responsible. He was only acting according to his training. He was distracted by the crowd.
George Floyd struggled with an opioid addiction and had drugs in his system. George Floyd had underlying health concerns.The police were only responding to a call and doing the best they could.
It is the courtroom version of "he was asking for it." And it is immoral and wrong. It is part of an ongoing attempt to always consolidate power and to insure that law enforcement officers can act with impunity.
As Rashad Robinson of Color of Change explained:
"This is the playbook from police unions, who are paying for the defense, who have injected well over $50 million since 2012 into elections to actually help to dictate what prosecutors and mayors and other folks who are responsible for police accountability do. And this is what they do in trial after trial, is work to put the community and work to put the victim on trial, to make the victim someone who deserved to be killed. … it is a playbook that actually … draws on all of the deep levels of the racism, all of the ways in which the system is not broken but is operating exactly the way it was designed, to let police officers off and to put Black people on trial, regardless of whether we are victim or perpetrator."
This dynamic was demonstrated in another courtroom this week, as we received the news that there would still be no convictions for three of the violent, abusive police officers who beat up Luther Hall.
Back in 2017, Hall was an undercover police officer observing the protests that erupted related to the trial of former officer Jason Stockley. Stockley had been on trial for killing Anthony Lamar Smith in 2011.
It was yet another example of failure in a long line of failures to address police violence, and the city rose up to demonstrate that this was not okay. The police responded to this protest of police violence by violently attacking the protesters, and Luther Hall was caught up on the receiving end.
"Hall, who had been recording criminal activity during the protests, became separated from his partner while fleeing officers who were firing pepper-spray pellets and bean bag rounds into the crowd. / … as Hall was complying with orders to get on the ground, he was knocked down, hit, picked up and knocked down again before being attacked with fists, feet and a baton. / Hall said he did not push, fight or pull away from the officers. He said he was stunned. 'I couldn't believe it was happening,' he told the jury."
Cases like these remind us that there are at least two justice systems in the USA, and that Black Americans are especially at risk of being targeted for injustice and oppression. As Cori Bush tweeted: "If an undercover cop can't get justice, how will the rest of us who have been maced, shot, beaten, and brutalized ever get justice?"
A Litany of Sorrow
But the bad news didn't stop with systemic injustice in our courts of law. We've also been mourning another week of mass shootings. Just from last Sunday through Friday, we had mass shootings in Cleveland, Ohio; San Antonio, Texas; Chicago, Illinois; Essex, Maryland; Washington, D.C.; and Orange, California. 32 people were injured, and eleven were killed. In the Orange shooting, we were left with the tragic and haunting image of a wounded woman, now in critical condition, cradling a nine year old child. He died in her arms.
Yet before we could even process these tragedies, the news called our attention to Myanmar. The coup in February has been met with protests and demonstrations, and the military has responded with violence. The UN Special Envoy, Christine Schraner Burgener, reported that more than 520 people have been killed, and condemned the:
"'widespread and systemic attacks on the civilian population' by military forces. / 'Already vulnerable groups requiring humanitarian assistance including ethnic minorities and the Rohingya people will suffer most, but inevitably, the whole country is on the verge of spiraling into a failed state … [The people of Myanmar] deserve to know why the Myanmar security forces are allowed to continue to go on extra-judiciary killings, why military snipers are shooting at unarmed protesters, why they can arbitrarily detain, torture people and abduct the bodies of those killed … ."
And we also began getting more information about the ongoing violence in the Tigray region of Ethiopia, as journalists and human rights defenders gain access to region.
The conflict has deep roots, but, last November, a civil war erupted between the Ethiopian government and the Tigray People's Liberation Front. According to at least one estimate, "Thousands of people are believed to have died and nearly one million forced from their homes, including some 43,000 refugees who fled to neighbouring Sudan." (Further, "The Norwegian Refugee Council said between 140,000-185,000 came from west Tigray over a two-week period in March."? And one United Nations humanitarian official warned that there's been "targeted civilian killings, over 500 recent rape cases, an increasing number of people fleeing violence, 4.5 million people needing food, and children on the brink of starvation."
The list of the suffering in this world could go on indefinitely. And it is enough to leave us all without hope. Why should we even bother? How do we look despair in the eye, feel it in our hearts, and yet keep going? Why do we insist on gathering, week after week, to tell ourselves that justice and peace are possible? Why do we bother to grieve the oppression and violence, celebrate the moments of joy and justice that we encounter along the way, and encourage each other to live like another world is actually possible?
Who Will Roll Away the Stone?
In the Gospel of Mark's version of that first Easter, Mary Magdalene, Mary the mother of James, and Salome go to the tomb. Since the burial had been rushed in order to observe the Sabbath rest, they return with the intent of finishing what had been left undone. Carrying spices, they go to anoint the body of Jesus for a proper burial. Their grief carries them along; in the midst of so many things that they cannot control, they can do this. So they waste no time, going as soon as the sun rises, as soon as they can. They meet their helplessness, confusion, and sorrow with compassion. They get up and go.
That going was an act of faith. The text eavesdrops on the women's conversation along the way: "They had been saying to one another, 'Who will roll away the stone for us from the entrance to the tomb?'" (Mark16:3, NRSV) It would be easy for such a thought to have kept them all at home, waiting for when conditions were easier, or at least clearer. They could go ask for help, or they could give up. But they don't wait. They get up and go:
"When they looked up, they saw that the stone, which was very large, had already been rolled back. As they entered the tomb, they saw a young man, dressed in a white robe, sitting on the right side; and they were alarmed. But he said to them, 'Do not be alarmed; you are looking for Jesus of Nazareth, who was crucified. He has been raised; he is not here. Look, there is the place they laid him. But go, tell his disciples and Peter that he is going ahead of you to Galilee; there you will see him, just as he told you.' So they went out and fled from the tomb, for terror and amazement had seized them; and they said nothing to anyone, for they were afraid." (Mark 16:4-8, NRSV)
This terror and amazement is my favorite ending of all the gospel accounts. On the psychological level, fleeing the scene is the most realistic depiction I can think of to portray a person meeting an alarming, supernatural being who says your recently executed teacher and activist has been raised from the dead. On the literary level, I love the ambiguity of the unresolved and how it invites us to ask: how will we carry both our hope that love and justice will win the day, and our fear that we will fall short? How do we do this in a world where we are also grieving for George Floyd, victims of gun violence, the people of Myanmar and Ethiopia, and so many more?
An Unexpected Ending
The women have been forced to face what they thought was their greatest fear: Jesus has died. But what comes next? Will their community also die? Will the hope that their lives and society can change come to an end? But arriving at the tomb, they are shocked with a new set of fears: the stone is already rolled away. Is this bad news or good news? Have the oppressors shown up to gloat, or has something new become possible? Is this more betrayal, or the birth of hope?
In the way the story has come down to us, Jesus' resurrection brings about a second chance. The agents of the Roman Empire had been convinced that Jesus was a threat, and acted accordingly. Jesus' story is also one of the authorities arresting him at night, parading him through the courts, and making him the scapegoat for the problems of society. They also made Judas an undercover agent and turned the community against itself. And the authorities ruthlessly beat Jesus before the execution, which itself was a very public affair meant to give a message: don't even bother trying to change the world. The only reward you will get is suffering and death.
We cannot forget that Jesus' crucifixion was meant to put an end to a movement, and that's how the gospels picture it: the disciples were scattered and confused, and the faithful women were on their way to perform their last act of love for their teacher. The whole community was in shock and grief. And yet that small movement of people committed to radical equality and compassion was resurrected; they were somehow able to blossom and thrive in the midst of an oppressive system of domination. In the gospels, it is not just Jesus who is brought back to life; the whole community of those who followed him finds new life, love, and courage to continue.
All those questions I asked during the week lead me here. Working for social and ecological justice often feels like an uphill battle. Most of the time, it's easier to relate to the story of how the religious and political powers conspired to crush the movement growing around Jesus. Even our victories are drowned out by the constant barrage of bad news, so that, on any given day, you can find one thousand reasons to go hide in your room. We live in the spaces around the question, "who will roll away the stone?," and the realization that the stone has "already been rolled back." This is the enduring meaning and power of the Easter story.
Born into Privilege; Born into Struggle
When I was growing up, I was taught that Christianity held the answers to all of life's problems. More specifically, I was taught that our Southern Baptist tradition was the most faithful version of what it looked like to follow Jesus. I believed it with all my heart, and I gave my entire life to that commitment. But it never added up. I studied history, and discovered that not only was the story of Christianity full of both foolishness and wisdom, both violence and extraordinary love, but that every other cultural and religious system's history was made up of the same mix. I studied other faith and no-faith systems and found poetry, art, and beauty that stirred my soul, even as I found stories of abuse, coercion, manipulations, and lies. No society or system has been immune, and the common denominator is our humanity. Our humanity held that breathtaking potential for both compassion and cruelty. What is left is for us to learn how to live with one another in a way that doesn't destroy the earth or harm each other.
Taking up this task, again and again, is the heart of spiritual practice, and adrienne maree brown has put it into words:
"Where we are born into privilege, we are charged with dismantling any myth of supremacy. Where we are born into struggle, we are charged with claiming our dignity, joy and liberation."
This work looks different in our different lives and situations, but it lives on in our humanity, even when it often passes without notice. In the courtroom, we have watched witnesses reclaim their dignity, and George Floyd's, daring to call out a system of violence and injustice and, unfortunately, with no guarantee that Derek Chauvin and the system he represents will be held accountable. Remember, for example, the witness of Charles McMillian, who cried out to Chauvin to "get your knee off his neck" in an attempt to save Floyd's life, and who confronted Chauvin after the murder because, in his words, "what I watched was wrong."
Remember, too, the witness of Cori Bush. In 2017, before she was a US congressperson, she was helping lead those protests against the system's acquittal of Jason Stockley. St. Louis Public Radio reported on one of those nights of protest, writing about one of the standoffs that:
"came an hour or so after activist Cori Bush took to the megaphone to tell police gathered outside the stadium why protesters keep bringing their message there. She said many in the community do not trust police — and that won't change until extrajudicial violence against black people ends. / 'We know you're tired of us coming to Ballpark Village. We know you're tired of the protesters. You're tired of us,' Bush said. 'We're tired of the police killing black folks. We're tired of the police killing brown folks and trans folks. We're tired of you killing people that look like us.'"
And remember the witness of the people of Myanmar in the face of state-sanctioned violence. According to Maria Stephan, they:
"have led a remarkable campaign of civil resistance to restore democracy. Nearly every segment of the population, including young women, civil servants, transportation workers, bankers, members of the Buddhist sangha, and even some members of the police and security forces have gone on strike or defected to the opposition to pressure the junta. Tech-savvy Burmese youth have mobilized the resistance on and offline, devising creative tactics and clever messaging to evade censorship and spread dissent. The scope and depth of what organizers are calling the Civil Disobedience Movement, or CDM, have been astounding."
None of this takes away the sting of grief, the unnecessary suffering that comes from injustice and oppression, or the need for change. But, in every case, we can find people who are embodying the message that adrienne maree brown put into words:
"Where we are born into privilege, we are charged with dismantling any myth of supremacy. Where we are born into struggle, we are charged with claiming our dignity, joy and liberation."
That is our spiritual practice. The more of us who take it to heart and make it a habit in our homes, schools, workplaces, and communities, the better chance we have to make it a reality. To put it into the images from the Easter story, even if you are afraid that the stone is too large, try to get up and go to the tomb. Do what you can do, even in the face of grief and despair.
Together, we might find that the stone has already been rolled away, and that it really is possible to create communities where justice, equity, compassion, and joy are available to each and every one of us.
David "Katya" Ketchum
The Emerging Church