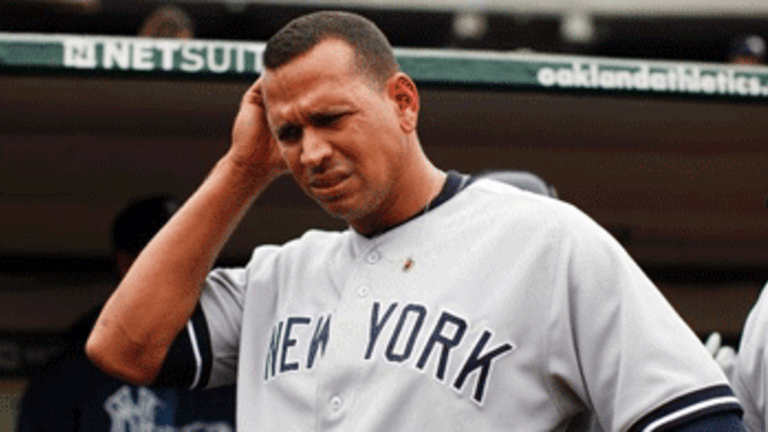 A-Rod Hammered At Last
Dave Zirin: Alex Rodriguez is the weakest link and that's exactly why he'd get Marvin Miller's most fierce support. The union, in that tradition, should grit their teeth and stand with A-Rod.
The hammer has finally come down. Alex Rodriguez – the latest "poster child" of performance enhancing drug use in Major League Baseball – will, according to ESPN, be suspended for the entire 2013-2014 season. That will end up being a $34 million dollar fine for the highest paid player in the game.
Let's forget for a moment that A-Rod will potentially take a bigger hit for "cheating" than Goldman-Sachs, and focus on the baseball issues at play. Rodriguez has said he plans on appealing the suspension. If he does, however, MLB Commissioner Bud Selig has given word that he will invoke the rarely used "best interests of the game" clause in the collective bargaining agreement, and not allow the Yankee third baseman to take the field while on appeal. MLB would take this extraordinary step because they believe A-Rod's transgressions fit the punishment. They are telling reporters they have evidence that not only was A-Rod a customer of Biogenesis, the shady anti-aging/steroid clinic in South Florida at the heart of this investigation. He also recruited players for Biogenesis and attempted to buy evidence from its owner Anthony Bosch, now a fully cooperating MLB witness.
There are few people who will shed any tears for Alex Rodriguez. Unlike Barry Bonds, the last "post-child" for PED use flambéed by Major League Baseball and its media minions, A-Rod has no one - other than those on his payroll - standing in his corner. He has no fierce fan base as Bonds had in San Francisco. He doesn't have any teammates he considers to be close friends. He lacks any sort of intriguing anti-hero appeal. As his biographer Selena Roberts said, "He's known as the Hollowman". From photos like these, to the painting of himself over his bed as a half-man/half-horse centaur, his public persona is that of the worst kind of narcissist: the insecure "mean girl" so yearning for approval, they end up cruelly flaunting their narcissism. He's the male version of Charlize Theron's character in Young Adult. It's not an archetype that ages well.
A-Rod's lack of support however is exactly what makes him such low hanging fruit for Bud Selig. And that's precisely why the Major League Baseball Players Association needs to be fighting his suspension tooth-and-nail. Unions are not supposed to be fan clubs. They are not organizations of the righteous, the pure, or the politically pitch-perfect. If they are to be worth a damn, in baseball or anywhere, they need to be the broadest of broad churches: institutions that will defend their most loathsome members because they understand that "an injury to one is an injury to all" is more than a slogan on a t-shirt. If a player can no longer take the field when appealing a suspension, that also disempowers the entire point of an appeal's process and if Bud Selig can get away with invoking the "best interests of the game" clause on A-Rod, then a precedent has been set and no one is safe.
It's times like this, Michael Weiner, the executive director of the MLBPA, needs to be asking himself, "What would Marvin do?" What actions would the late Marvin Miller, the man who built the MLBPA as a combative fighting union, undertake? Miller's starting point would be, I believe, to mercilessly call out the hypocrisy of Bud Selig's case against A-Rod. He would say, as Dan Dickey (@hoopsnerd) pointed out on twitter, that there is something bizarre about a situation where "MLB paid a drug dealer for his info [and] then considered a lifetime ban for ARod for trying to pay a drug dealer for his info." He would also remark upon how utterly rich it is for Bud Selig to be lecturing anyone about "the best interests of the game" when it comes to performance enhancing drugs. He would wonder why the commissioner who was in charge as fully-loaded syringes were passed around like party favors in locker rooms in the 1990s, is now trusted to "clean up the game". He would ask why there are no team penalties for steroid use. He would acidly question why owners aren't fined or sanctioned if their clubhouses become PED clinics. He would wonder why the profits from baseball's steroid era flow to ownership but the penalties fall upon the players.
Miller wasn't an anti-PED zealot. When asked for his views in 2009, he said that he thought baseball and congress's concerns about steroids were really an "anti-union witch-hunt." He said he didn't believe greatness on the field could come from "a magic pill." He said he wouldn't have supported increased drug testing even if it was demanded by players because, "A leadership can't just take a poll on what membership wants.You also have to judge whether this is in the best interests of the people you represent."As for congressional intervention, he pointed out that a government which gives subsidies to big tobacco but criminalizes steroids was a government whose moral compass was not to be trusted. Maybe he would have changed his views under the weight of the collective pressure from congress, the media, and even a large constituency of players. But he also would have known where to draw the line.
Marvin Miller – I have no doubt in my mind – would find Alex Rodriguez to be personally loathsome. Miller stood with the underdog. He would see A-Rod's actions, his business interests, and his politics to be the antithesis of the principles to which he devoted his life. But he also believed that the chain always breaks at its weakest link. Alex Rodriguez is - by any measure - the weakest link and that's exactly why he'd get Marvin Miller's most fierce support. The union, in that tradition, should grit their teeth and stand with A-Rod.
Dave Zirin
Edge of Sports
Monday, 5 August 2013