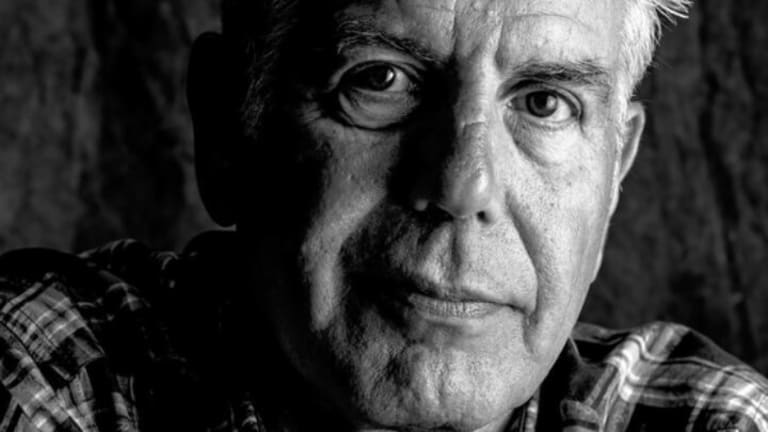 Anthony Bourdain, Champion of Progressive Causes
Frank Fear: It didn't take long for me to appreciate Bourdain's uniqueness. I concluded he was to popular culture what Bernie was to politics—a Progressive without peer.
"Was Remarkable Because He Possessed Qualities That Shouldn't Be"
What Anthony Bourdain did—and how he did it—"shouldn't make a (person) remarkable," wrote The Root'sDamon Young . "But (what he did) is (remarkable). And because it is, it did."
That remarkability included the way Bourdain captured and engaged millions of readers and viewers. "Casually radical" is the way Sarah J. Jackson of Northeastern University put it—a gentle but consistently purposeful style of bringing the world to you, and doing it so convincingly. Taking that approach enabled Bourdain "to weave political education into food culture in a way that provided…historical context and compassion for the oppressed."
Bourdain "made folk heroes out of the dishwasher and the line cook," wrote Pete Wells. And he took the same approach to elevating the status of like-positioned people around the world—"people (just) trying to find joy amid a life bowed to power," is the way Evan Kleiman expressed it.
How Bourdain got to the point of doing what he did is a story worth remembering. My initial exposure came from reading his 1999 New Yorker essay, "Don't Eat Before Reading This." I was fascinated. Here's a guy deeply embedded IN the system who, as Tim Carmen put it, then "laid bare the unseemly underbelly of the culinary world, at least in the mid-level kitchens where Tony washed dishes and, later, flipped pans. He wrote about the knives, the fire, the violence, the drugs, the sex, the machismo."
It didn't take long for me to appreciate Bourdain's uniqueness. I concluded he was to popular culture what Bernie was to politics—a Progressive without peer.
There's a huge personal price to be paid when you put your profession in the crosshairs, I concluded. He 'done.'
I was wrong. Bourdain, the truth-teller and writer extraordinaire, whet appetites. A year later, Bourdain served up Kitchen Confidential. His popularity and influence rose.
It didn't take long for me to appreciate Bourdain's uniqueness. I concluded he was to popular culture what Bernie was to politics—a Progressive without peer.
For one thing, I was astounded by Bourdain's range in literature preferences. His 2017 interview with The New York Times is well worth reading in that regard. It reveals the incredible scope of Bourdain's reading predilections, including his fierce loyalty to favorite authors.
Music ditto. Film same. Bourdain's life was infused with a dedication to the arts. The payoff (for us) is how he drew on the arts to express himself in writing and videography.
And, gosh, how Bourdain expressed himself! You'd read his pose and hear his voice. You'd hear his voice and visualize him mouthing personally-written text. Bourdain's style of expressiveness was, in a word, unique.
That uniqueness came through in (what was to be) his last essay—a piece he wrote for The Hollywood Reporter about the delight he felt in conjunction with filming the Parts Unknown episode in Hong Kong. It's classic Bourdain.
But I wasn't a fan of everything he did. My reaction to Parts Unknown was that I got greater satisfaction from viewing episodes about places I hadn't visited. My favorite episodes in that regard were on The Congo, Libya, and Uruguay. Conversely, I was flummoxed by the tact taken to covering some of the places I had visited or lived (e.g., Detroit, Ethiopia, West Virginia).
For sure, though, I was always entertained, especially when Bourdain found himself in new (for him) spots. My favorite? It was his "discovery" of The Waffle House.
What I'll miss most about Bourdain is what I value most these days. Evan Kleiman puts it well. It was his "existential meditation on how awful the world can be even when people remain capable of bridge-building. His reporting became more pointed, idiosyncratic, and fearless."
Make that inquisitive, too. Answers were far less important than questions. Certainty? Nah. Doubt prevailed. A favorite quote of his says it all: "Life is complicated. It's filled with nuance. It's unsatisfying... If I believe in anything, it is doubt. The root cause of all life's problems is looking for a simple fucking answer."
I also liked the way Bourdain was tough on others. He personally embodied the title of his novel, Bone in the Throat (2000)—that is, being a constant annoyance. As Eugene Scott wrote in The Washington Post, "Tony could level the most withering criticism, the kind that made for widescreen, surround-sound Schadenfreude."
But as tough as he could be on others (e.g., Trump, Hillary Clinton, Paula Deen), Bourdain was just as tough on himself. Scott continues: "Tony could turn that critical eye on himself if he felt he had strayed off course."
Progressives everywhere have lost an exceptionally strong voice. While nobody can replace Anthony Bourdain, we can dedicate our work to his indomitable spirit.
Frank Fear