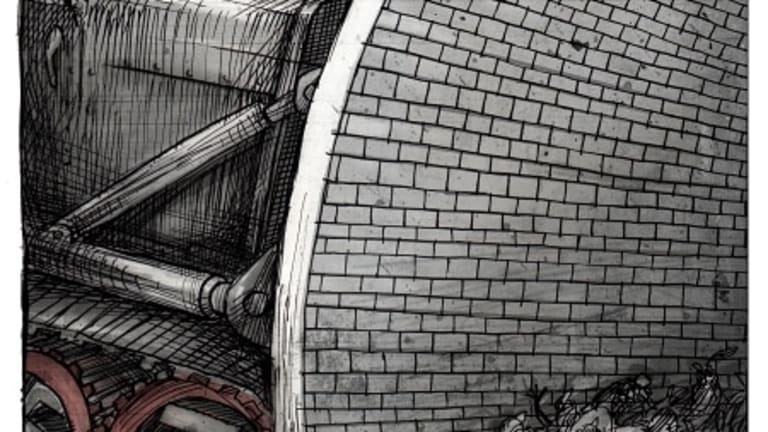 Authoritarianism — I See it, I Hear It…
Mack Green: Each small authoritarian act is like a nick into the flesh that spreads and festers into sepsis. We see it, we feel it and our anxiety builds.
I Must Be Out of My Mind
Authoritarianism begins with the entrance of a demagogue who with theatrical relish exploits public discontent. Scapegoats are fed to the disenfranchised crowds for them to project their long seething frustrations and anger upon. Hope is afforded to all those gathered through simple solutions, engendering a sense of purpose, the warmth of a tribal identity, the promise of a return to a mythical past that was pure and clean, all to be delivered by the anointed one, the demagogue, who stands in full swagger and uplifted chin before the eager throngs. Rational processes give way to magical thinking. Contradictory thinking is blessed. In this lavish beginning, the demagogue assaults the free press, reframing critical accounting, so important in democratic structures, as fake news. The ability to separate fact from fiction diminishes. The underpinnings of an authoritarian movement are set in place. 
By Incremental Progression 
Once the foundation is in place, authoritarianism progresses in subtle andincremental ways. As described byOzan Voral, in his essay, Stealth Authoritarianism, "The new generation of authoritarians cloak repressive measures under the mask of law, imbue them with the veneer of legitimacy, and render authoritarian practices much more difficult to detect and eliminate. In our modern era, authoritarian wolves rarely appear as wolves. They are now clad, at least in part, in sheep's clothing." The subtle march forward strives to avoid any single moment that might trigger widespread resistance. It is by means ofstealth that democracies today are backsliding and making "authoritarianization" difficult to counter.
Unfortunately, our human brain is not well designed by evolution to respond to stealth-like threats. Our brain, with its intricate network of neurological hardware, has developed to respond to more immediate and tangible threats such as a man coming at you with a big club. The ambiguity and uncertainty generated by stealth-like danger tends to constrain meaningful action. Yet, uncertainty lingers and manifests into generalized anxiety laced with feelings of helplessness.
Engaging the Rational Mind
Take a straightforward look at the 3 1/2 years of the Trump presidency and an amalgam of authoritarian acts spread before us.Loyalists with varying pedigrees, such as lobbyists, far-right media persons, conspiracy theorists were ushered into the realms of federal service. These were followed by a steady integration of yet more loyalists and industry insiders whose lack ofqualifications and ethical red flags tended to be ignored. Such a steady infusion undermines the democratic institutions and agencies meant to provide checks and balances and serve the public good.
Probably, the most prominent appointee that has taken a position of great power is Attorney General William Barr, who by possessing his belief in theall powerful role of the executive branch and his proclamation of a sacred mandate to preserve the nation's Christian culture from secular degeneration, has served as Trump's most effective advocate. He hasshielded Trump "from accountability, investigated Trump's conspiracy theories, targeted Trump's enemies, protected Trump's allies, and blatantly lied to the American people." Barr symbolizesVoral's principle that the new generation of authoritarians works behind veils of democratic legal institutions to carry out repressive and authoritarian objectives.
Each small authoritarian act is like a nick into the flesh that spreads and festers into sepsis. We see it, we feel it and our anxiety builds.
Under Trump's administration, authoritarian acts range from the caging of asylum seekers' children, non-compliance of congressional oversight, pressuring a foreign leader to investigate a political rival, violating the Hatch Act, intimidating the free press, purging inspector generals, engaging in multiple obstructions of justice, influencing the Justice Department to back off prosecution of a political ally, commuting the sentence of a political ally, makingattempts to undermine free and fair elections, using armed officials to forcibly clear out peaceful protestors at Lafayette Square in seeming compliance with the military; distorting the census count to benefit the Republican Party, undermining of the Postal Service as the November election nears, and let us pause… because the next is particularly penetrating—the deploying of unidentifiable federal agents to confront protestors in cities. As Thomas Snyder, author of On Tyranny: Twenty Lessons From the Twentieth Century, wrote, "Be wary of paramilitaries…When the pro-leader paramilitary and the official police and military intermingle, the end has come." The sharpened sense of anxiety heightens among, we, the alarmists.
The listing is not exhaustive. There is the feeling that such acts are accelerating, shifting toward greater brazenness, but always beguiled by tweetishness, blatant rule bending harbored by thecomplicity of elected Republican officials.
Another Layer
With the approach of the November elections another layer to the accelerating creep of Trumpian authoritarianism has fast evolved—the creation of a narrative woven together by disinformation that if Trump doesn't win the election it was rigged. In our time of pandemic, public health experts advocate for mail-in voting while Trump, fearing the process will favor Democrats, falsely asserts it will result in massive fraudulent votes. Such disinformation is spewed forth despitestudies of vote-by-mail data showing that voter fraud is a mere .00006 percent. A recentFBI report cited no evidence of any coordinated fraud schemes related to voting by mail this year. Five states hold their elections efficiently via mail-in ballots. Yet, such facts and preponderance of data are of little significance in the Trumpian world that wishes to establish a narrative that may culminate in conflict and violence. One that may provide an ultimate test of our Constitution.Historian Ruth Ben-Ghiat warns that Trump's response to election loss may materialize as an aberration of the peaceful transition of government in American democracy. "I would expect him to energize right-wing gun fanatics to create civil unrest because he wants to show the American people — his supporters — that without him being president the country will truly descend into anarchy." It is a description of creating chaos to justify oppressive action.
Anxiety to Action
Each small authoritarian act is like a nick into the flesh that spreads and festers into sepsis. We see it, we feel it and our anxiety builds.Obama put voice to the anxiety in his speech at the Democratic National Convention. "Embrace your own responsibility as citizens to make sure that the basic tenets of our democracy endure," Obama urged. "Because that's what's at stake right now: our democracy." And pleading, "Don't let them take your democracy away."
Journalists, historians and democratic elected officials now warn of the accelerating creep of Trumpian authoritarianism. The abstraction, the unreality of it, has become tangible. It can be seen, heard, felt…you're not out of your mind. Psychological encumbrances of uncertainty and anxiety are but signals that action is necessary. This is opportunity. What should be our actions? As humble and simple as it might sound our most powerful tool at this time is the vote.Ben-Ghiat states that the greatest means to deal with the abuse of power is for voters to activate their strengths and use "their electoral power to vote out these authoritarians while they still can." WHILE WE STILL CAN.
It is a time to make every small act of resistance a tribute to democracy. It is a time to do things that may have existed outside our usual boundaries whether it be donating to a valued candidate's campaign, advocating for expansion of polling places, countering lies about mail-in voting, volunteering to help register voters, helping people make sure they are on the eligible voter lists, joining advocacy groups, subscribing to fair and objective news outlets, masking up and marching in peaceful protest, learning how to identify media misinformation and how to refute it—never stopping to vigorously transform helplessness into resistance and activism.
Then, once the creep of authoritarianism has been thwarted, recognizing that the fight has not ended. Democracy is fragile. Vigilance will need to be maintained.
Mack Green