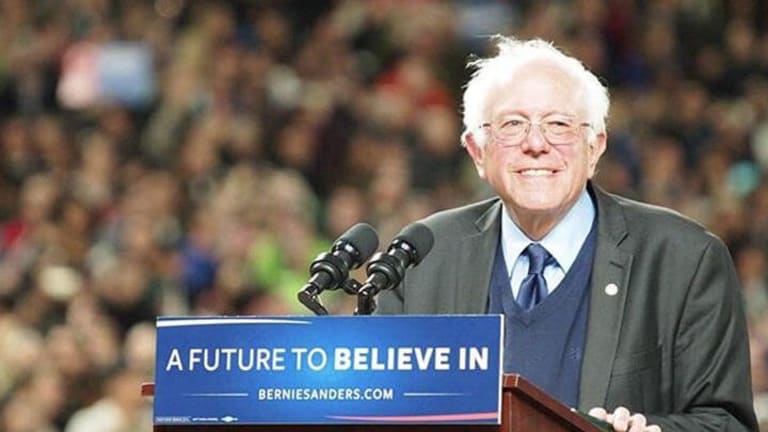 Listen to the Messenger
Peggy Renner: Describing himself as the messenger, not the message, Sanders discusses the decline of the middle class and calls for transforming an economy which exists to reinforce and strengthen the arm of the elite.
Pundits say the Democratic Party failed. Hillary Clinton was not elected. Democrats are out of touch with their historic base, lost in the clouds of "identity politics." Clinton's primary opponent, Bernie Sanders, would argue that the "identity politics" explanation is short-sighted. His book, "Our Revolution: A Future to Believe In," reveals a far more sophisticated critique of America's political scene and what we must do to restore power to the people. While identity politics may matter, overriding ethnicity, gender, race and sexual orientation is oligarchy — a ruling class that dominates every aspect of our lives.
Sanders was raised in Brooklyn, the son of Jewish immigrants from Poland. His family wasn't poor, but lacked "discretionary income." His childhood games — hide-and-seek, hockey, two-hand touch football, wall ball, box ball, baseball — required little expensive equipment but provided great lessons in collaboration. His parents got him the best education they could afford. He entered Brooklyn College, a tuition-free, taxpayer-supported institution. His brother introduced him to politics through civil rights issues. He met and watched Martin Luther King Jr. He concluded that the concentration of wealth in the hands of a few was a threat to democracy.
His college interests led him to community organizing, then his decision to run for office, first as mayor of Burlington, then congressman and senator from Vermont.
Describing himself as the messenger, not the message, Sanders discusses the decline of the middle class and calls for transforming an economy which exists to reinforce and strengthen the arm of the elite.
Public office offered opportunity to promote reform and learn how politics works, but the next big step — a run for president — required him to get out there to meet, talk with and listen to voters, face to face. People joined his campaign and developed innovative organizing techniques. His meet-the-voters approach, combined with the use of sophisticated technology, were breakthroughs in effective political organizing.
Describing himself as the messenger, not the message, Sanders discusses the decline of the middle class and calls for transforming an economy which exists to reinforce and strengthen the arm of the elite. He believes deeply in democracy and profoundly argues how critical a well-informed electorate is to the political balance of power.
"Instead of one person, one vote and equal voice for all, we are seeing a small group of extraordinarily wealthy people pump billions of dollars into the political process to buy elections for politicians who will be beholden to them," he argues.
Sanders called for a $15 per hour minimum wage, universal tuition-free higher education and Medicare for all. He addresses issues that he believes will promote the common welfare, provide health care for all, make higher education tuition-free, combat climate change, reform the criminal justice system, protect the most vulnerable; divest corporate media of its power, and create a rational immigration system.
His final words are profound: "We will not be able to accomplish those goals if we look at democracy as a spectator sport, assuming others will do for us. They won't. … The future is in your hands. Let's get to work."
P.S. Following each major election, Democratic Party groups nationwide undergo a reorganization process. On Saturday, Jan. 7, the California Democratic Party will be convening caucuses to fill many state party leadership posts, such as member of the state Democratic Party Central Committee and member of the Central Committee's executive board.
Many years ago, my husband, Robert M. Nelson, and I were founding members of the Pasadena Foothills Democratic Club — the first Democratic club in town. Since then, we have both served in leadership positions in the club and as delegates to state and national Democratic Party conventions.
On Saturday, we are both standing for election to the Democratic Party State Central Committee from California's 41st Assembly District, which includes Pasadena and selected surrounding communities. There are 14 Central Committee positions to be filled at the Saturday morning caucus. One of us, Bobby, is also standing for election to the Central Committee's executive board. The 41st Assembly District elects one executive board member. We ask for your vote in this caucus election.
We have appended our two-page candidacy statements, which appear at the end of the online edition of this column.
The 41st Assembly District caucus will be held at 10 a.m. Saturday, Jan. 7, at Flintridge Retreat Center, 236 W. Mountain St., Suite 117, Pasadena. The convener is Peter Rudinskas. Contact Peter at (213) 290-6263, or write to him at peter.rudinskas@gmail.com. If you are not currently a registered Democratic voter, you may register at the caucus.
These caucuses are very friendly neighborhood meetings. People bring and share food. Some bring their children and dogs. People enjoy a sense of community and have a good time. There will be many other candidates running that have resumes similar to ours. Vote for them.
Peggy Renner
Pasadena Weekly
Marguerite Renner is a historian who lives in Pasadena. She recently retired as chairperson of the Department of History at Glendale Community College. She is a founding member of the Democratic Club of the Pasadena Foothills.
Robert M. Nelson
Candidate for 41st AD Delegate to the Democratic State Convention and Executive Board
The 2016 election blindsided Democrats. Our national campaign underestimated the opposition. We need to learn from that experience and re-build a new Democratic Party from the old one. We need a change.
For two decades working class Americans have suffered in the NAFTA era. Millions of industrial jobs were deported. The wages of American workers have declined. More cheap imports appear on the shelves of local Walmart stores. However underpaid working class families are unable to afford the cheap goods.
Jobs kept leaving, even as we Democrats celebrated the elections of Barack Obama in 2008 and 2012. To his great credit, President Obama did something President Clinton was unable to do. He created compulsory national health care coverage, backed by federal subsidies for those unable to afford bloated insurance premiums.
Obamacare's relief is not enough to offset the growing class cleavage. The children of parents savaged by NAFTA are only able to obtain educations by running up a huge student debt. Public universities that had once been tuition free have increased tuition to astronomical levels. After graduation, the students find few jobs available. The minimum wage has remained stagnant at $7.25 an hour. An underclass continues to grow.
In 2016, Bernie Sanders called the bluff of Wall Street. He called for a $15 per hour minimum wage, universal tuition-free higher education and Medicare for all. He opposed the Trans Pacific Partnership-NAFTA on steroids. Pasadena Democrats selected me a third time as a delegate to our national convention supporting Sanders.
Sanders attracted significant support, gathering 45 percent of the elected delegates. Mrs. Clinton first supported and then opposed TPP. She refused to support a $15 per hour minimum wage which was a plank in the Democratic Party platform.
Donald Trump successfully exploited the economic crisis. He opposed TPP. He proposed massive infrastructure programs like Hitler's autobahns along with high speed rail systems like those of Mussolini, who made Italian trains run on time. Many working-class voters responded to Trump's appeal, hoping that infrastructure projects would create jobs.
After our national convention in Philadelphia I was a "good Democrat." I supported my party's nominee, Mrs. Clinton. I encouraged local Sanders supporters to volunteer at the United Democratic Headquarters in Pasadena. I organized educational sessions for the campaign volunteers to create a well-informed Democratic base of the future.
Delegates at the California Democratic State Convention will have an opportunity to continue bringing compelling issues before the American people.
If elected, I will continue to emphasize progressive ideas within the party. Particularly:
A $15/hr. minimum wage
Universal tuition free higher education
Medicare for all
A foreign policy driven by peace and understanding
An end to the death penalty
Educational Background
B.S. Physics. City College of New York, NY
M.A. Astronomy Wesleyan University, Middletown, CT
PhD. Planetary Astronomy University of Pittsburgh, PA
Post-doc. National Academy of Sciences Resident Research Associate, JPL
Occupation: Senior Scientist, Planetary Science Institute
Senior Research Scientist, Jet Propulsion Laboratory, retired
Qualifications:
Husband of Marguerite "Peggy" Renner, Professor, Glendale College, Grandfather to Chance and Annika
Columnist, Pasadena Weekly
Founding Member:
Pasadena Foothills Democratic Club
Democratic Socialists of America
Progressive Democrats of America
The Planetary Society
President, Pasadena Foothills Democratic Club 1993-1995
Lead Plaintiff Nelson et al.vs. NASA, A Supreme Court case involving 28 JPL employees who sued the
US Dept of Justice to stop background snooping into the private lives of federal employees
Chairman Southern California Federation of Scientists 1980-2000
Co-Author of the study, 'Nuclear War in Los Angeles', 1982
Radio Show Host, KPFK-FM, 'The Wizard Show', 1980-1998
Delegate for Reverend Jesse Jackson to Democratic National Convention, 1988
Addressed 1988 Democratic National Convention on 'No First Use' of Nuclear Weapons policy
Pasadena Campaign Director for Jesse Jackson's 1988 presidential campaign
Delegate for Governor Jerry Brown to Democratic National Convention, 1992
Delegate for Senator Bernie Sanders to Democratic National Convention 2016
Member of the Board of Directors, Southern California American Civil Liberties Union, 2012- 2016
Member Progressive Democrats of America
Block Captain Bungalow Heaven Neighborhood Association
Lunch Counter Sit-In Demonstrator for the Congress of Racial Equality 1959-1963
Articles of Relevance that appeared in the Pasadena Weekly:
Cinderella at the Iowa Ball-Progressives in the Democratic Party are exploited by Wall Street Democrats and how to stop it.https://www.pasadenaweekly.com/cms/story/detail/cinderella_at_the_iowa_ball/15498/
Bernie Channels Gandhi-Bernie uses his civil rights movement non-violence training to respond to Clinton campaign's insults.https://www.pasadenaweekly.com/cms/story/detail/bernie_channels_gandhi/15584/
Little Men and Big Lies-Is Fascism Around the Corner?Fascism succeeds when the opposition is corrupted and untrustworthy.https://www.pasadenaweekly.com/cms/story/detail/little_men_and_big_lies/15713/
Tuition Free Higher Education- Not a Radical Idea. Fifty years ago many public universities had free tuition. This was true for a century. Wall Street banks killed it with their student loan programs. https://www.pasadenaweekly.com/cms/story/detail/a_new_old_idea/15797/
Tragedy, Farce, Delusion and Fascism. Fascism rose because Germany and Italy were unresponsive to the needs of their working classes in the wake of World War I.
https://www.pasadenaweekly.com/cms/story/detail/tragedy_farce_delusion_and_fascism/16178/
The Harder They Fall-Hillary Clinton's 'deplorables' struck back on Election Day.https://www.pasadenaweekly.com/cms/story/detail/?id=16632
Marguerite "Peggy" Renner
Statement
During the primary I was an avid supporter of Bernie Sanders. As I listened to his campaign speeches I was impressed by the set of goals he laid out, many of them tied to values that I was raised to see as American—respect of others regardless of their background, race, ethnicity, sexual orientation or class; the ability to speak openly without fear of retribution; freedom for all to worship as they choose; a right to privacy; support for these and other issues protected in the Bill of Rights. Most importantly, is the right to exercise the political power that a democratic republic offers.
I was impressed when Sanders spoke of the vast amount of work that needs to be done to restore and reinvigorate these American values. He spoke about the corrupt political system that has developed in this country where a relatively few rich men and women are able to spend enormous sums of money to get the people who will best serve them elected to office.
As an historian, I have been troubled by the power that such people have had in the electoral system. Sanders made me painfully aware of just how little power many Americans think they have. Many have opted not to vote. "My vote doesn't count," they say.
Sanders did not win the nomination, but he was very clear when he told his supporters that he would endorse Hilary Clinton. The party needs to address the issues he raised. He clearly understood that the party has to take a "big tent" approach. Bernie supporters, he argued, needed to join the Hilary supporters after the Democratic Convention nominated her. While we may not all agree on all the issues, the American values I listed above are issues we do agree on.
So, as a dedicated member of the Democratic party, after the Democratic National Convention I moved on to support the party's nominee, Hilary Clinton. I campaigned for her at the local United Democratic Headquarters, visiting the office on a regular basis to make calls or attend to other tasks. I was pleased to see that she agreed to several of Bernie's issues. No, the agreement was not a perfect match. I was not pleased at her refusal to call for a $15.00 minimum wage or tuition free public higher education for all. But she did highlight the threat of climate change.
At the UDH I did more than make phone calls. Trained as an historian, I have been deeply troubled by the numbers of people I met who said their vote just did not count. Teaming with several other local activists, we conducted sessions on critical issues in the party platform, issues that Bernie had initiated and Hilary had agreed were critical. One of these was the UDH educational, entitled, "Does Gender Matter?' It is critical that people are well informed about the issues so that they can make decisions that will uphold the values promoted in our Constitution and Bill of Rights. I also joined with Lynn Rabin to conduct classes about these founding Constitutional documents for people who felt they had not gotten the background they needed when they were in school.
At Glendale Community College, I teach a course entitled "Rebellious Women in Modern America" where I engage students in the exploration of historical social movements that have made women full participants in society. Revolutions are not just single events in history. Successful revolutions are long in the framing and development of the issues. Our work is just beginning.
The Democratic Party has historically been the party of change—Social Security, the Minimum Wage, Workers Compensation, The Wagner Labor Relations Act of 1935, Medicare, the Civil Rights Act of 1964, the Voting Rights Act of 1965, and much more. But I also know that there is lots of work to be done.
Marguerite "Peggy" Renner
Candidate, 41st Assembly District Delegate to California Democratic State Convention
Background
• A Democrat since 1968, when I was old enough to register and vote
• A history professor at Glendale Community College
• President of the Board of Directors of Bungalow Heaven Neighborhood Association
• Former member of the Pasadena Commission on the Status of Women
• Guest Columnist, Pasadena Weekly
• The wife of a fabulous man who shares the responsibilities of running a home
• The grandmother of two wonderful grandchildren who deserve an earth that is beautiful and has not been destroyed by climate change
Democratic Party Experience
• Founding member of the Democratic Club of Pasadena Foothills
• President of the Democratic Club of Pasadena Foothills, 1989-1991
• PastSecretary of the Democratic Club of Pasadena Foothills
• Organizer in the Rainbow Coalition of the Jesse Jackson campaign, 1988
• Activist in the campaign for Barack Obama 2008, 2012
• Member of the Bernie for President committee in Pasadena, 2016
Professional Experience
• Chair of the History Department at Glendale Community College
• Former President of the Western Association of Women Historians
• Former Executive Director of the Coordinating Council of Women Historians
• Former President of the Academic Senate at Glendale Community College
• Former Member of IMPAC, as a representative of the Academic Senate of the California Community Colleges
If elected delegate, I shall:
 Work hard to assure all Californians have a progressive agenda to guide state policy and practice
My work will focus on promoting:
 Practices that will reduce global warming and effectively slow the destruction of the earth that comes from carbon build-up in the atmosphere
 Climate protection practices that can be used as models for the United States and the world
 That California's $15 per hour minimum wage is responsive to changes in the cost of living
 Tuition free education for all Californians, regardless of where they were born
 The highest quality of education to match the status California had forty years ago, for all students "from cradle to grave"
 An electoral system that allows and encourages all eligible citizens to vote without harassment or any effort to intimidate them
 Campaign finance reform to take political power out of the hands of the oligarchy and provide power to the people
 Reform to the criminal justice system and elimination of the death penalty