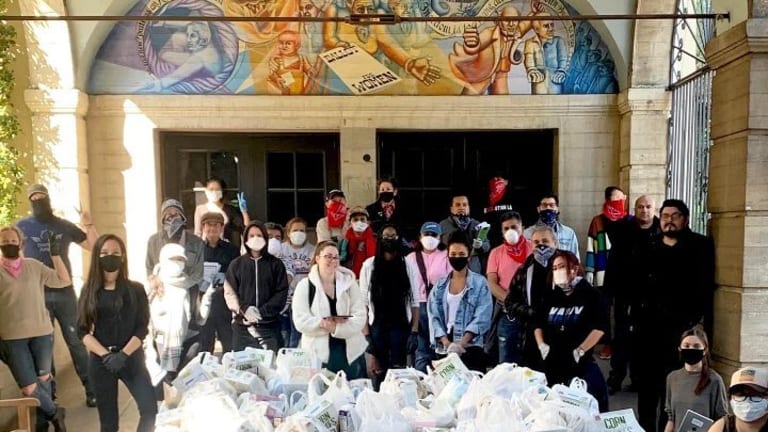 Nonprofits in California: The Vulnerable Underbelly of the Economy
Brian Biery: Feeling the pinch of decreased wages and an uncertain future, individual donors will be reticent to contribute to nonprofits.
The impact of the work of nonprofit organizations on the state's economic, social and health outcomes is often misunderstood and under-appreciated. We often perceive of them as do-good charities, but rarely recognize their overall significant place in our economy and contributions to society's well-being and health. Here are a few facts from a recent report called 'Causes Count: The Economic Power of California's Nonprofit Sector' from CalNonprofits (California Association of Nonprofits) that broaden these perceptions:
Nonprofit economic activity in the state generates approximately 15% of California's Gross State Product
Even though there is an exemption from paying corporate income tax for nonprofits, they still pay more than $37 billion in other taxes each year at local, state and federal levels
Over 1.2 million people are employed by nonprofits in California accounting for 1 in 14 jobs or about 7% of all employment in the state
Nonprofits produce more jobs than the finance, insurance, or construction sectors and it ranks as the 4th largest sector of employment in the state
With this economic backdrop in mind, what are some of the services that nonprofits provide to our communities. At the forefront of people's minds will be art institutions like museums, art centers, symphonies, etc., however the story is much more profound. A combination of state and federal funding provides over $150 million worth of foster care programs, $388 million in California Head Start programs, $148 million in Community Development Block Grant (CBDG) funds that are re-granted by local governments to nonprofits and $1.1 billion from Housing and Urban Development (HUD) for supportive housing for the elderly.
As a result, there is a deep relationship between federal, state, county and local governments and nonprofits. These agencies rely heavily on nonprofits to undertake programs and projects that governments are unable or unprepared to do. As an example, it is estimated that approximately one-third of Medicare and Medi-Cal services are provided by nonprofits.
Another important aspect of nonprofits' place in society lies in public trust. Over 80% of Californians surveyed by CalNonprofits agreed that nonprofits act ethically, help people in poverty and protect the environment. In addition, nonprofits were ranked higher than government or for-profit businesses in the following categories: efficient operations, spending money wisely and acting on the public's behalf.
So what might happen to nonprofits during the COVID-19 crisis? And how will those outcomes negatively impact communities all over the state?
With social distancing in place, all fundraising events have been canceled for the foreseeable future. For many organizations this is devastating as these provide significant streams of unrestricted dollars for programs. Even for those that rely on other income streams like foundation grants and government funding, the lack of an annual signature event will hamper raising social capital that is so important for branding and future growth.
Feeling the pinch of decreased wages and an uncertain future, individual donors will be reticent to contribute to nonprofits.
The stock market crash of the past couple of weeks has dramatically decreased endowments of foundations all over the country (Note: California nonprofits received $1.5 billion annually from foundations outside the state in addition to the $3.2 billion they receive from in-state foundations). As a result, funders will be hesitant to continue funding all this year's levels in the future and could diminish grant amounts and programs. By law, foundations are only required to give 5% of their endowments (or corpus) annually, which could result in huge losses of funding for nonprofits if foundations reduce their giving amounts to those equal to their endowments.
Feeling the pinch of decreased wages and an uncertain future, individual donors will be reticent to contribute to nonprofits. The fact is that when considering donations only, individual contributions far exceed the amount donated each year by foundations. As a result, any decrease in monthly contributions from individuals will severely hamper nonprofit operations, especially in the short term.
Government spending will also be hit hard by a reduction in tax collection. With the recent postponement of the federal (and many state) tax deadlines to July 15 there will be a potential decrease in the amount of funding available at a state level to pay the contracts of nonprofit organizations, particularly those in housing, foster care, health care and homelessness services. In a recent press conference, Gov. Andrew Cuomo of New York admitted that it could be as much as $8 to 9 billion in missing revenue over the course of the next 3-4 months.
Obviously, nonprofit executive directors around the state are terrified of the consequences. Few have more than six months of reserves on hand to keep paying the bills. In addition to providing highly needed services and programs to the community, they are also worrying about their employees and know that for many who work for nonprofits there are not deep savings buckets to pull from. As a result, many of their families will suffer enormously if programs are shut down and jobs lost.
Nevertheless, there is much that can be done to protect the 1.2 million nonprofit workers in our state and their families.
First of all, any federal government stimulus package must include nonprofit organizations in it! Nonprofits have difficulty accessing credit lines, cash or even lobbyists like corporations can, so before there is a bail out of airlines, hotels, cruise ships, etc. nonprofits should be at the head of the line.
Nonprofits employ more people nationwide than many of these industries and their contribution to the community is far more essential. If Steve Mnuchin, the Secretary of Treasury, is serious about supporting small businesses, then he should include nonprofits in his definition as they are effectively small businesses that are "owned" by the public.
Next, foundations should rethink their funding models. And be more generous. Rather than limiting their contributions at this time, they should be expanding them. Many foundations currently give just 5% of their endowments, but could easily donate more in order to keep nonprofit doors open. What good will it do if they sit on millions of dollars now and have tens of thousands of families fall into poverty? In addition, they should temporarily remove restrictions on funding so that nonprofits are able to use dollars for the greatest need rather than a particular program.
With respect to individual donors there will be many middle income donors who will have to 'tap out' for the foreseeable future. Nevertheless, extremely wealthy individuals have much more of a cushion which should be 'invested' in community organizations now, rather than later. Wealthy families all over the state should be banding together and forming community foundations or trusts that generate significant amounts of money for local nonprofits. And those community foundations should begin handing out funds in the form of bridge grants as soon as possible to keep nonprofit doors open.
Additionally, there are steps that nonprofits can take to stave off closure, but their boards and leaders will have to be determined and firm to make them work. The obvious first step is to conserve cash and expenditures as much as possible. Certainly most organizations are already doing this with furloughs, pay reductions, postponing paying bills, etc. However, some may have to restructure completely their staff, programs and possibly even consider merging with another nonprofit in order to prevent closing their doors.
What is at stake here is how our society functions, or better stated, where our values are. The nonprofit sector exists because there are some aspects of our lives that should not be sold to the highest bidder. Or, to a corporation that is solely focused on annual profits and CEO compensation. If we monetize and convert services like elder housing, foster care, Head Start programs, domestic violence services, etc. to for-profit entities, then who will be served? And what will that say about how we value the lives of those who have the least?
Nonprofits say more about the fabric of our society than most any other institution in our country. They demonstrate the understanding that we are all interconnected and bound together in the fragility that is life. So that when we forget the most vulnerable in our community we turn our back on ourselves.
Brian Biery