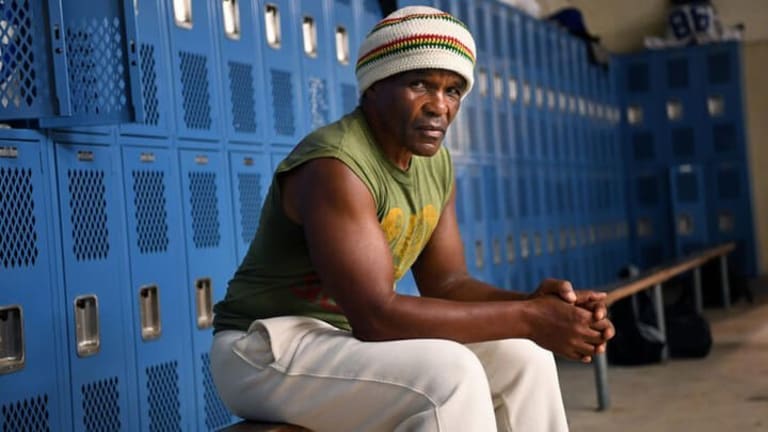 Teachable Moments about Protest—And LAUSD History Closer to Home
Karen Wolfe: There are still LAUSD schools helping young people "engage in the argument" by restricting the free speech rights of students.
Colin Kaepernick Protest
Sometimes history catches up with you. That is true of Los Angeles High School teacher and former football coach, Hardy Williams, who used to turn his back when the national anthem was played before LAUSD football games. That was 1985.
Now, 30+ years later, NFL player Colin Kaepernick is making national headlines for refusing to stand during the national anthem.
President Obama weighed in: "I'd rather have young people who are engaged in the argument and trying to think through how they can be a part of our democratic process than people who are just sitting on the sidelines and not paying attention at all."
Muhammad Ali's ex-wife says Kaepernick should apologize. Rolling Stone explains What White Folks Don't Understand About Black Athletesand Kareem Abdul Jabar says that criticizing Kaepernick says more about our patriotism than his.
Local electeds have covered this kind of thing long before Kaepernick made headlines. I have been in the room more than once when US Congresswoman Janice Hahn (now running for LA County Supervisor) protested in her own way. Whenever she recites the Pledge of Allegiance, she acknowledges that, for some, it's aspirational. She reminds herself of the work left to do by changing the ending. She says,"with liberty and justice for all, SOME DAY."
There are still LAUSD schools helping young people "engage in the argument" by restricting the free speech rights of students. My son and his MIT-bound friend discussed their responses to the principal who told them to take off their hats outdoors on campus because they did not have the school logo. She said if a shooter comes on campus, they'll know he doesn't belong because his hat does not say, "Go Gondos!" which raised this mother's heart rate for more reasons than self expression. The ACLU has a long history of filing lawsuits on behalf of students whose schools instituted arbitrary dress code restrictions. The school is located in the neighborhood the Beat poets called home back in the day. So…a history lesson, too.
Long before Kaepernick sat, L.A. teacher stood up to authority in anthem protest
Eric Sondheimer, Los Angeles Times
September 1, 2016
Hardy Williams, a physical education teacher and former Los Angeles High football coach, was getting his car repaired Saturday morning when his brother called and told him that San Francisco 49ers quarterback Colin Kaepernick had refused to stand for the playing of the national anthem before an NFL exhibition game.
"What?" Williams said. "He's immediately my favorite player."
It was 31 years ago, in the fall of 1985, that Williams filed a lawsuit against the Los Angeles Unified School District and his principal at Los Angeles, Patrick DeSantis, after he was fired as a coach for turning his back when the national anthem was played before games.
When he heard that Kaepernick said he was protesting "a country that oppresses black people and people of color," Williams said, "I thought it's been a long time since somebody picked up the torch."
Williams, 69, had been turning his back to the flag and national anthem for years. His mother, now 99, was not too pleased with his stand.
"Naturally, she was afraid the powers that be would come after me," he said.
And she was right. Williams stood by himself and no one complained — until DeSanits [sic], a relatively new principal, summoned the coach into his office in the spring of 1985 and asked, "Are you going to continue to turn your back?"
Williams replied: "Yes."
"I don't have any other recourse but to remove you from your position as assistant football coach," Williams said DeSantis told him.
Williams called his friend from his Dorsey High days, Ted Eagans, an attorney, to seek advice. Eagans told Williams to ask the principal to put his complaint in writing. And he did.
According to court records, DeSantis said he "made it clear that during the hours of employment you are to act exemplary to students. You, in turn, upon careful consideration, stated that you could not face the field and pay respect to either the flag or the anthem of our country."
Eagans sought an injunction in Los Angeles County Superior Court on Sept. 4, 1985.
"It was filed purely because I believe it was a violation of Hardy's constitutional rights," Eagans said.
The judge assigned to the case, John L. Cole, refused to issue a temporary restraining order, so Williams missed most of the 1985 season while waiting for his case to be heard. On Dec. 5, the same judge issued an injunction.
Twenty faculty members had signed an affidavit stating they were not disturbed by his actions.
"I'll never forget it," Williams said of the judge's comments. "He said, 'I don't like it one bit, but that's his constitutional right.'"
The LAUSD decided to appeal the judge's decision. During a pretrial conference, Eagans said an appellate judge made it clear to the lawyer for the LAUSD that a settlement would be wise. In 1987, the case was dismissed.
Williams said he received $25,000 in damages. He invested the money in a condominium in Turtle Bay on Oahu that he still owns.
Former players who remember Williams' decision to turn his back during the national anthem were calling him last weekend after hearing about Kaepernick and telling him, "You were doing that back then."
"I understand perfectly what he's going through," Williams said of Kaepernick. "I know they're not throwing stones — they're throwing boulders. I think the times have changed very little."
Williams said of turning his back to the flag: "It's not true — 'One nation, under God, indivisible, with liberty and justice for all.' We all know it's not liberty and justice for so many people in America. It's not an even playing field. So if I were to do that, I would be cheating myself. I just cannot do it. I would die before I salute the flag to America. It bothers me that much and all the people I've seen suffer."
Eagans said Williams' court case in 1985 went largely unnoticed. There was no Internet and no Facebook. There was little media coverage. Williams didn't seek help from any political organizations.
"He did it because he saw it as representing the oppressive conditions African Americans are under," Eagans said. "He did it silently. He didn't preach to the kids. Most people didn't even notice. He stood on his principle and won."
Williams, looking more fit than some of his P.E. students with his muscular upper-body physique, has been a teacher at Los Angeles since 1973. He served two stints as football coach and also was athletic director. He turns 70 in November and plans to retire.
DeSantis, 82, and living in San Luis Obispo, was asked this week if he had any regrets trying to fire Williams.
"I felt you should stand and pay attention," he said, then declined further comment.
Williams said he wishes he could meet Kaepernick.
"I was so proud of him," he said.