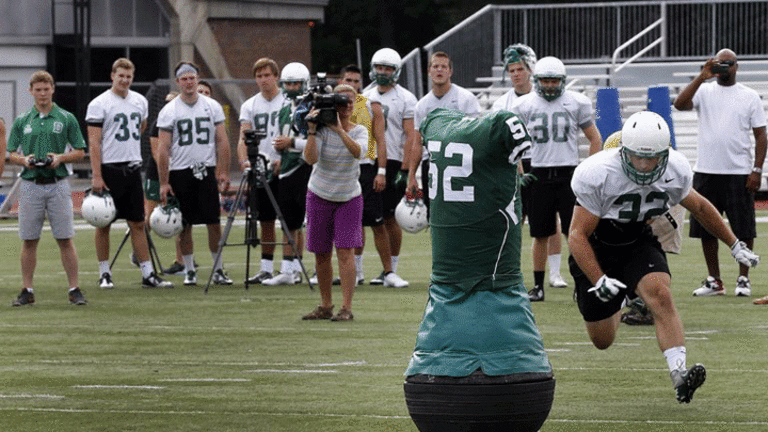 A Progressive View of College Sports
Frank Fear: For years I assumed that higher education valued social responsibility in athletic administration. But universities pay primary attention to winning, branding/marketing, and finances. Social responsibility is often relegated to the undercard.
I'm a college sports fan. I'm a Progressive, too. Until a few years ago I never thought about the connection. Then it dawned on me: I espouse progressive values when it comes to everything except college sports. I cared about winning games and chalking up championships, but I paid scant attention to "other things" surrounding college sports.
Today I pay attention. Take equity in hiring, for example.
College sports has a poor diversity record when it comes to hiring top-level managers. Consider findings reported recently by The Institute for Diversity and Ethics in Sports at the University of Central Florida. About 80% of head coaches in Division 1 basketball are White. 60% of players are Black. In major college football about 90% of head coaches are White even though the majority of players are not. In athletic administration, 9 out of 10 major athletic conferences and university athletic programs are led by White men.
Another area of concern is the amount of money America's universities spend on college sports. USA Today reports that universities spent about $170 billion dollars on sports over the past eleven years. A good slice of that money came from athletic subsidies—non-athletic revenues derived from university general fund allocations and student fees. Subsidies totaled about $2.6 billion dollars at 230 public institutions in 2015. That's a lot of money at a time when college tuition costs have skyrocketed.
The more I dug into collegiate sports the more concerned I became. Eventually I gave my concern a name—social responsibility in sports. It's about making socially responsible decision making a priority in the administration of college sports.
I know that it's myopic to single out colleges when it comes to social responsibility in sports. It's a matter that cuts across all sports. For example, the U.S. women's soccer team recently filed a wage discrimination suit against U.S. Soccer. But it seems to me that higher education—an institution that serves the public good—has a special obligation to act in socially responsible ways.
For years I assumed that higher education valued social responsibility in athletic administration. But universities pay primary attention to winning, branding/marketing, and finances. Social responsibility is often relegated to the undercard.
For years I assumed that higher education valued social responsibility in athletic administration. But universities pay primary attention to winning, branding/marketing, and finances. Social responsibility is often relegated to the undercard.
There are exceptions, of course, and significant ones, too. Consider the policy adopted recently by The Ivy League to ban tackling during in-season football practices. It's a way to manage cognitive issues that can accompany repeated hits to the head. And the National Collegiate Athletic Association (NCAA) Board recently passed an anti-discrimination measure to evaluate bids for hosting NCAA sporting events.
How did I become more aware of social issues like these? Without question it's through investigative journalism. Print journalists write extensively on social issues in sports. Sally Jenkins of The Washington Post, Joe Nocera of The New York Times, and Christine Brennan of USA Today are three examples. ESPN's daily television program, "Outside the Lines," does a masterful job covering social issues across sports. And Dave Zirin of The Nation specializes in analyzing social issues from a Progressive perspective. Sports journalist Rian Watts says this kind of work puts sports in a social context.
But while some sports fans welcome this kind of treatment, others don't. Why? It detracts from covering "the important stuff"—stories about teams, players, and games. And while fans take pride when schools are praised for being socially responsible, most fans don't want their schools to be viewed negatively.
So I was surprised a few weeks ago when a colleague sent me a report. The study includes distressing numbers about a school with which we share an affiliation. The study, conducted by The University of Pennsylvania's Center for the Study of Race and Equity in Education, reported that only 33% of African American football and men's basketball players at our school graduated after 6 years. That compares to an over 75% graduation rate for the rest of campus.
That finding was included in a report the Center published on graduation rates at top-tier programs in college sports—schools in the so-called "Power 5 Conferences," the Atlantic Coast, Pacific 12, Big Ten, Southeastern, and Big 12 conferences. The Center found that about 50% of black male athletes playing football and men's basketball graduated within 6 years. That compares to a 68% graduation rate for all athletes and 75% for all undergraduates.
How sad, I thought, that graduation rates would be so poor at schools that fans consider to be the best in college sports. If these schools are the best, though, then just what does 'best' mean? 
The prevailing yardstick, of course, is winning—winning championships, especially. And, to win, schools have to hire and retain first-rate coaches, recruit outstanding athletes, have modern facilities, and raise revenue to pay for it all. Time and attention goes to things like those. What about social responsibility? The answer is uneven.
I see a glimmer of change, though – at least on the fan side. A handful of acquaintances tell me they still cheer for their college teams, but it's not without guilt. Why? It's about schools not measuring up on matters of social responsibility. Two areas stand out in what they tell me: implications associated with 'big money' in college sports; and concern about long-term health issues caused by head trauma in sports.
A few fans are taking action, too. Some have expressed concerns on social media sites, such as Facebook. Others have dropped buying season tickets. One colleague wrote an opinion piece in a local newspaper. Another colleague wrote an article on her "love/hate relationship" with college sports.
What about university administrators and trustees? The picture there is less hopeful. That's because athletic success—not social responsibility—dominates institutional agendas. The reason is understandable. Research shows that success on fields of play improves a school's profile and enhances its brand. It can attract more and better students, invite more donor dollars, and generate more press coverage. So the prevailing objective is building bigger and better athletic programs.
And trouble looms when presidents and chancellors try to reign in college sports. Consider the case of Alabama-Birmingham. The UAB president terminated the football program only to have alumni and other boosters organize, fundraise, and secure trustees' approval to reinstate the sport. And the president of the University of Idaho decided recently to downscale football participation – from the NCAA's top tier to the second tier. The response, hailed by some, was also met with widespread expressions of concern, especially from alumni and other boosters.
So while I'd like to see university presidents, athletic directors, and trustees talk publicly about the importance of social responsibility in college sports—and then act accordingly—they'll need political cover to do so. That's why I'd like to see the NCAA host a robust, national conversation about social responsibility in college sports. National priorities needs to be set with goals established, strategies outlined, and progress benchmarked.
What would progress look like in college sports? It would come when hiring an African-American head basketball coach becomes a priority, as important as landing a prize recruit or inking a multi-million dollar media deal.
That would be good for college sports. It would be even better for Alma Mater.
Frank Fear