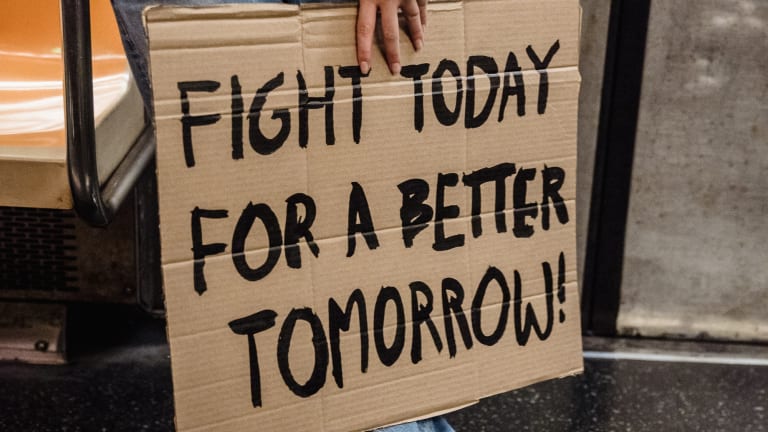 Conflict at the Peoples Summit
The People's Summit was held at Los Angeles Trade Technical College. Hundreds flocked to attend.
Days before the June primary, I opened my laptop, went to the LA Progressive and was greeted with a pop-up ad that took over my screen—an ad espousing the virtues of a political candidate the LA Progressive had not endorsed. In fact, we endorsed his opponent. Weeks before election day, the LA Progressive published its Progressive Voter Guide for the June Primary. 
But, in the days approaching election day, political ads, mostly for unendorsed moderate neoliberal candidates, began to dominate the LA Progressive site. This was not orchestrated by us and we are taking steps to make sure that our readers aren't bombarded with those ads in the future. But, I wanted to tell you about this for two reasons:
I wanted to make it clear that the ads were not chosen intentionally; and
I wanted to mitigate the amount of criticism we will surely receive from progressives who challenge our progressive bona fides
Self-Destructive Internal Conflict
Progressives can sometimes be extremely critical of other progressives, often doling out some of the harshest consequences for what can seem like a minor infraction or disagreement.
This weekend we attended the People's Summit for Democracy—a three-day event that elevated topics and people who were left out of the Summit of the Americas which was held simultaneously less than two miles away.
The People's Summit was held at Los Angeles Trade Technical College. Hundreds flocked to attend its workshops, panel discussions, and performances—and to visit the tables of dozens of vendors who flew in from around the country to attend the event. Cornel West delivered a keynote and John Shipton, the father of Julian Assange, brought audience members to tears with his powerful message and update on his son's case. It was like old home week for me and Dick—bumping into many of the wonderful activists who have written and currently write for the LA Progressive. It was a great weekend but, like my issue with the LA Progressive ads, there were a couple of hiccups that I'd like to address.
On the second day of the summit, as we arrived and were about to enter the venue, I saw a familiar face standing on the sidewalk outside of the school, handing out leaflets to passersby. This person, Bonnie Blustein, is a dear friend of the LA Progressive. I greeted her. She returned the greeting and then went on to tell me that the organizers of the event had attempted to have her removed. First, they told her to leave. When she refused, they brought additional personnel to make it happen. 
My friend insisted that what she was doing was perfectly legal. She was standing on public property and made the case that her actions were constitutionally protected. According to the ACLU of Southern California, "generally, all types of expression are constitutionally protected in traditional "public forms" such as streets, sidewalks, parks, and public plazas". The state of California even permits speech activities, such as handing out leaflets, in facilities operated by state and local governments—facilities like L.A Trade Tech. 
But, Bonnie told me, the organizers were either unaware of California law or knowingly disregarded it because they were escalating the matter and making a scene—people were gathering around. They were determined to have her removed. Perhaps because she was adamant her activity was legal and insisted that they check with the ACLU, they eventually walked away from her but not before banning her from the summit. When she attempted to enter, the registration workers would not admit her. Why did it have to go there?
The Circular Firing Squad Strikes Again
The second incident was just as bad. Among the dozens of vendors tabling at the summit were the Roofers and Waterproofers Local 36 and Black Lives Matter Ground Roots. Dr. Melina Abdullah, a founder of Black Lives Matter L.A., was at the BLM table and Cliff Smith, the business manager of Local 36, was present at the Roofers and Waterproofers table. 
I stopped and spent time with each of them as I made my way to the table where I was volunteering for Free Julian Assange. In full disclosure, I consider both friends and essential movement builders in the work of the left. Both have written pieces for the LA Progressive, and each has a long track record of demonstrated commitment to the cause on several fronts. But, they haven't always seen eye to eye. Nothing new or earth-shattering with that revelation. People often disagree.
One of the assertions made by the organizers of the People's Summit about their organization is that they "are energetically building our collective future." So, you could have knocked me over with a feather when I learned that the Roofers and Waterproofers were ejected from the event a day and a half before it was over.
Here is what I personally witnessed and later learned:
While at their table, I saw that the Roofers and Waterproofers had a bunch of takeaways on display—information packets, flyers and other items. One of their flyers, had three captioned photos on it
a photo of a Haitian sweatshop that said the workers are paid $3 a day to make Levi's clothes
a photo of thousands of Haitian workers on strike against foreign owned sweatshops and
a photo of Dr. Melina Abdullah that did not identify her by name but had the word "Shame" emblazoned at the bottom of her image. 
The meaning conveyed in the flyer didn't immediately jump out at me or others I talked to. But after talking to Cliff, I learned that the flyer was a criticism of Levi's corporation for their post George Floyd murder hypocritical virtue signaling. There has been a long campaign to get Levi's and others to stop exploiting Haitian workers. So far, it's been unsuccessful. 
After the global outrage over the murder of George Floyd, Levi's ran a campaign that promoted themselves as supporters of Black Lives Matter—but apparently not Haitian Black lives. Melina Abdullah can be seen in one of the Levi's promotional videos. Cliff explained that this was the significance of having Dr. Abdullah's image on the flyer.
Later during the day before I had any knowledge of the Roofers being ejected from the event, my husband and I happened to bump into Cliff Smith and his colleagues outside of L.A Trade Tech. It was obvious they were leaving the event because they were all packed up and carting off their tabling stuff. We asked why they were leaving early and Cliff told us that they were forced to leave. His colleague, who was clearly upset, flashed his phone before us in an attempt to show us a video he recorded just moments before they were ousted. But the sun blocked out what he was trying to show so I didn't really see much. We said goodbye and went our separate ways.
The following day I talked to two people who, after being asked, told me they witnessed the expulsion. Both worked for the People's Summit. One admitted that she was instrumental in executing the expulsion. I asked what happened and both told me that the flyer the Roofers and Waterproofers had on their table caused the ejection. She said it violated the rules of the People's Summit. She said it was racist. (Both of the people I talked to are white as is Cliff Smith. Melina Abdullah is Black.) I asked if the rules were posted anywhere. One of them assured me that the rules were on the People's Summit website. (see addendum below)
People's Summit Community Guidelines
I later went to the website and found the following community guidelines:
1. Debate and discussion is part of the program, and we seek unity through our shared values and by uplifting the voices of the people to imagine a new world; one that puts people's democracy first.
2. To show respect for one another's minds and bodies, respect for one another's ideas and cultures.
3. To take care and responsibility for ourselves an our physical, emotional, mental, spiritual needs
4. To seek out opportunities to learn, grow, and collaborate.
5. We will not tolerate racism, white supremacy, or bigotry.
6. We will not tolerate sexual harassment, sexism and misogyny, homophobia and transphobia.
7. To maintain an alcohol-free and drug-free environment on campus.
8. In case of emergency, we follow the direction of security and safety staff.
9. As guests on LATTC's campus, we pledge to take responsibility for maintaining and taking are of this physical space and leaving our collective space in better shape than we found it.
While these guidelines aren't nothing, they fall short of addressing effective processes for resolving conflicts that are almost sure to surface whenever you have a group of people sharing space for any length of time.
The indomitable spirit of activists is the fuel that keeps them/us moving forward even when our goals seem unachievable, at least in our lifetimes. When I was born, apartheid was strictly enforced in the South. During my life I have seen major change and I've benefitted from the work done by fierce activists who've gone before me. I honor that indomitable spirit and hope I'm able to muster just a bit of it myself. 
But I've also seen that fighting spirit turned against fellow progressives. I've witnessed a type of cancel culture where there's little tolerance for difference of opinion. Sadly, this is the fuel that fosters division. It's one of the core problems that must be addressed if we ever expect to effect major social change.
Movement builders and progressive organizations that hold themselves out has striving for unity, solidarity, collectivism, and democracy should include, as part of their strategy, a well-researched conflict-resolution plan. Conflict resolution is an indispensable tool for movement building. The People's Summit for Democracy could have used one this past weekend. 
We need more of what the People's Summit offers. Their ten-point platform is what we should all aspire to attain. They've been around for a while and will likely continue their work but I hope they'll consider incorporating a conflict resolution plan in all of their future organizing efforts. We've got to conserve our energy and use our indomitable fighting spirit where it is needed most.
ADDENDUM: 
After publishing this article, I had a telephone conversation with Dr. Melina Abdullah.  She added important details that I am now including in this addendum.  Dr. Abdullah told me that the Peoples Summit organizers did not immediately ask Cliff to leave the event.  They first asked that he remove the flyer with Melina's image from his table.  According to Melina, Cliff refused and voluntarily offered to leave.