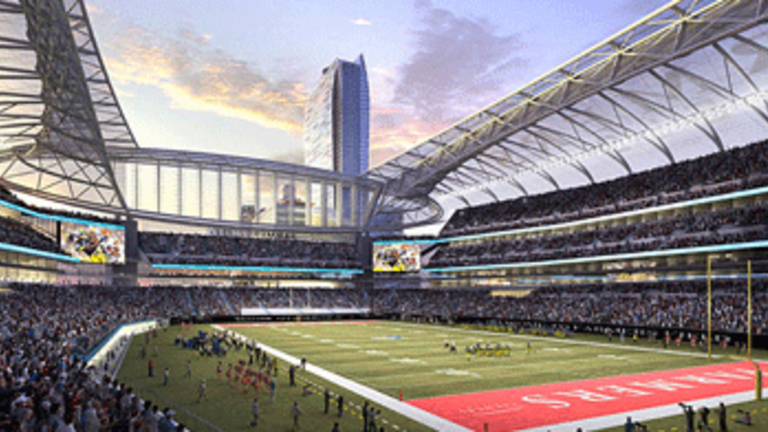 As Feds Abandon Cities, Corporate Clout Grows
Randy Shaw: The federal government's slashing of funding for urban America has made all cities more dependent on corporate investment than at any time since the 1930's, raising new challenges for urban progressives.
In 2012, a large group of high-tech leaders launched the San Francisco Citizens Initiative for Technology & Innovation, a new civic organization designed to help make the city the "innovation capital of the world." Such a pro-business group would have concerned progressives only a few years ago, and might still alarm some. But times have changed. The high-tech industry is spearheading San Francisco's economic revival, and the city is fortunate to have it.
Meanwhile, the federal government has abandoned urban America's housing, education, transit and other core needs, as the Obama Administration failed to reverse longtime Republican efforts to "starve the beast" of federal funding for cities. This leaves San Francisco, Los Angeles and other progressive cities little choice but to turn to the corporate sector to create jobs and generate revenue for essential services. How should urban progressives respond to this new political environment?
Private capital, particularly real estate investors, has long run many of the nation's major cities (with New York City and Chicago the leading example). But the federal government's slashing of funding for urban America has made all cities more dependent on corporate investment than at any time since the 1930's, raising new challenges for urban progressives.
The lack of federal funding for development and basic services explains why Los Angeles and San Francisco, two of the nation's most progressive cities, have become so increasingly receptive to private investment. Recent development in both cities offers a roadmap for the future funding base for urban America, and how progressives must address it.
Los Angeles and Philip Anschutz
Beyond Chron ran stories in September ("Phil Anschultz Gets His Stadium: How Deceit & Corruption Greases the Skids") and November ("Billionaire Bagger Bamboozles L.A. Downtown Dems") describing how Democratic legislators in Sacramento, many of whom are seen as strongly progressive, allowed billionaire Philip Anschutz to waive environmental rules in building a downtown football stadium in Los Angeles. The January 16, 2012 New Yorker now has a long story on Anschutz's influence in Los Angeles, aptly titled "The Man Who Owns L.A."
As recently as the start of the Obama Administration, the growing power of the right-wing Anschutz and his Anschutz Entertainment Group (A.E.G.) in a city with a progressive mayor and influential labor unions would have been a head scratcher. But it is not surprising today.
Los Angeles is desperate for money. The city faces a $200 million budget deficit even after libraries and parks have had hours reduced, and police and firefighter budgets cut. It's an all too familiar story across the United States, as efforts to get resources from federal and state governments have gone nowhere.
Philip Anschutz has the capital to invest in creating desperately needed jobs and tax revenue to Los Angeles, which is even why progressive Democratic politicians like Assembly Speaker John Perez are backing his projects. Of course, as in so many of these "privately funded" projects, Los Angeles must issue $300 million in bonds to relocate a convention facility to be torn down for the stadium. Much of the cost of the bond repayments will come from the city's general fund.
The Times Are Not Changing for urban America – they have changed. And urban politicians expected to create jobs and maintain public services feel they have little choice but to court – and some would say surrender – to the demands of the private sector.
San Francisco Embraces High-Tech
The loss of federal dollars also helps explain San Francisco's increasing embrace of high-tech over the past year. Mayor Lee made high-tech job creation a centerpiece of his mayoral campaign, and found overwhelming support among voters.
But tech was not always so popular.
In January 2011, the city began debating whether to give a payroll tax exemption for net new hires for the Mid-Market and Tenderloin neighborhoods. The plan was motivated by Twitter's desire to move to the SF Furniture Mart at 9th and Market, but advocates for both areas saw the exemption as necessary to help revitalize two long distressed neighborhoods. Strongly backed by interim Mayor Ed Lee, the measure went through stormy public hearings before passing the Board of Supervisors by an 8-3 vote.
The tech-sector's rising popularity became clear during the debate when former Supervisor Ross Mirkarimi argued it was not fair to give Twitter a break when other tech companies also needed help. Mirkarimi had been contacted by representatives of Zynga seeking a payroll tax exemption from money earned from cashing in stock options.
Suddenly, Twitter opponent Mirkarimi became the sponsor of a citywide tax break bringing tech companies hundreds of millions of dollars more in savings than the narrow exemption applying to net new hires in two neighborhoods. Even the Bay Guardianrefused to express outrage about Mirkarimi's proposal, perhaps recognizing that politicians in San Francisco cannot be seen as anti-tech if they wish to win a citywide race.
Tech companies never got such a positive reception during the dot-com era, with many critical of their impact on San Francisco. But that was when the city had huge budget surpluses, federal money was reduced but still flowing, and when many felt that tech was helping to overheat rather than sustain the local economy.
The Progressive Challenge
Cities face pressure to approve any project that creates jobs or promises to bring ongoing revenue. But this model has a bad track record of bringing costly stadiums, shopping malls and other corporate-backed boondoggles, many of which end up as money losers for cities.
To avoid this course, progressives should both push for the enactment of citywide laws linking development approvals to the provision of community benefits (as in inclusionary housing laws) and for development agreements that bring such broader rewards (as community groups and the San Francisco mayor's office are currently seeking from California Pacific Medical Center (CPMC))
There is no shortage of ideas for harnessing private capital to fulfill public goals, and urban progressives must rise to the challenge of this new urban reality. Hopes that the Obama Administration could return federal spending on urban problems to pre-Reagan or even Nixon levels have been dashed, and those still holding out for massive public investment in urban America anytime soon have lost grip on political reality.
Randy Shaw
Beyond Chron
Randy Shaw's most recent book is Beyond the Fields: Cesar Chavez, the UFW and the Struggle for Justice in the 21st Century.