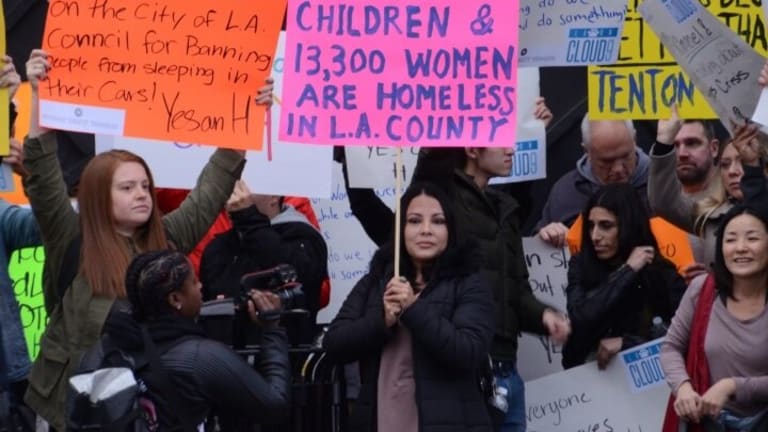 Countering Fragmentation and Upgrading Networking: The Los Angeles Progressive Community
Jack Rothman: The survey's most revealing finding to me was that there are ways of coalescing progressives in addition to mobilizing around issues, electoral campaigns, or other ideologically-tinged initiatives that too often create conflict and fracture relationships.
In its call for the 2018 annual conference in Los Angeles, The Left Coast Forum spotlighted "bringing the progressive community together." The organizers regret the historically "fractured and weak progressive movement"—a disunity that has blunted the left as a force for social and political change. I've personally observed that whenever we lefties congregate, disunity becomes a hot button topic of discussion—with more agitation than serious analysis.
Some years back I did a systematic survey that took a close look at this issue. I interviewed Los Angeles activist leaders in 43 diverse progressive organizations asking for their observations on fragmentation and what might be done to alleviate it. Participating organizations included CHIRLA—Coalition for Humane Immigrant Rights of Los Angeles, Natural Resources Defense Council, AGENDA, HERE, the Gay and Lesbian Center, Industrial Areas Foundation, the Feminist Majority, and Coalition Against Police Abuse, among others. I assumed that front line activists would have a close-up view of approaches that could bridge persistent divisiveness. They were specifically asked for their views on how there could be greater collaboration and networking across movement organizations.
The survey took place at the turn of the century and there has been some advance in networking since then. That's discussed in the last section. Nevertheless, I believe the responses are relevant for thinking about these issues today and making comparisons between then and now. We can draw on these earlier views of activist leaders to give historical context to aid us in brainstorming ideas for further advances.
Programs to Promote Greater Networking
The survey's most revealing finding to me was that there are ways of coalescing progressives in addition to mobilizing around issues, electoral campaigns, or other ideologically-tinged initiatives that too often create conflict and fracture relationships. Respondents suggested six specific programs, which are focused on linking organizations to one another across the movement and also helping them develop as organizations. These programs are:
A Directory of Progressive Organizations. The survey pointed to the non-existence of a directory that gives comprehensive information about progressive organizations in the region. Respondents suggested compiling a resource book (or digital document) that includes addresses, telephone and fax numbers, email addresses, home pages, missions, key programs and events, staff, key contacts, and other pertinent information. The listing might be by sector/program and by geographic region. This would help progressive organizations know about sister organizations, learn what they do, and be attuned to how to make contact. In the current period, the Internet serves this purpose in part, but in a cumbersome and time-consuming way,
Training. Respondents said that there was a need for additional training opportunities locally. Training areas mentioned include organizing and managing skills, using the media, applying technology, fundraising, campaign tactics, and the like. Some pointed out that training across organizational lines "harmonizes" people from different sectors by bringing to light their common needs and interests as activists. The assumption is that the basic skills of organizing people, developing leaders, and running meetings are identical across sectors and that activists become aware of this when they join with others in a learning situation. Training programs currently exist in Los Angeles, but not through a core organization so dedicated. Liberty Hill is an example of this. Chicago has the Midwest Academy, and the Bay Area has the Center for Third World organizing—Los Angeles would benefit from a similar crosscutting training program for activists.
A Rapid Response System.Sometimes activists need to act reflexively in a fast developing situation. A hot line would make it possible to disseminate important, urgent information quickly to the full array of progressive organizations. The hot line could involve a telephone or digital procedure, or both. The hot line would be especially important for demonstrations, public hearings, media events, and similar occasions where the show of a mass of people is of the essence tactically. The hot line program could trigger immediate responses to instances of, for example, police brutality; hate crimes, and the passing of repressive legislation.
A Mutual Aid Help Line.Mutual aid is one of the maxims of progressivism, but its practice often eludes organizations on the left. Some mutual aid takes place, but it is rather sporadic and informal. The people I interviewed ticked off numerous ways that progressive groups could give more organized support to one another. A mutual aid help line could be put in place as a way of arranging assistance, organization to organization.A resource booklet could be issued listing sources of help and a central coordinating unit could facilitate the process. The categories of aid include technical assistance (data analysis skills, computer skills, translation services,) and training (community organizing, outreach methods, group leadership). There could be consultation on accessing useful contacts and pressure points (government officials, foundations, civic and business leaders) and assistance in campaigns (writing letters, sending delegations). In more tangible practical terms, organizations could share equipment (desks and software) and provide space (an office, a meeting hall). Organizations could join in a division of labor (dividing the load by program areas or geography), aid legal cases (supporting or co-staffing litigation), and using volunteers and interns (providing them, supervising them).<
A Common Facility.Shared housing was named as a way to overcome detriments of distance and segmentation. This could make for a common meeting space for conferences, committees, and other group events. Or the venue could offer office space, kitchen facilities, and joint access to computers, photocopying, and the like. Fortunately, the Peace Center in Culver City is a beginning in that direction. The Tides Converge in San Francisco congregates, under one roof, many mission-driven organizations (there were over 60 at the beginning). Located in the Presidio area, it rents affordable workspace in one building as a catalyst for collaboration. (It now also has a facility in New York.) Tides could be a guide for the expansion of the Peace Center.
A Newsletter. Across the board, interviewees noted that there is a disturbing deficit of communication in the LA progressive community. Several felt that a widely distributed and comprehensive newsletter would contribute to a higher level of information exchange. They thought that such a publication, digital or hard copy, should describe what people are doing, provide a calendar of scheduled events, highlight successes, and announce new initiatives. Some emphasized the electronic form, using a blog, Website, or listserv.
At present there are examples of this, such as the "LA Progressive," the Frank Dorrel Addicted to War listserv, and "Change-links." It would be reasonable for progressives to review what currently exists and consider whether they need to be expanded or new one be established.
Many respondents recommended establishing an enabling-type organization to hold things together and spark communication and capacity building in progressive organizations. It could appropriately be called the Los Angeles Progressive Networking Collaborative (LAPNC).
The Collaborative would be dedicated specifically to enriching progressive infrastructure in Los Angeles. It should be non-intrusive, operating in a facilitating rather than directing mode. Also, it should help build up movement organizations by guiding them to benefits—--training, space, equipment, breaking information, etc.,.
The Collaborative would focus sharply on capacity building—which almost everyone can agree on. The experience of collaborating in these non-divisive areas could generate trust and relationships, slowly leading to collaboration on issue-oriented political actions.
Then and Now
Since the time of the survey there has been a remarkable transformation in Los Angeles politics. The city has become, probably, the mainstay of progressivism in the nation. A powerful and effective coalition formed consisting of labor, Latinos, African Americans, and Westside liberals. It was instrumental in passing the 2015 minimum wage ordinance in LA, which established a $15 an hour minimum, over double the Federal Government standard. The Los Angeles County Federation took the lead in this, working closely with allies in the coalition. This local minimum wage victory inspired other cities across the country to take similar action.
A striking achievement of the coalition, earlier, was the election of Antonio Villaraigosa as mayor of Los Angeles in 2005, the first Latino to attain that position in 130 years. This new coalition pushed through elections of a raft of other progressives at every level of government: Congress, The Board of Supervisors, the state legislature and the City Council. Names like Karen Bass, Hilda Solis, Keven de Leon, and Gil Cedillo. There have been giant steps in union organizing of low wage and immigrant workers, with active participation of the coalition partners.
Additional currents abetted the revitalization the progressive community in Angeles and nationally. Occupy Wall Street energized many groups and individuals, especially young people. The Bernie Sanders presidential campaign accomplished the same in a larger and more organized way, managing to muster an astonishing 13 million votes. The ludicrous and destructive Trump presidency has helped mobilize legions of resisters across the center-left of the political spectrum. At the same time, membership has been expanding full blast in movement groups, among them the Democratic Socialists of America, Planned Parenthood, the Lawyers Guild, and the ACLU. The new generation of young people has been prominent in all of this.
These developments converge in the growth in coherence and vitality on the left in LA since the turn of the century. Much has been accomplished, but my conversations with many distraught left compatriots lead me to believe that we are far from a unified force. Coalitions exist, but often stand apart or battle one another. Many small left organizations are struggling to survive with few resources. They don't have the energy and wherewithal to combine forces with other groups.
There is still a lot to do to tighten the left as a linked system, including deliberating and working on the six programs that were recommended.
The deliberations might also consider a Networking Collaborative that has a specialized responsibility to foster area-wide linking and capacity building. Organizations like Liberty hill, LAANE, and the Labor Federation, already occupied in doing this in part, could take the lead on this.
The call of the Left Coast Forum to rally around progressive togetherness gives us impetus to think about the then and now of such bonding. How far have we come and what more do we have to do to achieve a more cohesive and powerful left? After all, solidarity (forever) is a high level value of the left, and we sing about it passionately. We need to also talk about it soberly.
This analysis draws on the author's previous work in:
"Countering Fragmentation on the Left." Social Policy," Summer 2000, Vol. 30 Issue 4, pp. 42-46.
The survey also queried participants on the causes of fragmentation. This is reported in "Why the Left is Fragmented." The Humanist," September/October 2000, Vol.60 Issue 5, pp. 40-43.
I want to acknowledge Kent Wong, Director of the UCLA Labor Center, for his unstinting support during the survey project and his input to this paper.
If any readers would like to talk about these ideas and consider how they might be implemented, I would be willing to arrange a discussion—if you email me atjackrothman@roadrunner.com.
Jack Rothman