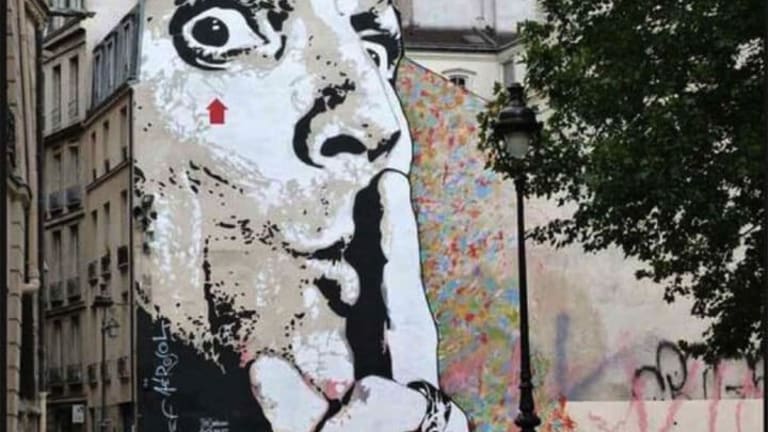 What Do You Think? Who's Shutting You Up?
Doris Wolz-Cohen: When people ask me if I think Donald Trump can hurt the eco- and soul-consciousness I stand for, I recite verse fifty-two from the Tao Te Ching
[dc]"T[/dc]ake… this great [graffiti art] piece in the center of Paris. Not only is it great to … suddenly see this image through the crack… between two buildings …"
It mirrors the crack between two people … between you and Ego … you and your animal instinct … you and your heart … you and nature's Soul.
When people ask me if I think Donald Trump can hurt eco- and Soul-consciousness I recite verse fifty-two from the Tao Te Ching:
The beginning of the universe is the mother of all things.
Knowing the mother, one also knows the sons.
Knowing the sons, yet remaining in touch with the mother,
Brings freedom from the fear of death.—Lao Tzu
Can Ego destroy nature's Soul in the world, when some remain in touch with the mother and others still make art?
Graffiti art is good, when it wakes us up and helps us rise.
Conversations are good, when they wake us up and help us rise.
We need to have them.
Meet Otto Scharmer, co-founder u.lab, Senior Lecturer, MIT; Thousand Talents Program Professor, Tsinghua University. He talks about the importance of crossing "a threshold" in his Huffington Post article "2017—Trump—Are We Ready to Rise?"
"Whatever your commitment for 2017 may be, keep in mind that experience is not what happens to us—but what we do with what happens to us. We already know what to expect: chaos, confusion, and occasional collapse.
Most of these events are already out of our control. So what do we control? We control how we respond. …This is our moment to wake up to our real intention, to be calm, compassionate, and courageous in environments that will be full of dispute, despair, and delusion. The root of the word leadership means "to cross a threshold." That threshold now is right in front of us... Are we ready to rise?"
Don't be blind or silenced. Can we drop the mask and "cross a threshold" together? There's not much time left, the beast's gone wild.
Get ready to rise.
What do you think? Who's shutting you up?
Shout it out!
Doris Wolz-Cohen