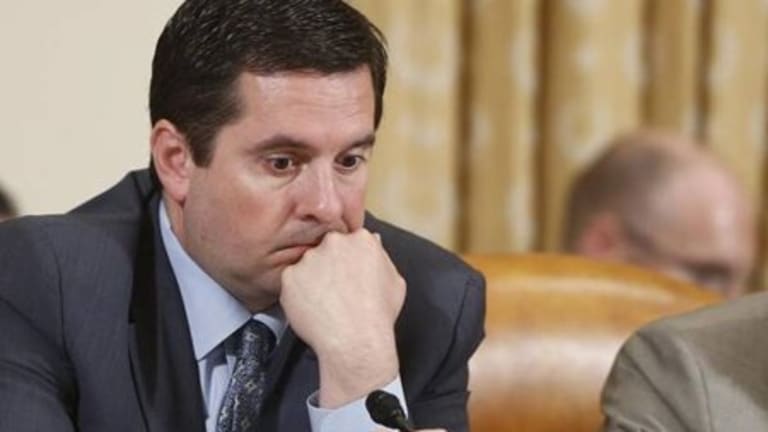 "Patsy"
How Devin Nunes can ever avoid criminal liability for such blighted behavior seems profoundly problematic.
pat-sy – [ˈpatsē]
Noun – A person who is easily taken advantage of, especially by being cheated or blamed for something. A fool. A sap. A sucker.
Used in sentence --- Representative Devin Nunes (R- CA) was, is and forever will be – a patsy.
You can see it in his vacuous stare. You can hear it in his ever-changing lies. You can read it in his querulous quotes – peevish and fretful over a self-inflicted predicament -- foolishly initiated, amateurishly executed and clumsily concealed.
In case you're a Sierra black bear only now rising rested from a long winter of hibernal bliss, here's what happened:
Through patronage-prodded party politics, this nitwit Nunes somehow ended up being Chairman of the House Intelligence Committee, pretty much like putting a mouse in charge of cats. Investigating possible Russian influence on Donald Trump's White House, Nunes broke all sorts of past practices and procedures in a doomed effort to provide the President with "vindication" for an insane claim that his orangeness had been "wiretapped" by a predecessor. What a jerk. Make that jerks.
How Devin Nunes can ever avoid criminal liability for such blighted behavior seems profoundly problematic.
How anyone can regard Nunes as anything less than "a stain on his office" (Nancy Pelosi said that) is beyond comprehension. How Nunes has dishonored his duties, discredited his profession and denigrated his district is evocatively evident. How Devin Nunes can ever avoid criminal liability for such blighted behavior seems profoundly problematic.
Far past Nunes' mischievous mission is the expanding horror of an administration gone mad, displaying every sign of rampant paranoia as it wildly strikes out at perceived slights, presenting the world with a schizophrenic posture lacking clarity, resolution and/or substance.
Each new day dawns with yet another affront to civilized sensibilities, oftentimes twitted from the offal office in semi-literate, often misspelled, tirades. Does "cat" have one or two "k's"?
I fear worst is yet to be, particularly since a full third of our population seem oblivious to the fact they are supporting a cause not only lost, but exhausted. Just look at the man. He is not having a good time, finding out far too late that being President is a regimen, not a role. It's work. Non-stop. 24/7/365. That's why we see such aging in office. Last week Trump staged a big "Executive Signing" – then tried to leave the room without signing a thing. An aide caught his attention. "Huh?"
In the cornered rat department, fired National Security Advisor Michael "Thin Skin" Flynn, having gone on record stating that only criminals need immunity, suddenly wants a little of that action himself. His attorney enticingly writes that Flynn "certainly has a story to tell", but doesn't want jail when he tells his tale. No takers so far. Mister "Lock Her Up" from the GOP Convention wants no stay in any house of detention.
As a champion of "the little guy", Donald J. Trump certainly hasn't brought many on board in structuring his staff. In fact, 27 Trump hires are collectively worth more than $2.3 billion dollars, including his daughter, Ivanka, and hubby, Jared Kushner, who score a cool $750 million all by themselves without a nickel of Donald's dough.
This information was part of a massive White House release of financial disclosure forms late last week for dozens of officials as required by law. The details are fascinating.
Guess how much loudmouth Kellyanne Conway made last year defiantly defending "The Donald? " $800 grand!
White House Chief of Staff Reince "E.T. Call Home" Preibus only knocked down $500,000 as Chairman of the Republican National Committee, but hauled in an extra $750,000 in a buy-out by former law partners.
But leaving behind two-bit players, Chief Economic Policy Advisor Gary Cohen pulled in $75 million or so in 2016, but that might be more. Education Secretary Betsy DeVos could write a check for $1.3 billion that wouldn't bounce and, even on a slow day, Commerce Secretary Wilbur Ross is worth about $2.3 billion and change. Trump, himself, is estimated by the Bloomberg Billionaires Index at having $3 billion in assets, which Donald can always be counted on to round up past an even $10.
Presidential Historian Robert Dallek writes, "You'd have to go back to Herbert Hoover to see a cabinet that was this reliant on wealthy people, but the wealth has changed. Millionaires have become billionaires."
It was the administration of Herbert Hoover that brought on The Great Depression of 1929.
"Those who don't know history are destined to repeat it!" – British Statesman and Philosopher Edmund Burke (1794) – generally viewed as the intellectual founder of modern political conservatism.
Peter Cavanaugh