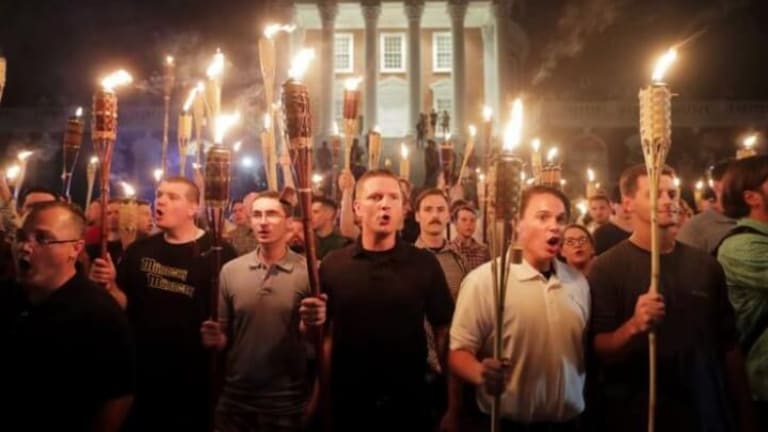 Dismantling White Supremacist Hate Violence
Christina Leimer: To recruit, these groups look for vulnerable people, people who feel lost, who are looking for belonging, something to be part of, and for meaning and purpose.
>How do people become haters? They often don't even know who it is they hate. Hate Jews? They've never met a Jewish person. Hate Blacks? They've never had a conversation with an African American. Immigrants? Same. They're just striking out. Angry and lacking any meaning and purpose in their own lives, they're bent on destroying others.<
That's what Christian Picciolini, former Neo-Nazi Skinhead leader, told us at his talk in Berkeley, California, last night. He is the founder of the Free Radicals Project, an organization dedicated to helping people disengage from radicalized extremist hate groups. Christian shared with us how and why he got involved with a hate group at age 14, how he got out at age 22, and his work for the last several years disengaging young men from these groups.
To recruit, these groups look for vulnerable people, people who feel lost, who are looking for belonging, something to be part of, and for meaning and purpose. They often have low self-esteem and may be depressed. Hate group recruiters draw people out, listen to their problems, and then promise in various ways to fix those problems. Eventually they start feeding in the hate-filled ideology and setting people up to fear the "other."
Hate group recruiters often join online groups where people are talking about their own depression or mental illness and put out feelers. They do the same with some video games played by young people. Currently they're using 13-14 year old White girls to recruit same-age White boys. They are the ones making and disseminating the propaganda videos. These girls look like cheerleaders–except for the Nazi salute. "If you think they're not dangerous, think again" says Christian as he flashes the next photo on screen. These cheerleaders carry great big guns.
Extremist hate groups thrive on silence and violence. Consequently, we must call them out. But, not engage their violence. That's what they're looking for. It fuels them. Boston's post-Charlottesville response was an excellent example; 20,000 people turned out to simply state that we will not accept hate violence. They surrounded the dozen or so white supremacists, but no violence. "They won't return to Boston," Christian said. "That's not the kind of response they want. But they'll be back in Charlottesville."
To counter hate, we also need online hate crime laws, online safety for vulnerable groups, a domestic terrorism statute since White hate group violence isn't labeled terrorist, and we must stop playing into their hands by countering them with violence.
The Free Radicals Project is linking with similar organizations around the world to help disengage people from violent extremist groups such as ISIS and the war in Lebanon. It's a direct way to help stop the hate. Christian issued a challenge to all of us to talk with someone who we consider undeserving of compassion. Just listen to their problems. Maybe it will help establish a human connection that leads them away from hate and toward helping us create a better world.
If you know of someone involved in a hate group, or you're in one but it doesn't match who you are and you want to get out, you can reach Christian at the Free Radicals Project. You can also read his story in his book, White American Youth: My Descent Into America's Most Violent Hate Movement—And How I Got Out.
Thank you to Christian Picciolini, and to the ACLU, Alameda Labor Council, Berkeley Citizens Action, Berkeley Progressive Alliance, Indivisible Berkeley, Not In Our Town and the Wellstone Democratic Club for sponsoring this event, and Berkeley City College for hosting.
Christina Leimer
U.S. Social Conscience
Christina Leimer is publisher of U.S. Social Conscience, an author, sociologist, researcher, delegate to the California Democratic Party and a former Marin County Human Rights Commissioner. Her writing has appeared in a variety of local, state and national newspapers and magazines and you can find her author website at christinaleimer.com. She works for social justice and wants our country's policies and social arrangements to foster human growth, not stunt it.