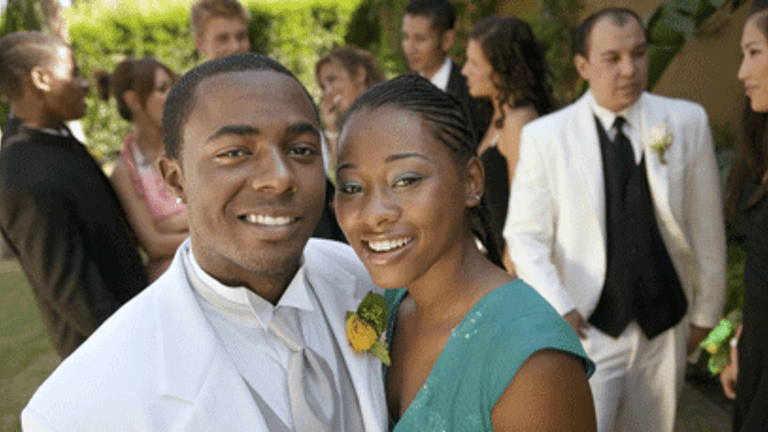 Graduation Day: When Foster Care Works
Tom Hall: Every day in Los Angeles, parents and foster parents and social workers and teachers strive so that Anton and Joseph and Marlon and Eric and Laquisha and Ronette can have lives beyond the bigotry, beyond the fear, beyond poverty.
Thirty-odd people surrounded the pearl white Escalade limousine. From pre-schoolers to octogenarians, taking pictures, jostling each other and giving the star conflicting instructions on how to stand, how to pose, when to smile, when to keep a serious face.
Anton, resplendent in a white tux with black waistcoat, and his date, with a blue formal dress so long that Anton repeatedly stepped on the hem, posed with his siblings, with his mother and with the foster mother who has raised him and two of his brothers since first grade.
The limousine would take Anton and his date from his Inglewood foster home to the prom, celebrating graduation from high school. Celebrating his acceptance to more than one college. Celebrating a foster child's chance to exceed expectations.
I met Anton when he was seven years old, when he and his brothers were brought by their foster mother from Inglewood to Santa Monica, to cannonball into our pool; to spill catchup and mustard and pickle slices onto the picnic table and the tiles around the pool. To listen to the neighbor movie producer complain about children of the wrong color, children who didn't know 'our' manners, children who debased the neighborhood with their gaiety and brown color.
Anton's pre-prom party was the weekend after his foster housemate Joseph's party to celebrate his graduation and college acceptance. Two graduates from the same foster home. Two graduates taken from parents who couldn't beat drug habits, couldn't follow the rules of "the System", couldn't raise their own children. Two graduates both accepted into good colleges for the fall.
We hear so often that foster homes 'warehouse' children until they are old enough to be let out on the street to earn their way into the prison system. We hear about abuse and neglect that make one wonder why not just leave the children with their abusive, neglectful parents. We hear about corruption and waste in the system.
We hear less about the Antons and Josephs and the foster parents who give them stability, proper nutrition, medical care, clothes, places to sleep, to study and to play. Foster parents who give them a chance to escape the expectations of a society that has abandoned the children of the destitute and the disabled. Or makes them feedstock for the prison industry.
Anton and Joseph's foster mother is a retired county worker, single, with a multibedroom home near L.A. Southwest College. The neighborhood is single-family homes where men come home from hard jobs and play basketball in the street with men desperate to find work, while their wives come home from hard jobs and make dinner. The neighborhood has well-tended yards and lawns, and crimes of opportunity. Jets roar overhead, dumping fuel on their final approach to LAX.
There are rules in the foster home, enforced with love and understanding of what it means to be a teenager. There is tolerance and firmness. Support and structure. Not everyone makes it. A few go back to the agency. Occasionally, the police arrest a boy. At any time in the house, there are four or five boys living a life no one thought they could have. Building chances to live the dream that Dr. King told us about.
In the crowd around the limousine were a few young men who had already graduated from the foster home. Still welcome to drop by, and share their worries and successes. Their presence was witness to years of devoted, caring work. Their examples give hope to Anton and Joseph and to the boys who will graduate next spring. Hope to those struggling with the demands of high school and the competing desires to be with 'real' parents and to be in a stable, safe home.
Joseph's mom came to last weekend's party, as Anton's mom came this weekend. Neither parent able to beat the drugs or fit into the system. Neither parent willing to abandon the children they were unable to raise. Both mothers crying with pride in their sons and shame in themselves and gratitude for the foster mother who provided what they could not.
Our tax dollars at work. Giving children a chance to live lives not defined by their parents' weaknesses. Creating young adults who will have educations and chances for jobs, and lives free from the prison system that claims so much of the young black population.
Anton and Joseph, in tuxedos, climbing into limousines, graduating, going to college. Climbing toward the society that Dr. King dreamed of. Walking a path marked out by earlier boys in the same foster home. Setting examples for the boys just behind them.
As the white Escalade limousine waited for the pictures to be taken, and the hugs and tears to be shared, a black Lincoln limousine pulled up behind the Escalade. Another graduate, from another home, another party, a few blocks away, heading to the prom. Black and white vehicles with young black men in the back seats, not heading for lock up.
Every day in Los Angeles, parents and foster parents and social workers and teachers strive so that Anton and Joseph and Marlon and Eric and Laquisha and Ronette can have lives beyond the bigotry, beyond the fear, beyond poverty. Their parents strove so that they could vote and hold "white" jobs. They strive so that today's children don't have to drive across town to swim in "white" pools while neighbors talk loudly about "their kind".
No blood. Not newsworthy. Just Progress. Promise for the future.
Tom Hall
Wednesday, 24 April 2013
Image: Big Stock Photo.