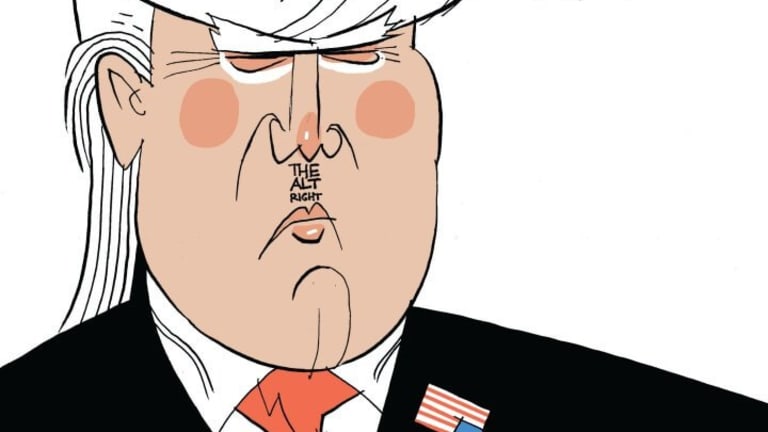 Heil Trumputin!!!?
Ted Vaill: It is no surprise that in 1932, when Hitler was running for Germany's top elective office, his campaign slogan was "Make Germany Great Again", and that Trumputin used the same slogan in his campaign for the American presidency.
Trumputin's latest anti-Semitic, alt-right rant on Tuesday has polarized and traumatized the country and the world. By refusing to cast blame solely on the white suprematist, KKK, neo-Nazi thugs who organized the torchlight rally in Charlottesville over the weekend, he opened up his own sordid past supporting this very ideology. Will the outcry over his rant bring his troubled Presidency to an end?
The Drumpf/Trump Heritage
Christian Johannes Drumpf (1829-1877) was born in Kallstadt, Germany, a small town near the French border in a wine-growing region. He and his wife Katharina Kober Drumpf had five children, including Friedrich Drumpf, who left his home in the middle of the night in October, 1885 and traveled to a northern German port city that served as a gateway to the German immigration to the United States that reached its peak that year. On October 7, 1885, then 16 years old, he bought a steerage class ticket on the S.S. Elder and made his way to the Statue of Liberty and New York City.
He moved in with his older sister, who had left Kallstadt several years earlier and her husband on the Lower East Side of Manhattan. He initially worked as a barber, but in 1891, at age 22, he moved to Seattle, opened and sold a restaurant, and then bought a restaurant property in Monte Cristo, Washington, a mining boom town. He became an American citizen in 1892, and changed his name to Frederick Trump.
By 1896, at age 27, he opened new restaurants that did very well, catering to the prospectors who streamed through Seattle to the Klondike and Alaska. These single men, searching for fortunes in gold, and women, found that Trump's restaurants gave them what they wanted - liquor, food and access to women. His restaurants had cubicles with heavy curtains, billed as "private rooms for ladies", where the ladies entertained horny prospectors.
In 1898, with a partner, he followed the "gold rush" and set up a tent on the Dead Horse Trail in British Columbia, Canada, near the Yukon. and served hot meals to prospectors. They took the cash from this operation and moved into a two-story building in the boom town of Bennett, B.C., opening the New Arctic Restaurant and Hotel, and later opened a hotel in the bigger boom town of Whitehorse, the Whitehorse Restaurant and Inn. His hotels were luxurious: high-end rooms; saloons that were open 24/7; and restaurants featuring great food. The Whitehorse operation served 3,000 meals a day.
In 1901, the gold rush moved on to Alaska, and Trump sold his Canadian investments, and at age 32, a rich man, returned to Germany, and married a former neighbor in Kallstadt, Elizabeth Christ, and returned to New York City. But his wife was homesick, and they returned to Germany, intending to resettle there. However, he was deported from Germany because he had become an American citizen, even though he insisted: "We are loyal Germans and stand behind the high Kaiser and the mighty German Reich". So In 1904, pregnant with the baby who became Frederick Christ Trump in 1905, Trumputin's father, they returned to New York, settling in Queens.
Fred Trump
Trumputin's grandfather invested his ill-gotten gains in vacant lots in Queens and Brooklyn, but suddenly died at age 48 in 1919 during the Spanish flu epidemic that swept the country that year. His 15-year-old son, Fred, went into the real estate and construction business with his mother, under the name Elizabeth Trump & Son Co. The business grew quickly in the post World War I years, building affordable single family row houses in Bayside and Coney Island, largely to Jewish families. Fred Trump, afraid that these Jewish families would not buy from a German, told everyone he was of Swedish origin.
In 1927, at the height of the Ku Klux Klan influence in the United States, the New York Times then reported that a man named Fred Trump, who lived on Devonshire Road, was arrested at a KKK rally in Queens. Donald Trump's father, then age 22, apparently lived on Devonshire Road at the time.
In 1936, Fred Trump married Mary Ann MacLeod, whom he met when she was in New York City on vacation from her home in Scotland. They had four children, Fred Trump, Jr, (who died in his 30s of alcoholism)., Maryanne Trump Barry (who became a Second Circuit Federal Judge), Elizabeth Trump Grau, and Donald Joseph Trump, born in 1946. Fred Trump had one brother, John G. Trump (1907-1985), who had a successful career as an electrical engineer, inventor and physicist, and a sister, Elizabeth Trump Walter, whose son John Walter, Trumputin's cousin, would supposedly visit his office, click his heels, and jokingly salute "Heil Hitler", according to Trumputin's ex-wife, Ivana Trump.
During World War II, Fred Trump built housing for U.S. Navy personnel near large East Coast shipyards, using government money to fund construction. After the war, he built middle income level housing for returning veterans and their families, including the Beach Haven development with 2,700 apartments, and Trump Village with 3,800. By 1968, when Trumputin joined his father's company, Fred Trump had built over 27,000 low income apartments in Brooklyn and Queens and was worth $300 million or so. Fred died in 1999, at age 93, after suffering from Alzheimer's for many years.
The Rise of Trumputin
In the 1970s, Trumputin struck out on his own, with a million dollar loan from his father, but in Manhattan, not Brooklyn and Queens. His career has been well documented, and need not be repeated here.
One fact, or supposed fact, is relevant to this article: his ex-wife Ivana, in a 1990 Vanity Fair interview, revealed that: …"from time to time her husband reads a book of Hitler's collected speeches, My New Order, which he keeps in a cabinet by his bed." The magazine claimed that Trump confirmed that he got it from a Jewish film industry friend, Paramount chairman Martin Davis. Davis confirmed that "I thought he would find it interesting. I am his friend, but I am not Jewish."
My New Order was a book Hitler wrote after his two volume Mein Kampf (German for "My Struggle") was published in 1925 and 1926. My New Order was a collection of excerpts from Hitler's speeches made between 1918 and 1941, carefully indexed and loaded with details about the impact of the speeches on the world media and the political establishments of the time. Hitler related the statements in the speeches to doctrines he had previously outlined in Mein Kampf.
Trumputin has denied that he read the book, but it is clear that much of the content of My New Order concerning how Hitler used propaganda, how he structured his speaking style, and how he adjusted the intellectual level of his propaganda "to the most limited intelligence among those it is addressed to" has been adopted by Trumputin in the way he speaks, argues, rages and responds in his public statements.
Trumputin fills his speeches with racists attacks against Mexicans and Muslims, belittles and insults his enemies, including rival political candidates and the "Fake News"media, mocks women and disabled people, and threatens to obliterate his enemies, such as Kim Jong Un, without caring if he is inconsistent or lying, while at the same time playing to his ardent followers' fears and prejudices.
The repetitive style of Trumputin's speeches, his strong belief that everything he says is true, and his excessive belief in his leadership ability are all modeled on Hitler's My New Order. Here are excerpts from some of Hitler's speeches:
"The function of propaganda does not lie in the scientific training of the individual, but in calling the masses' attention to certain facts, processes, necessities, etc., whose significance is thus for the first time placed within their field of vision."
"All propaganda must be popular and its intellectual level must be adjusted to the most limited intelligence among those whom it is addressed to. Consequently, the greater the mass it is intended to reach, the lower its purely intellectual level will have to be."
"The more modest its intellectual ballast, the more exclusively it takes into consideration the emotions of the masses, the more effective it will be."
"Once understood how necessary it is for propaganda to be adjusted to the broad mass, the following rule results: It is a mistake to make propaganda many-sided , like scientific instruction, for instance."
"The function of propaganda is, for example, not to weigh and ponder the rights of different people, but exclusively to emphasize the one right which it has set out to argue for. Its task is not to make an objective study of the truth…its task is to serve our own right, always and unflinchingly."
"…all effective propaganda must be limited to a very few points and must harp on these in slogans until the last member of the public understands what you want him to understand by your slogan."
It is no surprise that in 1932, when Hitler was running for Germany's top elective office, his campaign slogan was "Make Germany Great Again", and that Trumputin used the same slogan in his campaign for the American presidency.
It is also no surprise that only 20% of Trumputin's followers describe themselves as "liberal" or "moderate", 34% are 65 and older, half have a high school education or less, and only 22% made more than $100,000. They hate President Obama, have a dim view of the U.S., hate the media, and are suspicious of Muslims. They are perfect candidates to be manipulated by Trumputin's propaganda.
After witnessing Trumputin's disgusting display of racism and anti-Semitism over the past few days, it is clear that he must be__________________.
[Fill in the blank]
Ted Vaill