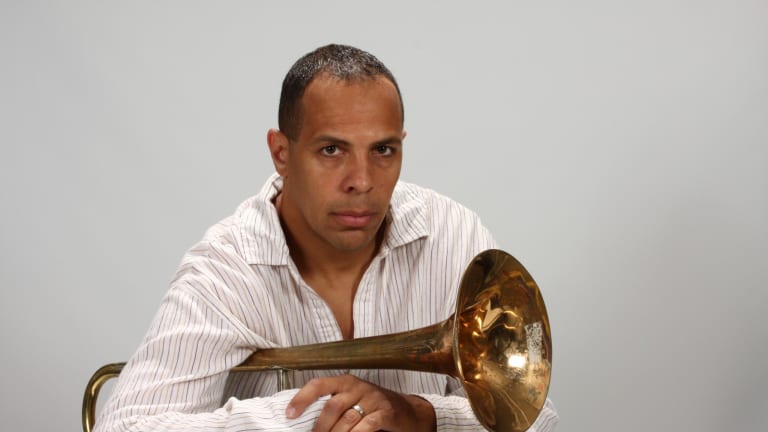 Is Sarah Palin Racist? "Well, She Ended Our Conversation When She Learned I Was Black"
Long before Gregory Charles Royal became a judge on America's Hot Musician, a talent competition airing in 200 US television markets, he was a hot, young jazz trombonist. Today, he is someone confirming from first-hand experience that Palin has always been racist as alleged by numerous sources in my original article on her, "Alaskans Speak: Palin Is "Racist, Sexist, Vindictive and Mean."
And he's willing to be quoted by name.
Royal, shown here, is incredibly talented. He received formal trombone training when he was 11 in the DC Youth Orchestra Program while simultaneously playing in Washington clubs with Roscoe Bowie's Message Band and Show. He also received principal trombone honors in the First American Festival of Youth Orchestras and, at 15, was the youngest member of the Howard University Jazz Ensemble. He toured with Al Blakey and the Jazz Messengers and Slide Hampton and His World of Trombones, and starred on Broadway as an on-stage musician in Five Guys Named Moe, which was nominated for two Tony awards. Along the way, Royal wrote and acted in It's a Hardbop Life, the first play featuring an entire cast of jazz musicians, which debuted at the 2004 New York Jazz Festival.
He also performed with the Duke Ellington Orchestra for 10 years, from 1989 to 1999. In May 1990, the orchestra was touring Alaska and played in Anchorage. While there, the 28-year old Royal and a small group of other musicians from the orchestra went into a fast food joint near the airport for a bite to eat.
"I saw a great looking young lady and, as lots of traveling musicians do, I struck up a conversation with her," Royal recounted to me after my original piece on Palin was published. "She told me her name was Sarah."
Royal admits he was hitting on her and, he claims, she knew it. Picking up women is a regular activity for most musicians, especially when on the road. The reason this particular conversation stuck in his mind is because she said that while she wasn't much into jazz, she played the flute.
"This is why I remembered talking with her," Royal states.
He talked to Sarah about the Modern Jazz Quartet to give her an example of the broad range jazz covers and to show her how some groups play not strictly jazz style music that a lot of popular music fans like. "I was trying to keep the conversation going," Royal says, "so I mentioned some of the musicians, including Percy Heath."
"She quickly let me know that Heath was her name too," Royal recounts.
Royal claims that she mentioned going to school in Hawaii but did not say anything about being married or being pregnant. "I would remember that. Anyway, it was May 1990 and she was just a couple of months pregnant and wouldn't have shown."
Royal felt he was making progress with Sarah Heath and when a couple of his musician friends approached, he waved them off. "But she saw them and got weird."
"Sarah asked me if they were with me. I asked her what was up because she was obviously a little weird after seeing them," states Royal, who has Native American blood in his ancestry is a fairly light skinned while his buddies were much darker.
"I don't mean any harm," Royal says Sarah told him, which is exactly what she meant but he recalls her saying that she doesn't do black guys.
"I said 'I'm Black,'" Royal relates, to which Sarah replied with, "Well, you aren't really black. You're like …"
Royal remembers her voice trailed off as if not knowing what to say next as the reality of the situation sunk in on her. "Then she got real confused and the conversation ended rather quickly and uncomfortably."
So how did this long-ago, failed pick-up come back to Royal's mind some 18 years later?
"I followed the 2008 conventions but never connected Sarah Palin to the Sarah Heath I hit on," he says, "because there was no physical resemblance and the last name was different. It was from watching an MSNBC story on her that I saw the photos and learned her family name."
When the now-Sarah Palin uttered the immortal words, "So Sambo beat the bitch" to the hearty laughter of her luncheon companions during the primaries, it was merely an extension of what appears to be her lifelong views on race. When she thought Greg Royal was something other than black, she seemed more than eager to make the beast with two backs with him; in an instant of learning he was actually black, she fumbled for words and fled.
At least we know she fits in naturally with the racist right wingnuts that infest the Republican Party, unlike her running mate who says whatever he needs to say at the moment to fit in with them. For whatever that's worth.
by Charley James
Charley James is an American journalist, author and essayist who lives in Toronto.
Reprinted with permission from The Progressive Curmudgeon
Articles by Charley:
Placid Lake Woebegon Begets a Nasty Police State