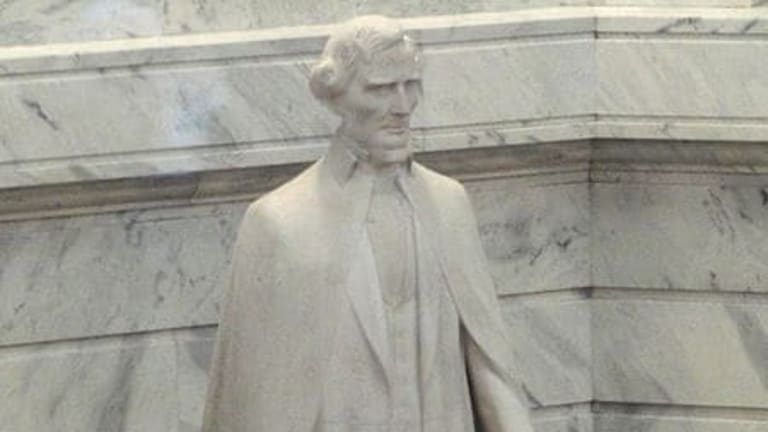 Jefferson Davis Statue Exiled in Home State
Berry Craig: The statue of Davis is up to its neck in irony. During the Civil War he was anything but a "patriot" and a "hero" to most Kentuckians. They trashed him as a traitor worthy of the gallows or at least a long stretch behind bars.
Think you know your Civil War history?
Okay, what famous native of a Union state said slavery was a blessing for African Americans because their white masters converted them "from brutal savages into docile, intelligent, and civilized laborers" and provided them "not only with bodily comforts but with careful religious instruction"?
Hint: He's the same guy who also said white folks like him understood "the fact of the inferiority stamped upon that race of men by the Creator."
And: "We recognize the Negro as God and God's Book and God's Laws, in nature, tell us to recognize him. Our inferior, fitted expressly for servitude."
And: "African slavery, as it exists in the United States, is a moral, a social, and a political blessing."
Last hint: His statue stood tall in an honored spot in the loyal state's Capitol Rotunda for 84 years.
The slavery fan was Fairview, Kentucky-born Jefferson Davis of Mississippi, the first and only Confederate president. Gov. Andy Beshear wanted Jeff jettisoned and the Democrat elected last November got his wish Friday.
At his urging, the state Historic Properties Advisory Commission met via remote video teleconferencing and voted 11-1 to deep-six Davis.
The paper also reported that Beshear had said African American children who come to the statehouse in Frankfort, view the statue as "a symbol of the enslavement of their ancestors and a symbol of the continued systematic racism that we see in so many parts of our society."
The statue of Davis is up to its neck in irony. During the Civil War he was anything but a "patriot" and a "hero" to most Kentuckians. They trashed him as a traitor worthy of the gallows or at least a long stretch behind bars.
"I believe the Jefferson Davis statue is a symbol that divides us, and even if there are those that think it's a part of history, there should be a better place to put it in historic context," the Louisville Courier-Journal also quoted the governor before the panel met.
So the panel agreed to send the statue to the Jefferson Davis Monument State Historic Site at his birthplace in western Kentucky.
Courier-Journal columnist Joseph Gerth couldn't resist a parting shot. "After his 11-1 conviction, the only remaining question is whether Jeff will try to escape while wearing a dress and wig," he jabbed. Supposedly, Davis was so disguised when Union troops captured him as he fled through Georgia.
On Saturday, Beshear watched work crews cart off the 12 foot marble statue. "...Today I pressed the button to bring it down," the governor tweeted. "Now, every child who walks into their Capitol feels welcome. Today we took a step forward for the betterment of every single Kentuckian."
David Ramey of Murray, Calloway County Democratic party chair, suggested the statue first be diverted to Richmond, Va., the Confederate capital from whence Davis started his 1865 flight from the advancing Yankees. "It could be called 'the Coward's Tour,'" Ramey proposed. "It would retrace his escape route."
Meanwhile, Lexington Herald-Leader columnist tweeted, "seems like there might be an issue separating the statue from this base[.] This was funny because it's true...literally and figuratively."
A move to knock Jeff off his pedestal failed a few years back. But the state did pull off the plinth a bronze plaque hailing Davis as a "patriot" and a "hero."
On the campaign trail in 2015, Tea Party-tilting, Yankee-born Republican Matt Bevin, Beshear's predecessor, said Jeff needed to go. But after he won, Bevin changed his mind, probably because he figured out that the Confederate flag-waving, "heritage not hate" white guys who want Jeff to stay are part of the Kentucky GOP base.
So Bevin, whom Beshear deprived of a second term, started crooning the neo-Confederate tune: getting rid of statues and monuments that glorify the Lost Cause "whitewashes" or "sanitizes" history. The sole vote against removing the statue came from a Bevin appointee.
"The argument that removing monuments tries to erase history misses the point," said Bill Mulligan, a retired Murray State, Ky., University history professor. "Monuments are not documentation; they assert this person did some good and positive thing that should be remembered."
Explained Mulligan: "They are inherently political in a broad sense. Removing a monument simply states that society no longer sees what this person did as good and positive. It no longer reflects our values as a society. That cannot be clearer than the monuments erected between roughly 1890 and 1920 -- secession and waging war to defend slavery should not be seen as something positive to celebrate, especially on government land."
Mulligan pointed to "a large, and growing, historical literature that clearly shows the monuments of this era that are at courthouses and cemeteries were statements of white supremacy, even if sometimes unconscious. They are part of a larger effort to rewrite the history of the Civil War by eliminating the main cause, slavery. He added that the effort "began in the 1890s and to a certain extent continues today."
Marcus Ray, NAACP Kentucky State Conference president, doesn't buy the "whitewashing" or "sanitizing" line either. He said Confederate leaders and apologists "starting rewriting history the day the war was lost." They churned out history books that omitted "the brutality and horror that was necessary to keep another human subjected to slavery."
Those history books left out "the brutality and horror of lynchings and mob violence that surfaced after the Civil War to keep the freedmen in their place." Instead, the books contained "the watered-down version of how slavery was a good thing because those slaves would have still been in Africa in the wild.
"They continued the 'Birth of A Nation' --and the ongoing--belief that descendants of American slaves will always be savage and a threat to European—white--women."
The statue of Davis is up to its neck in irony. During the Civil War he was anything but a "patriot" and a "hero" to most Kentuckians. They trashed him as a traitor worthy of the gallows or at least a long stretch behind bars.
While Lincoln got only 1,364 votes in border slave state Kentucky in 1860, the General Assembly firmly rejected secession in 1861. (The state was neutral for a while, but that was neutrality within the Union.)
Unionism prevailed to one degree or another in most parts of Kentucky. Statewide, thousands more Kentuckians donned Yankee blue than suited up in rebel gray.
Kentucky Republicans were scarce as May blizzards during the Civil War. But they were the state's most loyal supporters of Bluegrass State-born Abraham Lincoln and his full use of federal military, economic and political might to thrash the Confederates, restore the Union and, ultimately, end slavery.
But even members of the state's majority party--the conservative Union Democrats who favored the Union and slavery would have been aghast at putting a Davis statue in the statehouse. (Of course, they also would have been mortified by the bronze Lincoln statue, which was unveiled in the Rotunda in 1912.)
The Davis statue has more to do with how Kentuckians came to view the war than the war itself. Kentucky embraced the defeated Confederacy after Davis' side was whipped in 1865, historian Anne E. Marshall explains in her book, Creating A Confederate Kentucky: The Lost Cause and Civil War Memory in a Border State.
"In a postwar world where racial boundaries were in flux, the Lost Cause and the conservative politics that went with it seemed not only a comforting reminder of a past free of nineteenth century insecurities, but also a way to reinforce contemporary efforts to maintain white supremacy," wrote the Lexington, Ky., native, who's a history professor at Mississippi State University.
The Davis statue and the other Confederate monuments in the South and border states sprouted long after Appomattox. They went up in the Jim Crow era when segregation and race discrimination became the law and the social order, and such pervasive racism was buttressed by violence or the certain threat of violence against Blacks.
The monuments were a stark warning to African Americans: We may have lost the war, but white supremacy is still the rule, just as it was in slavery days.
Ray invites Kentuckians to take an honest look at history, including at least a glance at what Davis and the other Confederates said about slavery and why they exited the Union. (A great place to start is Charles B. Dew's Apostles of Disunion: Southern Secession Commissioners and the Causes of the Civil War(University of Virginia Press, 2001). "Let's take a look at why the statue was placed there," Ray said. "Let's take a look at what history—'heritage'--it preserves." He'd like to see "a real conversation about President Davis and what his statue represents."
Berry Craig