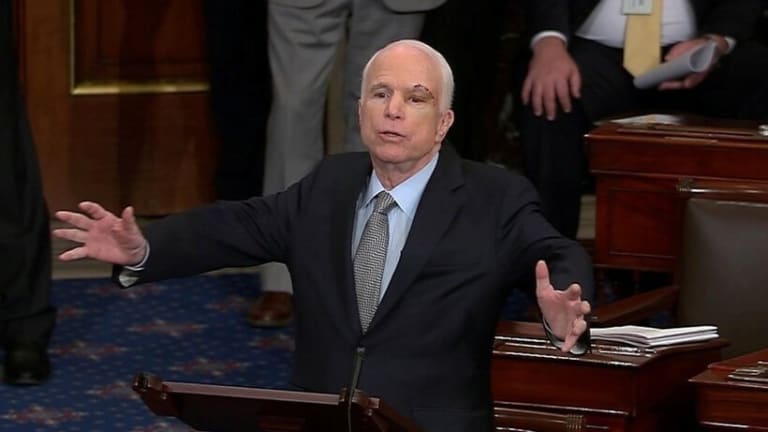 Rather Than Do the Right Thing, McCain Did the Right-Wing Thing
Peter Dreier: In the military, McCain was a hero. But yesterday, on the Senate floor, McCain was a coward.
In July 2008, just over a month after surgery for brain cancer and still in the middle of chemotherapy treatments, Senator Ted Kennedy returned to the Senate floor to help the Democrats break the deadlock and end a Republican filibuster on a bill to destroy Medicare.
Universal health insurance had long been Kennedy's signature passion and he was perpetually frustrated by the unwillingness of his Senate colleagues to adopt some version of it. Despite partisan differences, however, his colleagues admired Kennedy's spirit and his commitment to the cause. When he returned to the Senate floor to cast that vote, Senators from both sides of the aisle gave him a standing ovation.
Kennedy died in August 2009, but not before having helped elect Barack Obama as president and urging him to make universal health care a top priority.
Yesterday Senator John McCain returned to the Senate floor a week after receiving a diagnosis that he, too, has terminal brain cancer. And, like Kennedy before him, he received a standing ovation from senators of both parties.
But then McCain cast the deciding vote to allow debate to proceed on repealing the Affordable Care Act. By doing so, he not only voted to undo the major accomplishment of the man who defeated him for president in 2008, but also to deny millions of Americans the quality health care that he's received for free as a United States Senator.
So much for McCain's claim to be "maverick."
During his presidential campaign, Donald Trump despicably insulted McCain — who spent over five years as a prisoner in a North Vietnamese jail, where he survived torture — by questioning his courage. "He's not a war hero," said Trump, who dodged the draft during Vietnam with phony deferments. "He was a war hero because he was captured. I like people who weren't captured."
In the military, McCain was a hero. But yesterday, on the Senate floor, McCain was a coward. He put loyalty to his party, to Republican majority leader Mitch McConnell, and, unbelievably, to President Trump over loyalty to his country and the needs of his fellow citizens.
McCain will die with dishonor. Rather than do the right thing, he did the right-wing thing. Whatever else he's accomplished in his political career, this will be his legacy.
Peter Dreier
Huffington Post