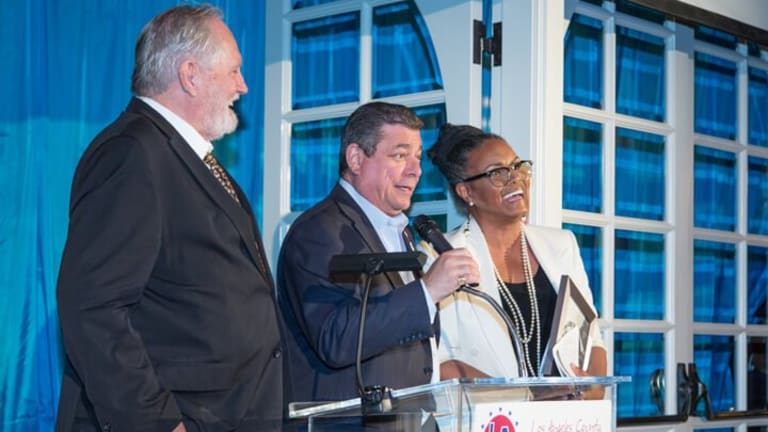 LA Dems Honor LA Progressive
California Democrats, at least in many cases, are showing political figures around the country that a progressive agenda can be proposed and defended, provided an engaged electorate is behind them, urging them forward.
This past Saturday evening, Sharon and I were honored by the Los Angeles County Democratic Party at its 2017 John F. Kennedy Awards for our work over the past 10 years on LA Progressive.
I must say we were surprised—and touched.
Surprised, because almost a decade ago, after launching LA Progressive, we decided we'd need to drop most of our activism within the Democratic Party. There really wasn't time to do a decent job with both, not around the demanding full-time jobs we had then.
For several years before that, we had been quite active with the Northeast Democratic Club here in, well, northeast Los Angeles, which led to Sharon becoming an officer with the state party's Progressive Caucus and me digging in with the Veterans Caucus.
Indeed, our activist lives together really began shortly after we met in 2003 in working on the Kerry-Edwards campaign, in the South Bay where we lived when we first got together.
California Democrats, at least in many cases, are showing political figures around the country that a progressive agenda can be proposed and defended, provided an engaged electorate is behind them, urging them forward.
Our early dates had been filled with shared disgust that George W. Bush and Dick Cheney were our president and vice president, which now, unfortunately, seems like the "good ole days." So it seemed natural to pitch in to deny Dubya and Darth Vader a second term.
Then when we moved up to Mt. Washington, north of Dodger Stadium, where Sharon had lived for years, we found the Northeast Dems—after a fair amount of searching, as I recall, because the Dem Club did not have a digital footprint at the time. They hadn't even established a website.
But we got involved, running to become a joint club secretary and working on the campaigns of club members Kevin de Leon and Anthony Portantino, who were both vying for their first seats on the California Assembly.
Pretty quickly, we took over the monthly newsletter club president Bill Rumble had done such a nice job on for several years. I had worked in publishing for many years, so we were able to pump up the newsletter's production values, making it the "Northeast Democrat," which won the "newspaper of the year" award from the California Democratic Council and its president, Henry Vandemeir.
Henry also helped Sharon, principally, set up a website for the club, one of the few active ones in our region. I had always dreamed of publishing a weekly newspaper, a mightily impractical impulse in the Digital Age. But with Sharon learning the basics—and then much more than the basics—of web publishing, we were off and running with LA Progressive.
And going in that direction meant we'd need to maintain a certain editorial remove from Democratic Party operations—covering the party, but not always embracing it.
So we were a bit surprised at the award.
And then we were touched because it was so heart-warming to see how many people really appreciate what we do. We can lose sight of that sitting here in our dark office putting out our daily electronic newsletter.
Mark Gonzalez, our old friend from the Northeast Dems, shared the introduction duties, recounting the work we had done years ago to boost club membership. Still a young college student when we first met, Mark has risen to vice chair of the whole LA County Democratic Party.
Joining him was our long-time activist-in-arms friend, Susie Shannon, who joined Mark in praising the difference the LA Progressive has made in the local political scene.
And unexpectedly bounding up on the stage was Eric Bauman, the LA County chair who's campaigning to succeed John Burton as head of California's Democratic Party. Energized as always, Eric praised our work effusively and pounded on attendees to contribute to our mostly self-funded endeavor. A few answered his call—and we're hoping a few more will dig deep. You can subscribe by clicking here:

The three of them really made us feel special, as did Eric A. Gordon and Ted Vaill, who write for our publications and shared our dinner table, and others who stopped by to extend a hand.
Also receiving John F. Kennedy Awards were Congressman Ted Lieu, who's emerged as Trump's twitter foil; Alice Goff, President, AFSCME District Council 36; Ana Guerrero, Chief of Staff, Office of LA Mayor Eric Garcetti; Service Employees International Union Local 721; and young Democrats Keshia Sexton, MSW, and Daniel Lopez. We were in awfully good company.
In her remarks, Sharon pressed the point that alternative media like LA Progressive have become increasingly important, especially after mainstream media fell down so badly in the most recent presidential election, slighting Bernie Sanders at most every turn and failing to nail our illustrious current president for the endless lies that fall so easily from his thin lips.
For my part, I thanked the Los Angeles and California Democratic officials and their staffs in the audience for standing so tall in these dreadfully dark times.
Yes, I agree that an energized populace as we're seeing in so many protests and events around the country will be the real key in effecting the change we so desperately need.
And, yes, nonpartisan groups like the ACLU and the National Lawyers Guild are performing invaluable work combatting the onrushing threats to our lives and liberties.
But at the end of the day, we're going to have to elect progressives to office who will dominate the legislative battleground. California Democrats, in many cases, are showing political figures around the country that a progressive agenda can be proposed and defended, provided an engaged electorate is behind them, urging them forward.
While talking, I was thinking of my Dad, who passed away last summer. He was as honorable a man as you could find and a fellow veteran, wounded in the exact same place on his leg that I was—he in WWII and me in Vietnam. My Dad didn't fight in his war, nor me in mine, for the kind of nonsense going on in the White House and Congress right now. He would be baffled and ashamed, I believe, in what has happened to the country he loved so dearly and served so steadfastly.
I want to believe the Democrats in that room, our many friends and acquaintances, will stand up in these hard times—not take the easy way out, not take things like Medicare for All off the table before anyone knows where the table is, not fail to fight for the things the disadvantaged in this country so desperately need. I want to believe that they will.
Dick Price
Editor, LA Progressive