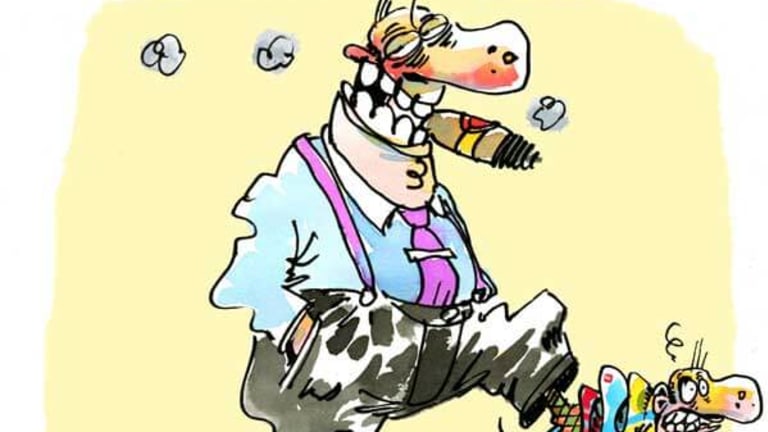 Tending to the Stink in Public and Non-Profit Affairs
Frank Fear: I saw more and more executives "managing their boards". That's a sanitized way of saying: "I want to do what I want, when I want, and how I want … without the board interfering."
I'll never forget it. Invited to talk to an unfamiliar group I wanted to get a feel for the audience before I spoke. I looked around for an early session to attend; and I found one that seemed really interesting. It was up my alley, too: "Board Management."
The session had already started, so I slipped unobtrusively into the back row. The program was targeted at new executives and the room was packed. The presenters were experienced chief executives—insiders to the business—prestigious folks with impressive titles and resumes. They had plenty of stories to tell. One after the other they gave generally unvarnished renditions of "war stories" from times past.
There was a common theme to what they said: how to get what you want. "Don't let your board manage you" was a talking point. The take-away message: "Board management is career management. To survive and thrive here's what you need to do…." On this day good leadership and board management were one and the same.
They were public and non-profit CEOs.
I'd like to say that I was disappointed, even shocked, but I can't. I was surprised, though, at the blatant nature of the transaction. This wasn't informal, off-to-the-side, private mentoring—the kind that takes place regularly over cocktails and dinner. It was done formally—in a "make-no-bones about it," better-get-it-right style—broadcast with bullhorn-like quality to anybody within earshot.
I'm no stranger to this domain—having worked for years in faculty and civic roles—but the experience that day had a galvanizing effect: it represented the dividing line between vastly different ways of looking at public and non-profit affairs.
For years I experienced two major areas of concern: quality of executive leadership and board governance. Some public and nonprofit executives weren't very good at their jobs, including working effectively with boards. Many came to leadership roles from other areas (e.g., an art historian becomes a museum director), and the crossover didn't always work very well. I also found board members (sometimes boards as a whole) encroaching on executive responsibilities, often micromanaging organizational affairs. They didn't know how to govern or what it meant to serve as "trustee."
The genesis of both issues seemed to be mostly about capacity-competence, personality and, sometimes, local history and community culture. Back then, most matters could be straightened out with a bit of external help and a lot of internal commitment to "getting it right." For external help I relied extensively on John Carver's principles of effective governance.
Those issues are still around today, of course. But as years passed I noticed something more and different going on. Public and nonprofit roles were sometimes redefined intentionally, on both sides of the aisle. I saw more and more executives "managing their boards" (just as I had observed at the conference session). That's a sanitized way of saying: "I want to do what I want, when I want, and how I want … without the board interfering."
I saw more and more executives "managing their boards" (just as I had observed at the conference session). That's a sanitized way of saying: "I want to do what I want, when I want, and how I want … without the board interfering."
I also witnessed board members engaging in self-serving, ego-focused behaviors (e.g., members—sometimes as a cabal—controlling boards for extended periods of times). And I found instances of executives and board members (sometimes working in concert) putting organizational self-interest ahead of the public good. Of course it was never framed that way—it couldn't possibly be—but that's what it really was: organizational brand, protection, and advancement came first.
Let me be clear: the majority of public and non-profit executives and board members I've known over the years work consistently for the public good. But there's an undeniable stink these days, too, which tarnishes immeasurably the contributions made by those who serve with distinction. It's an anathema to public trust as well.
What's going on? And what can we do about it?
For starters, there's the matter of public funding and donor philanthropy. It's about having enough money to do the job, including expanding operations to meet peoples' needs. That's a tall order these days. There's more pressure than ever to get money, manage it well, and leverage funds to generate even more dollars. And there's keen competition in the public and nonprofit sectors—for slicing constrained public dollars among agency alternatives and for enticing public donations to nonprofits.
The focus on funding and money has changed the leadership landscape fundamentally. That's why so many development directors are becoming public and nonprofit directors and CEOs; and it's also why people with extensive networks (to money and power) are migrating into top jobs. That emphasis is attracting a new, and a sometimes different, generation of executives to public and nonprofit posts. It has also become a (if not "the") predominant topic on board agendas.
I certainly see the trend in my field, higher education. Purdue University is an example. Within days of leaving the Indiana governorship Mitch Daniels became the university's president. Although some questioned his credentials for the new job, also at issue is how a president's job has changed over the years and what university boards look for when they hire.
The socio-political environment has changed, too. One of the biggest changes—notably apparent in election politics—is the way democratic systems seemed to have been commandeered for partisan, political purposes. And while the impact of "big money" on Congressional and presidential elections is recognized widely, we (as a society) haven't digested another reality: the desire to control systems for partisan purposes is much more widespread than that. It's ubiquitous. In everyday circumstances—at all levels and in all sectors—operatives have figured out how to capture, co-opt, manipulate, and contour systems … to secure outcomes they prefer. That's what I experienced at the conference that day: an explicit, direct, and overt discussion about how to "manage" public and nonprofit boards so that "skillful" chief executives can do whatever they please.
What's the outcome? Shenanigans abound. For example The Washington Poststudied nearly 1000 large nonprofits and found a number of serious issues: "most are related to theft and embezzlement" it concluded. And some of the behavior is just plain bizarre. Take, for example, the attempt by the University of Virginia board (the school Thomas Jefferson founded) to impose a gag order on board members' public comments.
How might we respond? Get active. Become grounded. Pay attention to what's taking place in public and nonprofit organizations that matter to you. Go to public meetings. Volunteer. Get to know the executives and staff members. Serve on committees, the board. Engagement will give you first-hand experience.
And speak out publicly on issues that trouble you (e.g., offer public comments at meetings, write letters to the editor). The public can't act on what the public doesn't know. When speaking out think about using this three-step: "Name it. Proclaim it. Disdain it." Identify the issue clearly; describe—in plain terms—what troubles you, "calling it for what it is"; and offer a for-the-public-good alternative. Recommend feasible and actionable options that officials and everyday people can put in play.
As for giving financially to non-profit organizations, volunteer first, give money later … if you still feel the organization merits your investment. If you do contribute financially, review annual financial reports to see how money is spent. Then check out how the charity stacks up against other organizations financially. Charity Navigator is a good source. It rates organizations on two dimensions—financial health and financial accountability-transparency.
If you give, think twice about giving to the organization's general fund. Consider targeting how your money will be used. There's a lot to be said about investing in a specific program and/or funding a particular cause or audience.
Sadly, "faith" and "trust" aren't words readily associated with public and non-profit affairs these days. Citizens will get what they deserve if they ask for nothing and do nothing.
Ask. Do.
Frank Fear