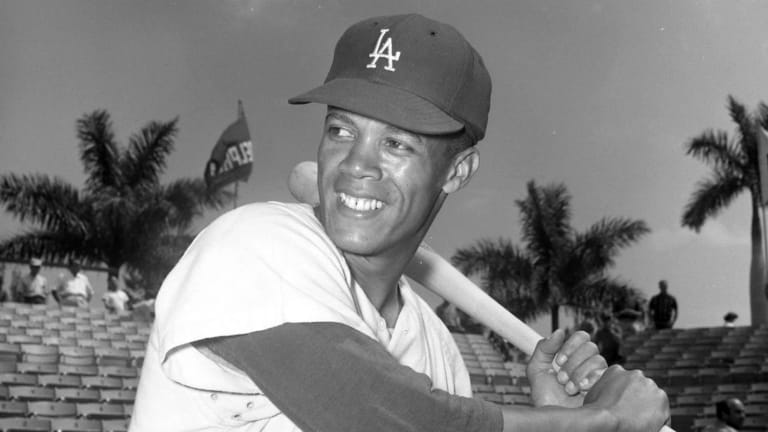 Maury Wills: Baseball Rebel
Tonight is Maury Wills Night at Dodger Stadium. He's being honored with a bobblehead and inducted into the "Legends of Dodgers baseball" club.
Wills played for the Dodgers from 1959 through 1966 and again from 1969 to 1972, with a brief stint on the Pittsburgh Pirates roster in 1967 and 1968. He led the NL is stolen bases six times, including a then-record 104 thefts in 1962, when he was named NL MVP. Fans chanted "Go Maury Go" every time he reached first base.
It is appropriate that this celebration takes place following Friday's Jackie Robinson Day, because Robinson was Wills' hero. And, like Robinson, Wills was a fighter for social justice and civil rights, particularly during a little-known incident in 1968 when he played for the Pirates.
Martin Luther King was assassinated in Memphis on Thursday, April 4, 1968, during the last week of baseball's spring training. His funeral was scheduled for Tuesday, April 9, the day after opening day.
Immediately, the National Baseball Association (NBA) and National Hockey League (NHL) suspended their playoff games. Racetracks shut down for the weekend. The North American Soccer League called off games. But Major League Baseball waffled.
King's assassination hit baseball's Black players hard, particularly the Pirates, which had 11 Black players (six of them also Latino) on its squad, many more than any other team. In addition to Wills, the list included Roberto Clemente, Donn Clendenon, Willie Stargell, Al McBean, Juan Pizarro, Bob Veale, Jose Pagan, Matty Alou, Manny Jimenez, and Manny Mota.
Wills, the Pirates' player representative to the Major League Baseball Players Association, called a meeting of his teammates. At the meeting, Clemente and Donn Clendenon said that they agreed with Wills that the team shouldn't play until the day after King's funeral out of respect for the fallen leader. All the others players agreed with them.
Clendenon had known King while growing up in Atlanta. "My father took me to meet Dr. King when I couldn't make up my mind about college," Clendenon told the Pittsburgh Press a few days after the assassination. He had athletic scholarship offers from UCLA and Michigan State but his father, a Morehouse College graduate, wanted him to go to Morehouse in Atlanta. "Dr. King was also a Morehouse alumnus and he convinced me to go to college there," Clendenon later recalled. "I took an academic scholarship although I played all sports."
Clemente had become close to King, who visited the All-Star outfielder at his farm in Puerto Rico. He followed the civil rights movement and spoke out out baseball's mistreatment of Black and Latino players.
They told Pirates general manager Joe Brown that they would not take the field for Sunday's final spring training game, which was scheduled for April 7 against the Yankees.
They also said that they did not want to play the Opening Day game against the Astros, scheduled for Monday in Houston. After they learned that King would be buried on Tuesday, and not Monday as originally scheduled, they asked Brown to postpone the season's second game as well. They didn't want to play on the day of King's funeral.
"We feel we cannot play these games out of respect to Dr. King," Clendenon told The Sporting News, "since we have the largest representation of Negroes in baseball on the Pirates."
Brown agreed to cancel the final spring training game but said he couldn't postpone the first two regular season games against Houston without the permission of Astros management. As the home team, the Astros had the final say.
Players on other teams also sat out the last few games of spring training to honor King. Several team owners insisted that Baseball Commissioner William Eckert, a retired Air Force general, penalize them for refusing to play. But Eckert was more concerned about the start of the regular season. Wills, Clemente, and other players were upset with Eckert when he announced that each team could decide for itself whether it would play games scheduled for opening day and the day of King's funeral.
King's murder had triggered rebellions in a number of cities with major league teams. Two teams — the Washington Senators and Cincinnati Reds — postponed their home openers because their stadiums were near the protests. But Houston Astros owner Roy Hofheinz, a businessman and former Houston mayor, insisted that his team would play its opener against the Pirates on April 8. "Our fans are counting on it," explained Astros' vice president Bill Giles.
The Pirates were already in Houston when Wills called another team meeting. He urged his teammates to refuse to play on Opening Day and the following day, when America would be watching or listening to King's funeral. The players took a vote. It was unanimous. All 25 Pirates would refuse to play, even if it meant accepting a forfeit and fines from the organization.
Clemente and Dave Wickersham, a white pitcher, contacted Brown with the news. The two players wrote a public statement on behalf of their teammates:
"We are doing this because we white and black players respect what Dr. King has done for mankind. Dr. King not only was concerned with Negro or whites, but also with poor people. We owe this gesture to his memory and his ideals."
Clendenon and Stargell walked into the Astros' locker room and persuaded the Black players to join the protest. The other players agreed and informed the Houston brass: they would not play the first two games until after King was buried.
St. Louis Cardinals pitcher Bob Gibson and some of his teammates had the same idea. They met in first baseman Orlando Cepeda's apartment and then told Cardinals management that they wouldn't play on April 9, the opening day for most of the teams. Players on other teams followed their lead.
The Los Angeles Dodgers' Walter O'Malley was the last owner to hold out. But the Phillies players, led by Bill White, said would they would not take the field against the Dodgers. Phillies owner Bob Carpenter backed the players, saying that the team would accept the forfeit if the Dodgers didn't cancel the game.
White told the Philadelphia Inquirer: "It angers me that the team that pioneered the advent of the Negro into baseball would take such a stand. Of course, you realize O'Malley had nothing to do with that. He is a businessman-come-lately. He is interested in dollars."
Commissioner Eckert, his back against the wall, reluctantly moved all opening day games to April 10.
No sportswriter at the time described the players' action as a strike or a walkout. But that's what it was —a two-day walk-out, not over salaries and pensions, but over racial and social justice.
Two months later, on Wednesday, June 5, Senator Robert Kennedy, who was running for president and had just won California's Democratic Party party, was assassinated in Los Angeles. President Lyndon Johnson declare the next Sunday an official day of mourning, but again Major League Baseball refused to cancel its games schedule for that day.
This time the New York Mets took the lead. The players voted unanimously not to play their game against the Giants in San Francisco.
Their manager, Gil Hodges, backed them up. "I'm very, very happy they voted that way," Hodges said. "I'm not a political individual at all but I have my feelings. This goes deeper than politics."
Players on other teams followed the Mets' example. Houston Astros players agreed to sit out their home game with the Pirates, but then backed down after owner Hofheinz and team executives threatened them with sanctions. Dave Giusti, the Astros' player rep, issued a statement explaining:
"The Houston players have decided that their convictions are very much the same regarding the recent tragedy, but because of very extreme economic pressures applied by the general manager we are forced to play Sunday afternoon."
Infielders Rusty Staub and Bob Aspromonte refused to suit up anyway. The team docked them a day's pays. They and Giusti were traded at the end of the season.
On the night of RFK's funeral, Cincinnati Reds pitcher Milt Pappas arguing with manager Dave Bristol that the team shouldn't play. He told Bristol that most of his teammates did not want to take the field, but Bristol wouldn't consider it. That night, Pappas resigned as player representative. The story got into the local papers. The next day, fans at Crosley Field booed Pappas when he came into the game from the bullpen. Two days later, the team trade him.
Wills also sat out the game, which he spent in the visiting training room reading RFK's book, "To Seek a Newer World." At the end of the season, he was left unprotected in the expansion draft and sent to the Montreal Expos, playing for the brand-new team for the first half of the 1969 season until he was traded back to the Dodgers.