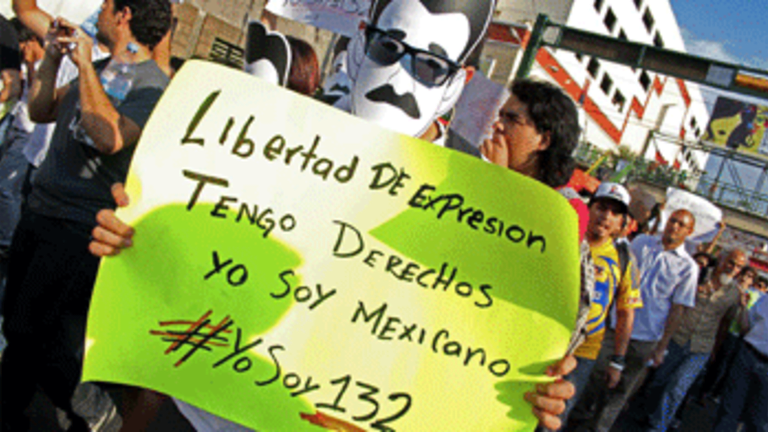 Mexican Spring: Occupy Moves South
Unai Montes-Irueste: Mexico's youth, the leaders of the "Mexican Spring," are not copycats, they are building on a foundation that activists laid over one year before the "Arab Spring."
On Democracy in Mexico: A View from the United States, Written Two Hundred and Thirty Six Years After the Declaration of Independence
Thus, the question of whether justice can be achieved in society may not depend on whether individuals can be forced to comply with civil authority but on whether individuals and civil authority can act in harmony with, and fulfill their moral obligations toward, each other. Moreover, there may be a moral obligation to comply with civil authority only if that authority is legitimate (i.e. if that authority is based on a fair and just agreement among the members of society). - Jean Jacques Rousseau - The Social Contract (1762)
On October 2, 1968, approximately 10,000 students, including my parents, from Mexican high schools and universities gathered for a peaceful rally at the Plaza de las Tres Culturas in Tlatelolco, a public square in one of Mexico City's boroughs. The Mexican Institutional Revolutionary Party (Partido Revolucionario Institucional, a.k.a., the PRI) ordered over 5,000 soldiers and 200 tanks to surround the square. Thousands of demonstrators never made it home. It is still not known how many died that night. For decades, the PRI hid what occurred after the first shot was fired in the plaza.
On July 2, 2000, Vicente Fox Quesada won 43% of the vote in a three-way race against, Francisco Labastida Ochoa, and Cuauhtémoc Cárdenas Solorzano, thus ending 71 years of unbroken rule by the PRI. While members of the deposed party remained influential, it was widely believed that Fox's victory marked a giant step for Mexico's limited democracy. El Universal, one of Mexico's most prestigious newspapers, proclaimed:
"We will no longer be seen as a country with a one-party state, hegemonic and closed to the changes necessary in this era of profound transformation. We will show that we are capable of joining the community of nations that seek a democratic system open to essential change based on a collaborative effort, without sectarianism or messianism, as circumstances and society demand. We have opened the door to an irreversible transition."
Yet Fox Quesada's victory didn't pave a clear path to democratic, egalitarian reform, and backlash followed.
In 2009, Mexico held midterm congressional, state, and district elections. The PRI—the very same political party that used widespread patronage and corruption, as well as strategic repression and violence, to deny Mexicans true democracy for nearly three-quarters of a century—won big. Less than ten years after losing control of the executive branch, and by extension, the country, the PRI won effective control of the lower house of the legislature, a broad swath of the country's largest cities and five out of six gubernatorial races. The PRI's electoral success automatically converted their most elected official and party leader, Enrique Peña Nieto, a front-runner in the 2012 presidential campaign. Polls demonstrated voters believed the PRI had not changed. But they didn't care. Millions of Mexicans felt nostalgia for the "functionality" of the old, antidemocratic regime, and still do.
As of last Sunday, May 20, a Mitofsky poll confirmed that Peña Nieto remains comfortably in the lead. And as such is predicted to win the presidential election, returning the PRI to Los Pinos (Mexico's White House).
But Mexico's young people are especially incensed that victory by Enrique Peña Nieto on July 1 is often portrayed as a fait accompli. Thousands of students have poured into the streets of Mexico City for the second time in a week to protest the way the nation's upcoming presidential election is being run and, more specifically, covered in the Mexican media. The young people taking to the streets come from a wide range of schools—public, private, leftist, rightist, and Catholic. They are decidedly anti-Peña Nieto, an unmistakable, unifying sentiment expressed by the banners and signs they carry. Nevertheless, these manifestations, like the Occupy movement erupting from Zuccotti Park, go beyond partisan politics, and represent a broader questioning of the status quo.
Television channel and newspaper ownership is concentrated in a few hands in Mexico, and many of the demonstrators believe it is skewed in favor of the Peña Nieto campaign and the return to presidential power of the PRI. Televisa and other major news organizations have defended their coverage of the campaign. But it is a fact that the protests were galvanized by the media's coverage of Peña Nieto's recent visit to the presitigious Ibero-American University in Mexico City. Many students there heckled him vociferously—a highly unusual occurrence, since his campaign appearances are typically highly choreographed—yet the Mexican media gave the incident short shrift.
When Peña Nieto's campaign dismissed it, claiming the protesters were political plants and not students at all, 131 Ibero students went on YouTube to prove that they were in fact students and had participated in efforts to shout down the candidate. As a result, a protest movement has emerged, one that demands media transparency and attention to those issues the Mexican people deem most important to the preservation of Mexico's fragile democracy. Calling itself "Yo Soy 132," ("I am 132") movement organizers invite others to join the 131 student protestors who confronted Peña Nieto, not with a partisan, an anti-PRI message, but a populist one, reminiscent of the "We are the 99%" sentiment that swept the USA last year.
But Mexico's youth, the leaders of the "Mexican Spring," are not copycats, they are building on a foundation that activists laid over one year before the "Arab Spring."
Eight political parties ran candidates in the July 5, 2009, election cycle, but the fifth most popular option selected by voters was not any party or candidate—it was the nullification of their ballots all together. Known as voto nulo, or voto en blanco, the campaign to convince disenchanted voters to show up at the polls, instead of abstaining from participation, and cast completely blank ballots or purposefully mark their ballots in such a way that no actual vote could be determined and counted, went from the margins of the internet to the center stage of print and broadcast media attention in a matter of weeks.
Organizers argued that a significant tally of nullified votes would convey public disenchantment with self-interested politicians and frustration over the social ills they have failed to solve. Critics labeled the drive irresponsible, and for those interested in keeping the PRI from returning to power, voto nulo proved counterproductive insofar as it appealed to voters likely to cast viable ballots, not just voters likely to sit out the election all together, thus likely siphoning votes from candidates in close contests.
Yet voto nulo was in no way responsible for the failings in governance committed by the Party of National Action, (PAN) nor the infighting driving the near-collapse of the Party of the Democratic Revolution (PRD). Mexican President Felipe Calderón's economic policies have not been popular. Mexico's economy has been buffeted especially hard by the global financial crisis and it is expected to contract by as much as eight percent this year. Those participating in the voto nulo movement agreed with the overwhelming majority of voters that something needed to be done to reverse the economic tailspin.
However, unlike Mexicans actually supporting one of the eight parties, participants in voto nulo did not stand together in favor of a populist or free market approach to solving the nation's woes. They did not support or decry any policy prescription. The only thing that voto nulo affirmed was that millions of Mexicans resented the people in charge of their government, as well as the perceived unjust aspects of "the system" itself.
The movement to nullify ballots in the 2009 midterm congressional, state and district elections, stood as the weathervane, the barometer, in the story of Mexico's disenchanted, demoralized and disheartened democracy, not the villain, as some, misreading the narrative, made it out to be.
Democratization is not a linear process. Even a "first world" democracy like ours can under-perform or lose its focus in instances when what is expected seems so basic, most take it for granted. One need only recall the voter roll purges conducted by Florida's Katherine Harris before a single ballot was cast, the Election Day polling place irregularities that disenfranchised large swaths of the African American community, and the recount battle debacles of the 2000 US Presidential Election, to understand how in the contact sport of democracy, dirty play and poor officiating do more than sully the game, and turn people away from participating: They decide winners—victors with the power to alter some, if not all of the rules, who must then be trusted not to change them.;
In order to proceed with purpose, a nation must attend to the ongoing incorporation of disconnected voices, as well as the struggle to engage all people in the democratic process, and its outcomes. To change whom their leaders are, to hold them accountable, a majority must understand not only what it is against, but also define what it stands for. Thus far, 20 Mexican cities have joined the Yo Soy 132 movement. Whatever the result, the July 1 presidential election won't be the end of Mexico's great story of democratic, egalitarian reform. To paraphrase Nobel Award winning author, Octavio Paz, México merece lo que sueña (Mexico deserves its dreams).
Unai Montes-Irueste
Posted: Saturday, 26 May 2012