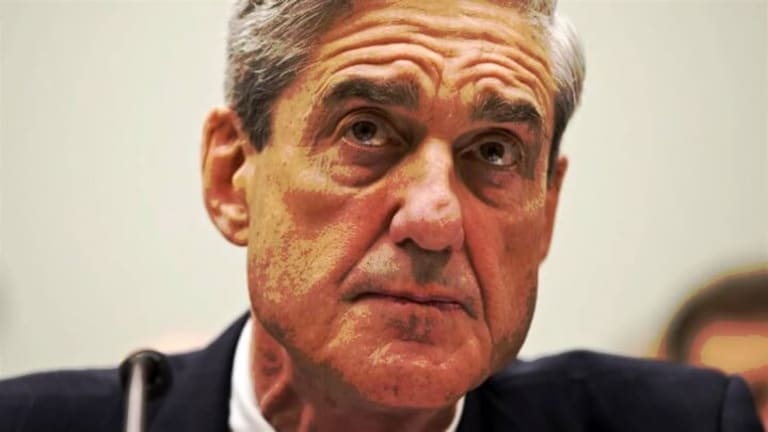 What Is Mueller Up To?
Ted Vaill: Many legal scholars argue that a sitting U.S. President cannot be indicted for crimes committed before or during office; the remedy is impeachment for "Treason, Bribery and other High Crimes and Misdemeanors".
The Mueller investigation has been going on for a year now. What are they doing and where are they going? My prediction: on Friday, September 14, 2018, massive indictments will be disclosed by the Mueller team against a widespread group of Trumpsters and Trump sycophants, including some Republicans currently in Congress. In many of these indictments, Donald Trumputin, President of the Electoral College of the United States of America, will be named as an unindicted co-conspirator.
The Muelller team consists of 17 lawyers in six groups, dealing with: Financial Crimes; Political Corruption; National Security; Organized Crime; Cyber Crime; and Appellate Law. They are also supported by the massive 35,000 person FBI organization around the world, and the other intelligence services Trumputin calls the "dark state": the CIA; NSA; and the various military intelligence organizations.
Each Mueller group will be examined separately. Some members of the Mueller team move from group to group as needed. Longtime Mueller colleague James Quarles was a Watergate prosecutor, and a fellow partner of Mueller's at WilmerHale, whom Mueller brought with him when he was appointed special counsel. He worked with Mueller on cases representing Apple, the NFL and Volkswagen, and is a trusted second-in-command.
Financial Crimes
This group, the largest, is headed by Andrew Weissman, longtime chief of the DOJ's Criminal Fraud Division. He has concentrated on the activities of Manafort and Gates (the latter has flipped and has pleaded guilty). Weissman's past work included putting the Enron crooks in jail, dealing with the New York Mafia, and handling Trumputin friend Felix Sater.
Political Corruption
Andrew Goldstein heads this unit. He worked under Manhattan U.S. Attorney Preet Bharara in the Federal Public Corruption Unit, and is now handling Trumputin foreign policy advisor George Papadopoulos, who has flipped and pleaded guilty to lying to the FBI. Goldstein formerly worked on New York Assembly Speaker Sheldon Silver's fraud and kickbacks case in New York City.
National Security
Aaron Zebley was Mueller's Chief of Staff at the FBI, and is a trusted colleague. He was a Senior Counsel in the DOJ's National Security Division and the FBI's Counterterrorism Division, and was one of the counsel in the post 9/11 investigations, the Moussaoui trial, and the Kenya embassy attacks. His activities may encompass all of the other investigative areas as required. This group is handling Michael Flynn, who has flipped and pleaded guilty to lying to the FBI.
Organized Crime
Aaron Zelinsky previously worked for Deputy AG Rod Rosenstein in the Baltimore U.S. Attorney's office on organized crime matters. This group also has some involvement with the Manafort and Gates indictments.
Cyber Crime
Several members of the Mueller team have been brought on board to deal with cyber crime, including Ryan Dickey, who has worked on the Guccifer matter, and specializes in cyber crimes and Intellectual property issues, and Brandon Van Grack, who was in the DOJ National Security Division. This group concentrated on the indictments of 13 Russians and 3 Russian entities, and has one Russian-speaker in the group.
Appellate Law
At least three members of the Mueller team are in charge of arguing cases in court, headed by Michael Dreeben, Deputy Solicitor General, who has argued over 100 cases in the Supreme Court.
Where does Trumputin fit in all this? His involvement is probably tied in with all of these groups:
he has had lengthy dealings with Russians, and there almost certainly are financial crimes and national security issues involved in his conduct;
he almost certainly directed and was involved in the political corruption that led to his election as President;
he clearly has had dealings with organized crime figures regarding his casinos, financial dealings with Russian kleptocrats, and in his real estate development work in New York City and around the world; and
he encouraged the cyber crimes that led to the release of the DNC and Hillary Clinton emails.
Many legal scholars argue that a sitting U.S. President cannot be indicted for crimes committed before or during office; the remedy is impeachment for "Treason, Bribery and other High Crimes and Misdemeanors".
Many legal scholars argue that a sitting U.S. President cannot be indicted for crimes committed before or during office; the remedy is impeachment for "Treason, Bribery and other High Crimes and Misdemeanors". Treason includes aiding and abetting an enemy of the United States, and Trumputin almost certainly, in his dealings with Russia since he started running for President, has aided and abetted the Russian efforts to disrupt the United States political process and cause his election. Bribery involves soliciting, taking and paying bribes, and High Crimes and Misdemeanors involve abusing the power of the office in a way that makes him unfit to serve, and Trumputin may be impeachable for committing all three of these crimes.
Another argument is that the Constitution requires the President to "faithfully" execute the laws of the United States, and it can be argued that Trumputin, since he became President, has violated this provision in many areas.
The Timetable for Impeachment
As we approach June, 2018, Trumputin is dealing with the on/off negotiations with North Korea, currently scheduled to begin in Singapore on June 12. Whether this happens, then or ever, is up in the air, but Mueller does not want to interrupt these negotiations if they do transpire. Thus his timing to indict will have to happen after this summit begins. My thinking is that Trumputin is putting the cart before the horse by starting negotiations with a face to face meeting between him and Kim Jong Un. This will only be preliminary meeting of figureheads; the real negotiations will take many months to conclude, if they ever are.
So if Trumputin ever sits for a deposition or interview with Mueller (and if I were his lawyer, I would advise against it), it would have to take place in July or August, 2018, when the summer doldrums are occurring, with Congress in recess for much of August. Starting September 3, 2018, Congress will be back in session, with the midterm elections a little over two months after that. Mueller will not want to be accused of trying to prejudice the midterms by announcing the indictments shortly before November 5, so it will happen in September.
I figure that he will use the next week or so after the Labor Day holidays to clean up the loose ends, and perhaps get another indictment or two from the grand jury, or expand the indictments already done as a result of new information (from Michael Cohen?).
Therefore I peg the date Friday, September 14, 2018 as the date the indictments of Donald Trump, Jr., Jared Kushner, Ivanka Trump, Steve Miller, Hope Hicks, Roger Stone, Congressman Devin Nunes, Attorney General and former Senator Jeff Sessions, and many other Trumpsters will be announced. Trumputin and his obsequious Vice President Pence will be named unindicted co-conspirators, along with their close friend Vladimir Putin.
We'll see what happens…
Ted Vaill